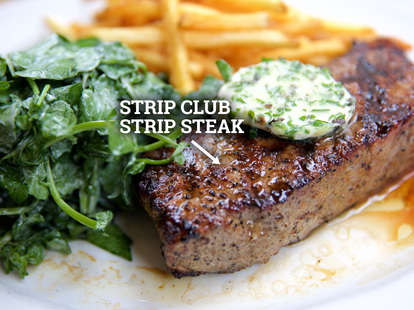 Because there's nothing quite like a good old-fashioned fight, it's Rivalry Week. Keep tabs on simmering feuds across the country right here.
At first, we thought we'd spend our yearly celebration of trashing our neighbors to the north by telling you all about how Portland beer is so much better, but then we decided not to be too lazy and state the obvious. Instead, we're going deeper into the two cities' food scenes for solid evidence that Portland's culinary landscape makes Seattle's look like a post-apocalyptic wasteland of cream cheese and fish scales. It wasn't that hard. Hell, even Seattle's most important cultural export, Dr. Frasier Crane, admitted that they don't know what to do with their tossed salad and scrambled eggs.
Half our food carts are better than most of their restaurants
Some of our most beloved eateries -- Lardo, Nong's, People's Pig -- started as humble food carts, which have become testing grounds for our next great chefs. Oh, and we have more than 500 of them. Clustered together, with beer. And very few serve lame-ass hot dogs with cream cheese.

Our airport has a food scene
Yep. Of course we have food carts in the airport. And Rogue. And Laurelhurst. And KOi Fusion. And one of our favorite restaurants, The Country Cat. It really kind of makes grabbing lunch on a layover in Seattle depressing.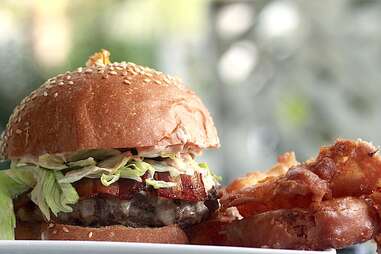 Late-night eats aren't an afterthought
By law, spots serving liquor have to have kitchen service. So, what are you chasing with your last drink, Seattle? We're guessing it's not pho from Luc Lac, a Slowburger, or dan dan noodles at Barwares. But we hear you have a very nice bag of Dick's.

Even our strip clubs have great food
Pairing a beautiful woman with a (somewhat) beautiful steak is a way of life at spots like the Acropolis and Sassy's, while even vegans can get legit eats at Casa Diablo and Black Cauldron. That beats the hell out of Fritos and juice up north.
Our best bars are among our best restaurants
Speaking of that whole "no booze without food" thing, some of our best bars are also some of our best restaurants, from Clyde Common to Imperial, Raven & Rose, and Hale Pele. The line between bar and quality restaurants is as blurry as your vision after a big-ass steak and a couple Vieux Carres.

Thai food is everywhere
Chinese food is so last decade here. And not nearly as delicious as our surplus of drunken noodles.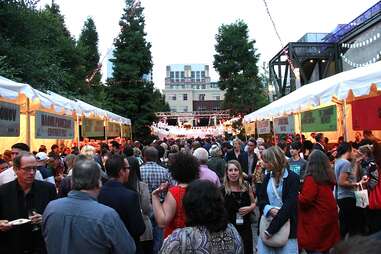 Our biggest food fest is also the country's best
Just two weeks ago, Feast unleashed a Night Market, a Sandwich Invitational, and smoked meats from some of the country's best chefs. It made Bite of Seattle seem like Old Country Buffet.

Our chefs are celebrities… and present
With respect to Tom Douglas, we'll take Gregory Gourdet, Naomi Pomeroy, Dougie Adams, Nong Poonsukwattana, and Vitaly Paley any day... and so will cooking shows.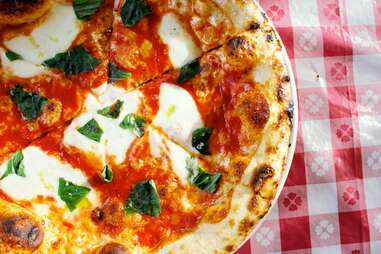 We're in the middle of a pizza boom of epic proportions
A pizza boom! Of all shapes and styles! Neapolitan? Chicago? New Haven? Wu Tang? There's a new pizza shop basically every week, and they're almost always good.

Our stadium food is restaurant-quality
Hell, you can't even watch an NBA game outside a bar in Seattle. Here you can do it with Sizzle Pie, Bunk Sandwiches, Salt & Straw, and other great spots that you don't have to move to Oklahoma City to enjoy.
Our tourist markets aren't total shit shows
Pike Place is like a mosh pit that smells like a longshoreman's locker room. The Portland Farmers Market and even Saturday Market bring great food without the droves.

We have our own version of Whole Foods
It's called New Seasons. And it's spectacular.

Our seafood is way better
Actually, no. You win this round, Seattle.
Sign up here for our daily PDX email and be the first to get all the food/drink/fun Portland has to offer.
Andy Kryza is a senior editor at Thrillist who would rather not think about putting cream cheese on any pork product, processed or not. Follow him to Pacific Northwest coney cravings @apkryza.