Some folks will tell you that this year in Portland food was a dull one, with few surprises and fewer big-name openings. We call shenanigans. This year brought us everything from an all-Oregon beer hall to bull testicles, incredible burgers, Australian-bred BBQ, and more new pizza spots than we know what to do with, which, in terms of Portland problems, beats the snot out of not being able to find an apartment.
This is the best new food and drink made in Portland this year.
Recommended Video
This Easy Vegan BBQ Recipe Looks & Tastes Just Like Pulled Pork
Best new restaurant
Coquine
Address and Info
Tabor
Earlier this year, all signs pointed to pedigree-loaded Italian spot Renata as a sure bet for best new restaurant -- so much so that a certain old-school paper in town named it such after two weeks, raising the hype to a degree that didn't even allow the kitchen to work out its kinks. Renata's doing fine, but amid all the hullabaloo, Coquine snuck in out at the base of Tabor and managed to become the city's new darling not via hype, but by quietly making some of the city's best food.

The shareable roasted chicken is probably the city's best, the lamb sugo is gently kissed with star anise... hell, even something as simple as a chocolate-chip cookie is a next-level experience. Coquine's the kind of place that elevates our city's food scene, and that such lovingly prepared food is served without that pesky side of pretention makes it the highlight of the year.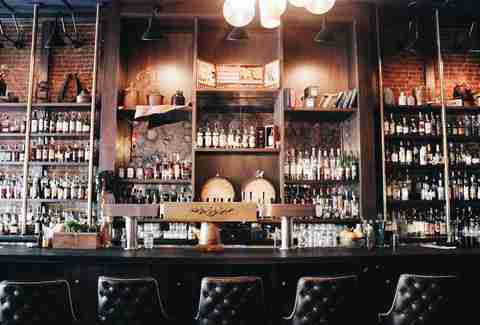 Best new cocktail bar
Bit House Saloon
Address and Info
Eastside Industrial
Take an old historic building and refurbish it into a sprawling, old-timey saloon, complete with leather lounging couches. Add a great burger and popcorn-crusted fried testicles. Serve up inventive cocktails -- including a Moscow mule reimagined through the lens of a julep -- and pitch-perfect classics. Sprinkle with whiskey. Lots of whiskey. And that's how you become the best new bar in Portland's most exciting emerging drinking district.
Best new beer bar
Loyal Legion
Address and Info
Eastside Industrial
Take the old Portland Police Athletic Association and refurbish it into a sprawling beer hall. Install 99 taps of Oregon-only beer and cider, organized by style and temperature served. Make them all the same price. Implement a no-tipping policy where it's included in the price, then un-do that and knock prices down a buck. Sprinkle with Olympia Provisions and sausage. And that's how you become the best new beer bar in Portland's most exciting emerging drinking district. And also in Oregon.
Best new food cart
Pig 'N a Pen
Address and Info
Hollywood
Portland food carts are often glorious hybrids of regional cuisine, which is great and all, but sometimes you need straight-up comfort food, and when it comes to comfort, the Midwest has it down. Which makes Pig 'N a Pen's Illinois- (some would say Iowa-) style pork tenderloin sandwich a thing of simple beauty. It's an Americanized schnitzel, with pork pounded thin, covered in a cracker crust, deep-fried, and served on a bun approximately 1/3 the size of the porksplosion around it. It's ridiculous, and here, you can go healthier and get it grilled. Don't. Instead, order it with a side of pork nuggets, douse it in salt, and let the pork take over.
Best new brewery
Zoiglhaus Brewing Company
Address and Info
Lents
For a changing neighborhood heralded as one of the city's booziest, Lents was missing the most Portlandian of all drinking establishments: a brewery. Well, they got one. A huge one, in fact. Lest you doubt Zoiglhaus' commitment to German heritage, the place has an enormous 7,500sqft of drinking space, giving you ample room to swing glasses of Lents Lager, Kicker Kolsch, Zoigl Hefe, and more while cramming your face with pretzels and currywurst. Prost, Lents!
Best new brunch
Broder Soder
Address and Info
SW Portland (deeeeeeeeep SW)
Peter Bro taketh away, but then he giveth in the form of more lefse crepes, more Swedish hash, and more morning-time meat and pastry boards, which don't really take away our sadness from the demise of All-Way, but hey, a sister to Broder Nord is a thing of beauty. Even better? You'll be rewarded for trekking all the way out to damn-near Tigard with a visit to the Scandinavian Heritage Foundation, because nothing goes better with toasted pork-shoulder confit like live Swedish music and history lessons.
Best new pizza
Red Sauce Pizza
Address and Info
Cully
Guys. Look. 9,000 pizza joints opened in Portland, and many of them are incredible. PREAM. Pizza Jerk. Fire & Stone. Blackbird. Tastebud. Sottie's. Two places called Slice (the better of the two, RIP). But we're giving the edge to Cully's Red Sauce, which does New Haven-ish pies without skimping on cheese, going against the new Portland Neapolitan fetish and churning out pies that are among the city's best, new or no.
Best new burger
Little Bird
Address and Info
Downtown
It was a really great year for new burgers, so, like with pizza, this was a tough call. But when the grease settled, our heart settled on Little Bird's Double Brie Burger. Or maybe the burger settled in our heart. Either way, it's an incredible mutation of In-N-Out, courtesy of one of Portland's most storied chefs, who loads two patties onto a fancy bun, then hits them with melted brie, Dijonnaise, ketchup, Mama Lil's, lettuce, and pickles. Oh, and during happy hour, the price drops from $14 to $5, which makes this choice even easier.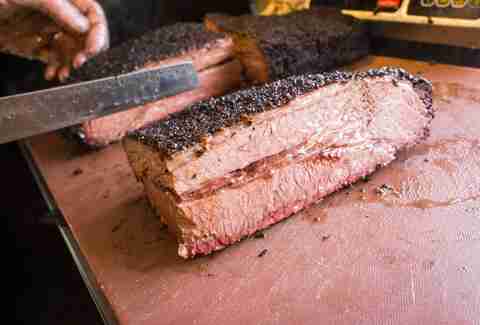 Best new BBQ
Matt's BBQ
Address and Info
King
In case you haven't noticed, Portland's BBQ scene has come a long, long way, with the People's Pig upping the ante last year, and this year introducing Smokehouse Tavern, The Coop, and more. But we can't stop thinking about a tiny little food cart plopped in the parking lot of a pawn shop on MLK, where a New York-bred, Australia-trained dude is messing with Texas and emerging with near-perfect brisket, ribs, pulled pork, and sausages that literally explode with flavor. The likelihood that something is sold out -- if not everything -- by noon is a testament to the power of Matt's pit. Which is to say, get there early, get the platter, and bring extra napkins.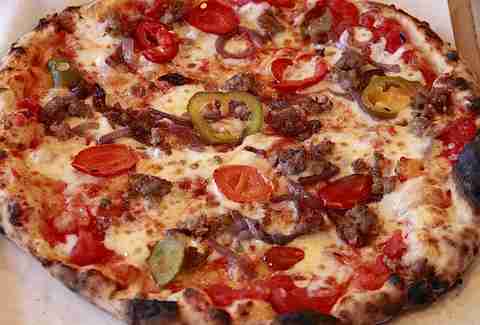 Best cart-turned-brick & mortar
Handsome Pizza
Address and Info
Concordia
Technically, Handsome -- one of Portland's best new-wave pizza contenders -- wasn't a cart. It was in a little window booth outside a former gas station that sat in the middle of a bunch of other carts. But who has time for semantics when you've got Handsome's glorious, wood-fired pies, equally as delicious as a whole pie, as a custom slice, or served cold with coffee as part of the pizzeria's brunch special with cohabitant Seastar Bakery.
Dish With Save Venue
Name of Item
Best new Mexican
Venue Title -- ADD LINK to (address and info)
Portland Mercado
Best new Mexican
Portland Mercado
Address and Info
Lents
Is it a cop-out to call a cluster of carts outside Portland's new one-stop Latin American marketplace the best new Mexican in town? No. No, it's not. It's also the best place for Salvadoran. And Colombian... you get the idea.
Best newly resurrected restaurant
Lilokoi Bakery
Address and Info
Lloyd District
Produce Row made a triumphant return this year, rising from closure to reclaim its status as the Eastside Industrial's OG hot spot. But the re-emergence of Lilokoi went overlooked by many... mainly because the family-run business (and what a delightful family, indeed) wasn't on most people's radar, due in large part to being formerly located in the lower level of a house on N. Killingsworth next to a bank. But those who loved it long mourned the loss of the city's best Hawaiian comfort food -- that succulent kalua pork, the Portuguese sausage, the sweet bread. Well, now it's back and stronger than ever, operating a full bakery, giving turkey the kalua treatment, and even doing transcendent things with Spam. Aloha, Lilokoi. Never leave again.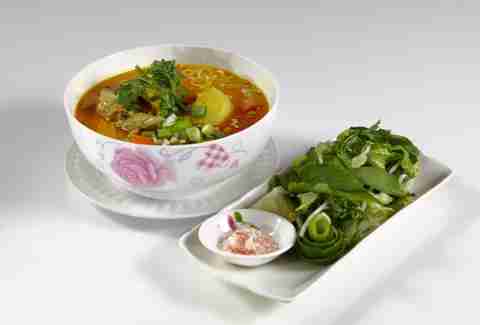 Best new Asian
Rose VL Deli
Address and Info
Foster-Powell
In a year where Biwa opened up a ramen-centric sister restaurant, Boxer continued to cover Portland in noodles, and Shandong gave the NW Kung Pao, you'd have to do something pretty remarkable to stand ahead of the pack. HA VL -- Portland's legendary house of Viet soup -- does remarkable things every day. Now, so does Rose VL, which helped the problem of HA running out of soups before the lunch rush by, well, running out of soup at the dinner rush. But more VL fishballs and pho is possibly the best thing to happen to Portland bowls since weed became legal. It's been a good year for bowls.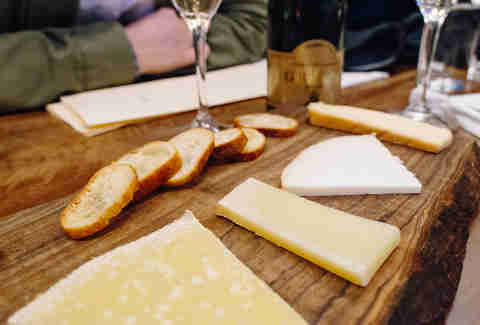 Best new concept restaurant
Chizu
Address and Info
Downtown
Cheese. Thirty-plus kinds, aged and temped perfectly. Served in the style of sushi. Imagine saying "omakase," but in a Midwest accent. It's as incredible as it sounds. (The accent AND the cheese.)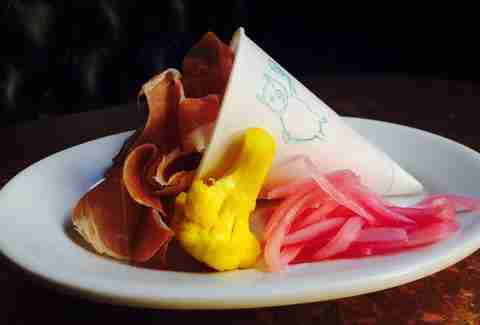 Best new concept bar
Hamlet
Address and Info
Pearl District
Ham. Many, many kinds, including Iberico, the world's finest, here sawed off a bartop leg with the meticulous care by bartenders who know more about treating pigs right than Kermit. It's courtesy of the folks behind Nostrana and Oven & Shaker. It's not a restaurant, per se, just a place to eat some salt-cured perfection paired with sherry or carefully curated cocktails.
Best pop-up
DaNet (at Portland Penny Diner)
Address and Info
Downtown
Last year, Kachka was basically at the top of every "restaurant of the year" list (including our national roundup), and now we've got another destination for Russian food courtesy of Portland super-chef Vitaly Paley. DaNet, a monthly pop-up that's already sold out through March, transforms Paley's Portland Penny Diner into an full-on Ruskie experience, with four courses of old-world cuisine ranging from fish pies to assorted drinking snacks. It's one of the coolest eating experiences Portland currently has to offer. If you can get in.
Best new spot worth waiting in line
Nowhere (address and info)
Nope
Sign up here for our daily PDX email and be the first to get all the food/drink/fun Portland has to offer.
Andy Kryza is a senior editor at Thrillist who really, really hates lines. Follow him to delicious food -- but don't try to get in front of him, please -- @apkryza.