So Oktoberfest is over, which is confusing since it started in September, but whatever. Every month should be an excuse to eat a bunch of sausage, drink huge beers, and maybe wear lederhosen.
From the traditional intestine-stuffer to the modern artisan, Portland offers some of the tastiest sausages around. We searched for the best that can be bought and eaten on-site (sorry, Gartner's and other great butchers). Then we ate them and giggled about sausage jokes. You can too. Here are Portland's best sausages.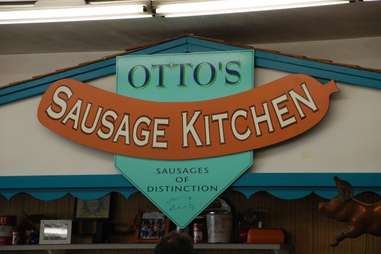 Woodstock
Even in the post-apocalyptic haze that will follow the Cascadia earthquake, we're convinced that Otto's will still be serving handmade sausages from its sidewalk grill among the ruins. Old Otto landed himself in the Northwest a century ago, and the family-run establishment prides itself on maintaining the techniques of its namesake. Yeah, there might be chaos, death, destruction, lava, and tsunamis, but Otto's won't let a natural disaster deprive the survivors of their beloved cased meat.
Central Eastside
For most meat fiends, Olympia Provisions requires no introduction, so let's skip the salivating and get right to the Choucroute Garnie, a three-way sausage fest of kielbasa, bratwurst, and frankfurter. And we would be remiss if we didn't mention OP's delectable charcuterie, which has become an icon of Portland's culinary craftsmanship. They're basically everywhere, and for good reason.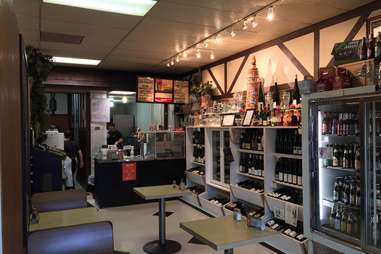 Brooklyn
Edelweiss is a Bavarian market offering far more than the typical bratwurst -- the selection ranges from a chili-cheese creation to an Old World blood sausage, the thought of which often triggers feeble American squeamishness. Get over it. Those who venture into the unknown will be rewarded here, and unlike the typical sausage factory, Edelweiss butchers will tell you exactly what's in the casing.
Mississippi 
Prost! (German for "cheers!") is the northern bookend to the deservedly popular strip of Portland creativity known as the Mississippi district. With beers ranging from .3L to a full liter (33oz), a covered patio, Bavarian pretzels, and a solid smoked brat, Prost! may require an entire afternoon to fully appreciate it. No one stops at one sausage, so after you nearly bust your gut slugging down the last few ounces of that liter, you'll want to wait a good half hour before you try the knackwurst.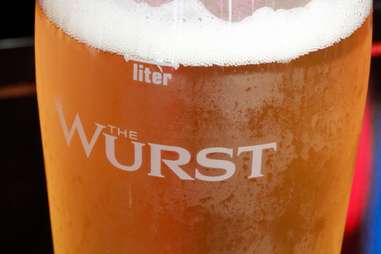 Buckman
The Wurst is your late-night stop for stiff drinks, video games, pinball, pool, metal on the stereo, Goldfish bar snacks, fellow patrons debating the values of '90s music and, of course, specialty wursts. Go for The Trophy, an elk sausage with maple syrup, sage, and cayenne pepper. Then dominate skeeball.
Downtown
In addition to its inventive craft cocktails, Grüner will satisfy with its bratwurst, saucisson sausage, and pretzel-wrapped weisswurst that are spiced and stuffed in-house. The real genius of the food, however, is how the meats pair with the fresh sauerkraut, gold potatoes, and sweet-hot mustard. This quadfecta of ancient culinary combinations will never get old, especially when in the capable hands of Grüner's chefs.
Overlook
Grandpa's Cafe has made its home at the Polish Library Association, an organization that hosts the energetic and family-friendly annual event known as the Polish Festival. The cafe, a sincere hub for the Polish community, offers no-frills kielbasa alongside pierogis and potato pancakes. But if you want to experience this unique expatriate corner of the city, you'll have to check your schedule and join the association, as the cafe is only open on Fridays and Saturdays... and only to members. In the name of sausage, plan ahead.
Kerns
As a newcomer, Stammtisch should not be overlooked as a serious addition to the small world of German-inspired taverns. The tap list is chock full of beers that will challenge your pronunciation prowess, the daytime and late-night crowds are both festive, and the currywurst of pork and veal will make you rethink your upright stance on the poor baby cow. Time to close your eyes and take a bite.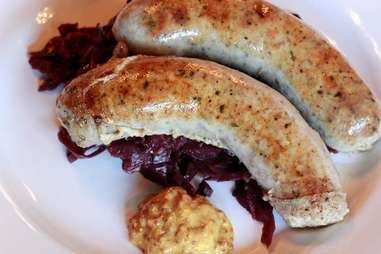 Buckman
This funky little German-inspired Buckman joint attached to the Jade Lounge rocks gigantic -- like, almost emasculating -- house-stuffed sausages, including a turkey beast w/ roasted apples and a spicy Hungarian full of beef, pork, and the hottest peppers this side of Iron Man's mansion.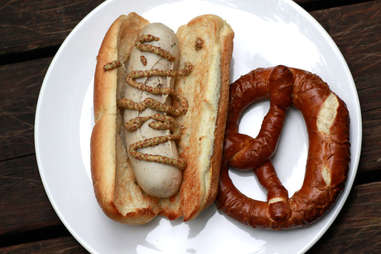 Parkrose
Tucked far enough off the beaten path of Sandy that it actually feels like a foreign country, this little deli and grocery serves up some serious homemade sausage action, among them brats, smoked garlic, Polish, hot bier, debreziner, and our personal favorite, the pale weisswurst, boiled perfectly before getting a bath of mustard. Get a plate of three minis and a pretzel, plop down in the café, and listen to the sound of German-language conversation as it authenticates the whole experience.
Sign up here for our daily PDX email and be the first to get all the food/drink/fun Portland has to offer.
Dan Schlegel is a Portland State grad and grown-up who still can't stop giggling when people say "sausage fest." Follow him to other hurdles to adulthood @ddschleg.