Portland This weekend, Nicky USA's annual Wild About Game hits the Resort at the Mountain, pitting some of Portland's best chefs against (clearly inferior) Seattle chefs in a cook-off featuring wild game. It's one of the best events of the year, and it got us seriously craving some game meat. Luckily, Portland's got its fair share of exotic fauna on menus. Here are the best dishes you can get in the city. More Stuff You Will Like
Smoked rabbit pie
Le Pigeon (address and info) Lower Burnside Le Pigeon's always game to experiment with the unexpected, and the smoked rabbit pie takes that principle and amps it up to insane levels. A high-end take on the British meat pie (minus the Johnny Depp singing stuff), it's topped with cheddar and mustard ice cream, creating an explosion of conflicting flavors, temps, and textures that stands among one of the most intriguing dishes at one of Portland's best restaurants. Which is to say, get it before it disappears from the menu.
Alligator
Le Bistro Montage (
address and info
)
Eastside Industrial The original hip spot in the SE industrial district hasn't changed in years. It still stays open until pre-dawn. It still wraps your food in excessive amounts of foil shaped like animals (kind of like a metallic version of Edward Scissorhands), and it still serves up some of Portland's best Cajun food, including gator, which can be popped as little seared bites, mixed into a creamy linguini, dumped into gumbo, or layered into one of the city's best 
mac & cheese bowls
. Extra credit? Get the frog legs too. Continue Reading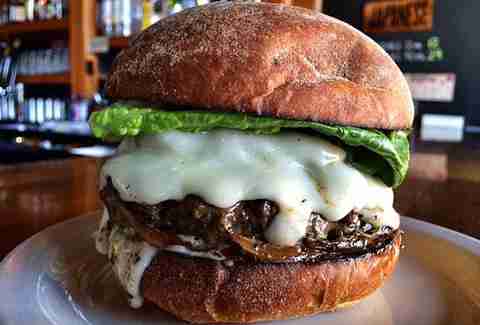 Elk burger
The Old Gold (address and info)   North Killingsworth It'd be bullshit if this list was nothing but elk burgers. And it wouldn't be a wild game list without at least one of them. With respect to great offerings from Dick's Kitchen and Deschutes, if we could only eat one elk burger in Portland, it would be the one at Old Gold, where the folks at North Killingsworth's best haunt hit it with a simple cherry relish and fontina, letting the gaminess shine. Every time it's served is cause for celebration. Luckily, there's a Champagne button in the back of the bar for just such an occasion.
Rabbit in a clay pot
Kachka  (
address and info
)
  Central Eastside This Russian vodkaporium manages to take the oft-misunderstood art of 
Russian cuisine
 to insane levels. Well, we think so, at least. Like we said, there's a lot of vodka flowing. Anyway, we're not telling you to skip the dumplings. Never do that. But also never skip the rabbit in a clay pot, a slow-cooked bunny's hindquarters swimming in a creamy sauce with porcini, sour cherries, and garlic. One bite will have you really re-thinking Glenn Close's infamous kitchen scene in 
Fatal Attraction
.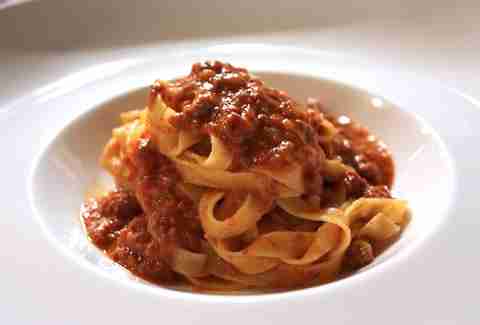 Wild boar ragu
Mucca Osteria (address and info)   Downtown One of the best -- and easily the most underrated -- Italian spots in Portland serves up meticulously prepared, gorgeously rustic takes on the Boot's favorite fare. There's always something gamey on the menu (pray to God the resto brings back the rabbit gnocchi), including a slow-roasted wild boar ragu layered over handmade pappardelle. You'll swear somebody's nonna made it, and that nonna is really good at hunting boars.
Rabbit lasagna
Serratto (
address and info
)
  Alphabet District Serratto's take on the Italian comfort food, like much of the Mediterranean-drenched menu, brings a tremendous amount of flavor to a dish often plopped on a menu to appease hobbyists, kids, and fat orange cats who hate Mondays. Here, it's layered with Idiazabal cheese, foraged mushrooms, leeks, and sage béchamel. Oh, and rabbit! Because this list is about game meat. And yeah, you can get it on Monday.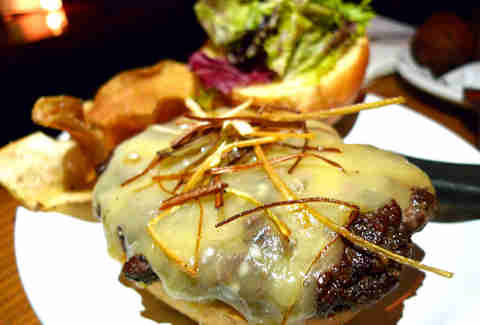 Venison burger
Victory Bar (address and info)   Division Plopped amid the construction zone and ever-growing food explosion of SE Division, Victory's an oasis for people who prefer their upscale ambiance with a little dive bar charm. It's a place where craft cocktails and not-so-crafty ones share equal prestige, where low-lit comfort and lowbrow attitudes collide. And the venison burger -- a simple, brioche-stacked chunk of Bambi covered in cheddar -- is a strong argument that a fancy bar burger doesn't need to resort to overkill to be wonderful.
Rocky Mountain oysters
Bit House Saloon (
address and info
)
  Central Eastside Yep. They're buffalo balls. And at one of Portland's best new bars, you can finally get them (they're popcorn crusted!). You'll probably eat them on a dare. Then you'll be back for more. Because despite the fact that they're a big-ass animal's nuts, they're fantastic. Thank God somebody finally has the balls to serve them.
Sign up here for our daily PDX email and be the first to get all the food/drink/fun Portland has to offer.
Andy Kryza is a senior editor at Thrillist. He's eaten balls before, and he'll do it again. Probably today. Follow him to Montana livin': @apkryza.