Offering a chance to take an intercontinental culinary voyage without all those pesky immunization shots and aggressive security searches, the Central Eastside Food Carts pod rocks street foods representing four continents and everything from delicious ice cream to scary tripe tacos... which means you've got a lot of choices, but large potential for failure. That's why we ventured to the pod and identified your five best bets. Don't worry -- we've had our shots (there's a row of bars right around the corner for that).
Dalos (Ethiopian)
They'll call you Mr. Tibbs after you've become addicted to this Sigga Tibbs beef served w/ injera bread & rice. They've also got sambusas, Doro Wot chicken stew, and pita wraps, all of which you can order mild or spicy, in case you really want to feel it in the heat of the night.
El Local (Latin American)
This Latin-American cart fully embraces the region's Mediterranean influences, meaning that, along with this pork asada relleno wrap w/ avocados, you can score gyros and falafel sandwiches w/ salsa, representing the hottest Greek/Latin combo since Ricky Martin toured Cyprus.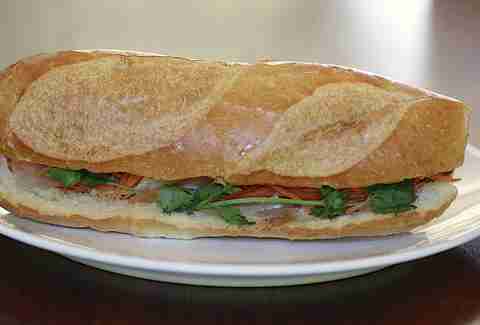 ENJOY! Thai & Vietnamese Food
The star here is the gigantic, plum sauce-slathered banh mi -- which is the perfect light sandwich and a steal at $4 -- but they also specialize in Pan-Asian... specialties, including gigantic buckets of pho, and red curry that totally isn't what Joseph McCarthy accused Mr. Cooper of being. Because they were not contemporaries.
Rockin' Robyn's BBQ Bento (Japanese)
Because no cart-food community is complete without meat on a stick (seriously, look it up... it's in the Constitution), this joint from the folks behind Sassy Burger uses all-local meat and skewers it to order, with choices ranging from these steak-and-veggie poles to brandy-soaked pork, not to be confused with pork-soaked Brandy, which's a term usually reserved for Moesha's birthday BBQ.
Castle Cauldron ('Merican)
If you're repping the U.S. of A in a culinary UN, you'd best be sloppy, and you'd best be meaty. Castle Cauldron delivers both in the form of its brisket-y chili, which you deliver to your mouth via spoon, Frito, or this gigantic hot dog. Get it mild or chipotle-d... but, if you're going the latter route, you might not want to do it before you get on that international flight to your next food tour.