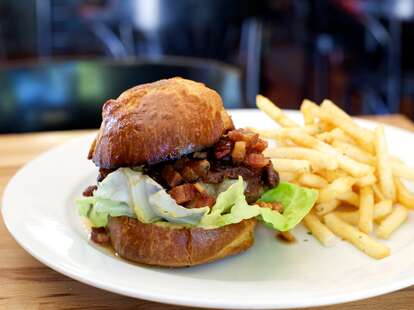 Drew Tyson
Drew Tyson
Sure, you could sit down at a nice restaurant and order up something off the menu like a chump, but that's not gonna impress your date, is it? On the flip side, if you sit down and order whatever the hell you want, you're gonna look like an a-hole, no matter how much you really want chicken & waffles at that upscale Red Lobster. The solution? Request these off-menu items that totally do exist, giving you the best of both worlds… minus the chicken & waffles, because none of them have that.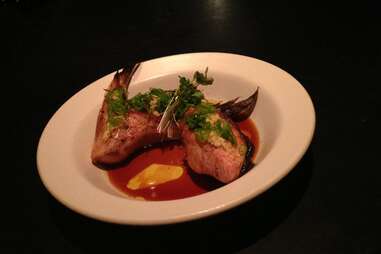 Kama, Yakuza
Concordia
The greatest Japanese collar since Amanda Bynes got arrested in Tokyo (wait… that has to have happened, right?!), all you need to do is ask and Yakuza's chef'll fire up a Kama, which's a tender, flavor-packed hamachi collar grilled w/ togarashi and served w/ ginger, scallion, ponzu, orange oil & micro greens.
Secret Burger, St. Jack
Clinton/Division
Sure, St. Jack specializes in seriously delicious haute French cuisine, but sometimes even Marcel Marceau loves a good burger… and unlike him, you can actually ask for this one, which's covered in Gruyere, bacon lardons, pickled onion, and a sauce loaded w/ cornichons & dijon creme fraiche.
John Popper, Zach's Shack
Hawthorne District
The perfect way to go from looking like post-gastric bypass John Popper to classic John Popper might be a steady diet of this dog, which replicates the flavor of the classic bar snack by combining jalapenos, sweet Thai chiles & cream cheese, then throws the sausage of your choice into the mix. Try the cheese-stuffed. It's off -- ahem -- the hook.
Foie Gras Poutine, Portland Penny Diner
Downtown
Tired of people thinking you're a total health nut just because you order poutine, minus the fatty goose liver? Then head to PPD and order up the Foie Gras Poutine: a heaping mound of waffle fries covered in curds, drenched in roast-turkey gravy, and topped with shaved foie. And at under $10, you won't feel too bad when you start force-feeding it to yourself.
Morta-Rabe, Lardo
Hawthorne District
We're faced with too many choices in a given day, but this is America, dammit! We shouldn't be faced with tough decisions about sandwiches. So you love both Lardo's broccoli rabe and its to-die-for mortadella? Ask for the Morta-Rabe. Bam. Now back to deciding whether to watch She's the Man or Sydney White.