Serving fish so fresh it's still moving... on a conveyor belt!!... East Broadway's Sushi Ohana proves once and for all that food tastes better when you have to chase it down, as dozens of rolls cruise by your face on said belt that moves just fast enough to give your inner hunter-gatherer a thrill without requiring you to club your mate over the head

The main attraction is the serpentine conveyor belt overlooked by a tank of very frightened-looking fish, which loops around the open kitchen/bar as Lucille Ball hilariously stuffs her face with spicy tuna rolls

They're firing out all manner of gyoza, sashimi, and rolls like the Dinosaur (pictured way up top) w/ almonds, shrimp tempura, avocado, and a strong desire to eat Newman in a Jeep, this eel number, and the Volcano Roll w/ baked scallops

There're also grilled plates like this massive yakisoba bowl, and beef & fish fired up on the hibachi

Rolls are already remarkably inexpensive ($1.25-$3 a pop), but during the daily 11a-3p happy hour nothing's over $1.75, including desserts like mousse cake and this mango mochi ice cream, which's made by pounding mochi with a giant mallet -- the same method your great-great-great-great-great Grandpa Oog used to court his wife.
Recommended Video
This Beef Sandwich Costs $85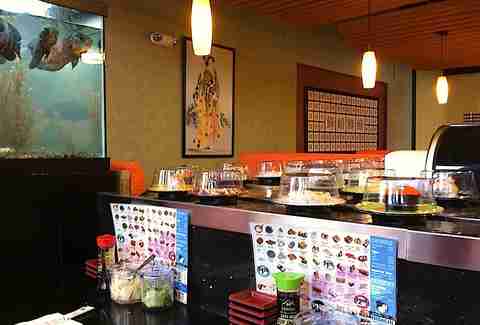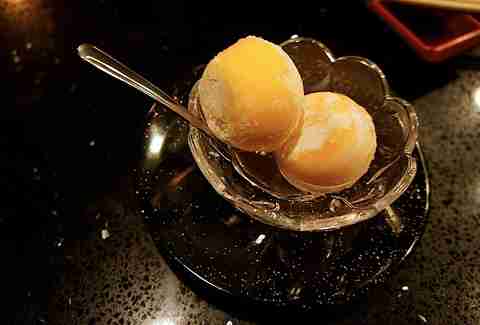 Previous Venue
Next Venue
Venue Description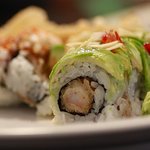 1. Sushi Ohana
1422 NE Broadway, Portland, OR 97232
NE Portland's Sushi Ohana is proudly serving fish that's so fresh it's still moving...around a conveyor belt so you can grab whatever rolls you want whenever you want. Whether you wait patiently for your favorite or grab at random, you'll be pleased with the selection, which includes shrimp tempura, yellow tail, and rainbow rolls.