If there's one thing people in Portland like more than a sweet restaurant, it's a sweet NEW restaurant... or possibly telling people they've already been to said sweet new restaurant. Either way our list of the 13 best new bars and restaurants in the PDX should come in handy...
Recommended Video
Here's Our Travel Guide to This Nation of Over 7,000 Islands
Old Town
It didn't take long for the Pearl's best salad spot to expand a little South to Old Town. Its concept is simple: take the ubiquitous salad bar, increase the amount of options, use better ingredients, and tell everyone about how healthy lunch can be. And it looks like it's making a profit. With salads ranging from $9 to $12 and the option to stack proteins, Garden Bar has a good thing going.
Downtown
Popular cheese man, Steve Jones, expanded his operation into the Downtown area and took over the space that's somewhat below Multnomah Whiskey Library. The small room is set up like a sushi counter so you can sit at the bar and watch Steve slice various cheeses and assemble them on beautiful wooden boards. The menu is pretty pricy, but should work well as a waiting room for the aforementioned MWL clientele who are more than willing to wait hours and overspend on craft cocktails.
Alphabet District
Another day, another Micah Camden expansion. This time "trendy-third" welcomes the latest outpost of Blue Star Donuts, which is arguably the best in the city. Expect a line as it just opened up on the 18th, but that should die down as people realize it's just sugar and bread. Just kidding, expect a line.
Downtown
The lobby of the newly revamped Hotel Vintage Portland just reopened with a swanky new bar full of upscale cocktails and food from the hotel's restaurant, Pazzo Ristorante. There's also a game room upstairs, complete with pool tables, shuffleboard, and multiple giant TVs, two of which come with an XBOX One and a Wii U.
Central Eastside Industrial
Biwa, home to a favorite noodle dish of ours, has finally opened up its ramen-centric sister, Noraneko. The menu is straightforward with four kinds of ramen: shio, shoyu, miso, and a vegetarian, as well as fried chicken, gyoza, and a salad. Surprisingly, despite the popularity of Biwa's menu, the highlights on a recent trip were the cocktails. The variety of shochu highballs were pleasantly subtle and mildly alcoholic, giving you the option of to try a few without the risk of stumbling onto the nearby railroad tracks on your way home.
Pearl
The little Bend brewery that could, 10 Barrel was recently purchased by corporate overlords AB InBev, much to the chagrin of many craft-beer-lovers. On the bright side, all that money seems to have given them the push they needed to finally open their Portland pub! We're still waiting for the rooftop bar to open, which should happen this summer, but in the meantime you can enjoy their first beer brewed in Portland (an IPA, duh), as well as all the usual favorites.
Beaumont
Late-night Thai eats with a couple of Vietnamese-inspired sandwiches after 10pm -- no wonder we've been looking forward to this opening! Bang Bang is another addition to Fremont, a street you're bound to become familiar with this year if only 'cause you can't resist BB's Jungle Curry.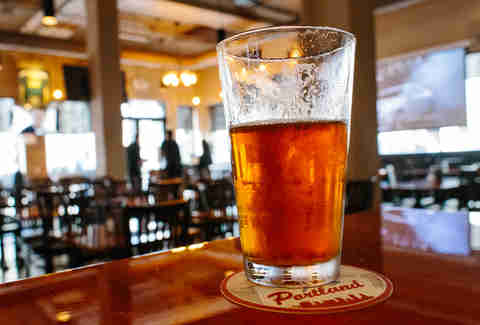 Downtown
The Pearl's favorite rooftop sports bar has finally opened another outpost in the midst of Downtown. Unfortunately this time the name is deceiving as there are no decks to be on. Luckily there is a glut of brand-new TVs strategically placed to give every guest a decent view of every game. The drinks and food are on the cheaper side and, for the time being, the space is rather vacant. Don't expect it stay that way once playoff seasons starts though.
Beaumont
You can imagine that a place with a name like Batter is open for breakfast and brunch, maybe even lunch. But this new restaurant on one of Portland's fastest growing streets is also open for those late night pancake obsessives. (Sorry Hotcake House!) Although it's still in soft opening hours, Batter has a menu with 16 sweet and 14 savory options. And there's a full beer, wine, and cocktail menu, complete with a section of the barrel-aged variety. This might just be your new fourth meal.
Woodstock
One of our most anticipated openings this spring, El Gallo has finally opened its doors near Reed College. Basic tacos start at $2.50 and the fancy options aren't that much more at a neat $3. This might be the closest you can get to Mexico City street tacos here in Portland.
Alameda
Wood-fired pizza has almost completely taken over every neighborhood, not that we're complaining! Sure, the folks Fire + Stone try to say there's more than good pizza -- like lamb shank and roasted chicken, all wood-fired -- but they know what the people want, and with nine options, they give it to us. But the best part? Their online ordering system includes to-go beer and wine.

Alberta
Two former Ned Ludd chefs have ditched the fine dining game for the latest trend to sweep Westward, fancy hot dogs. The difference here? Instead of crafting their own sausages they're picking up the name brand variety and dressing them up the way you and your Food-Network-loving friends used to do after stumbling home from the bar. Doing this keeps their price point down (their most expensive weiners are $4) and allows the diner to spend more on their tap cocktails. Oh, and there's a mural depicting an epic battle between Mike Tyson and Bruce Lee.
Sign up here for our daily PDX email and be the first to get all the food/drink/fun Portland has to offer.