Bread, sauce, and cheese. It's a simple base, but one that has turned normal red-rabbit-suited Noids into terrorists and caused run-of-the-mill mutant turtles to take up arms. People go crazy for pizza. That's why we've risked taking a vengeful nunchuck to the head and ranked PDX's best pies, running the gamut from cracker crusts to doughy wonders not even the most deranged Noid could avoid.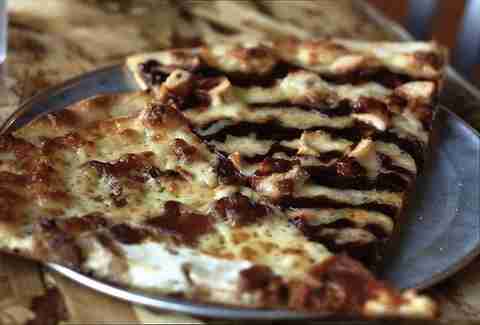 8. Sizzle Pie
Lower Burnside
What you're ordering: Two slices of whatever looks good
When you come pouring out of a bar, sometimes you don't want some fancy-pants, wood-fired, organic production. You want a big, greasy slice of heaven, and this rock-themed joint delivers the goods until 4a on the weekend. The no-nonsense offerings include the steak/bacon Heart Attack Man & the creamy, bacon-topped Good Luck in Jail… which is what the cops'll say when you start screaming about how delicious it is at 4a.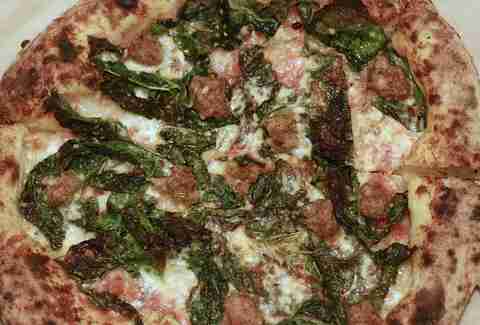 7. Lovely's Fifty Fifty
Mississippi Avenue
What you're ordering: The Fennel Sausage, with red chard, kale & rosemary
This quirky Mississippi pizzeria serves up chewy, slightly charred wonders topped with everything from sweet corn to Summer squash… plus normal stuff like salami and sausage. Luckily, at 12in apiece, you and a crew can crush several in a sitting. Just be sure to split the check 50/50 and save room for the joint's amazing homemade salted caramel ice cream.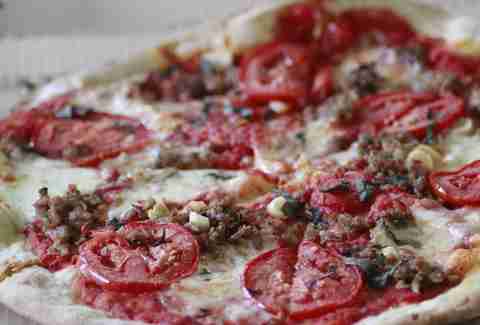 6. Al Forno
Alberta Arts District
What you're ordering: The Puttanesca, with sausage, garlic, and tomatoes
This Alberta joint -- which means "baked" in Italian -- embraces the thin-crust Sicilian tradition, offering up cracker-thin perfection (though their strombolis and calzones are formidable) topped with prosciutto, mortadella, and hand-made sausage that tastes even better when you're totally al forno.
5. Baby Doll
Buckman
What you're ordering: The bacon, sausage, peppers, onion & mushroom masterpiece
How New York is Baby Doll? They'll get playfully pissy with you if you if you order pineapple, then talk about how A-Rod was set up. The slices are big enough to function as a sail: perfectly foldable and like cheesy crack when topped with brisket or house sausage.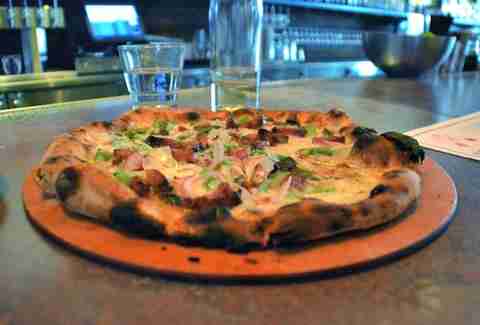 4. Oven & Shaker
Pearl District
What you're ordering: The Pork Belly, with tomato, red chilies & cilantro
When a Beard-nominated chef decides to up the ante on sister restaurant Nostrana's also-amazing pie, you know it's gonna be special. When you realize the barman's one of Portland's most renowned mixologists, you look for an apartment in the neighborhood so you can enjoy a roasted-pepper cocktail with everything from octopus to pork shoulder/pineapple pies -- cooked before your eyes in a wood oven -- on a daily basis.
3. Flying Pie
Montavilla
What you're ordering: The "Chicago-style" Pepperoni, which appears to have an full pig on it
Ok, so the "Chicago-style" pizza is about as "Chicago" as Catherine Zeta-Jones, but FP's breadstick-thick, salty/cheesy dough is a thing of magic, and, without it, the pie couldn't support the ridiculous amount of cheese and meat piled on top (you can get thinner crust, but don't). Eat it in the old-school pizzeria, or w/ a beer next door at the second-run Academy Theater. Maybe they'll be playing that delightful Chicago movie.
2. Ken's Artisan Pizza
Kerns
What you're ordering: The Soppressata, with spicy basil
Ken's perfectly charred pizzas take about two minutes to cook in the ultra-hot oven, which is roughly the same amount of time you invest in your other favorite pleasure. What pops out is a thin-in-the-middle, thick-on-the-outside masterpiece topped with high-end meats like soppressata, prosciutto, and fennel sausage, all highlighted by a tangy sauce and the freshest cheese imaginable.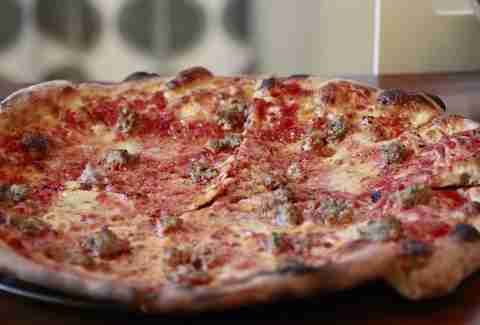 1. Apizza Scholls
Hawthorne District
What you're ordering: The simply named Sausage, topped with just that
Probably PDX's most popular pizza -- just look at that line! -- Apizza's got a lot of rules, including a limit on toppings and a policy that if they run out of dough, you're SOL. But really, they could tell you to do anything they wanted and you'd obey just to get your mouth around that perfectly chewy, focaccia-bouncy, thin crust, perfectly charred and topped w/ hot capicola.