These are Portland's 5 best burgers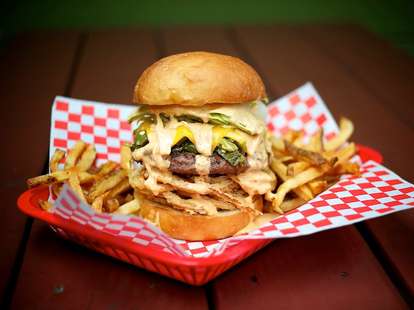 The burger: a food so glorious, mania for it caused a neverending crime spree amongst the citizens of McDonaldland. Everybody and their mother (and grandmother) does 'em 'round these parts, but these are the ones who do it best… forgoing crazy embellishments to keep the focus squarely on the wonders of ground meat on a bun. Be on the lookout for a suspicious fellow in striped pajamas.
5. Classic Burger
Bar Bar
3939 N Mississippi Ave; 503.288.3895
Stuck on the side of Mississippi Studios, Bar Bar's menu consists of burgers, fries, burgers, and sliders that are also burgers. These meat slabs are perfectly thin, no-nonsense affairs w/ secret sauce serving as the only embellishment and making them the closest thing to In-N-Out you're gonna get without expatriating to Cali Cali.
4. Yakuza Burger
Yakuza
5411 NE 30th; Concordia; 503.450.0893
Though best known for its sushi, Yakuza's possibly PDX's best happy-hour burger, a beautifully bloody stack of beef, chevre, shoestring potatoes, house-made ketchup & spicy mayo. Sometimes, they also offer it w/ tempura pork belly, which's basically committing seppuku w/ your left ventricle.
3. Biwa Hamburger
Biwa
215 SE 9th; Buckman; 503.239.8830
The high-end ramen joint only offers its amazing $8 burger on its late-night menu, but it's worth staying up as late to get a taste. The monstrous beauty is a perfectly seasoned hunk of beef topped w/ kimchi mayo & a gigantic slab of BBQ pork that'll linger in your dreams (and teeth) all night.
2. The Special
Stanich's
4915 NE Fremont; Beaumont; 503.281.2322
In a city where every other burger's a gourmet monster topped w/ stuff like foie gras and freshly foraged whatever, Stanich's sports bar has become famous for not messing around with any of that crap. Order the epitome of old-school -- "The Special" -- and get a gigantic slab of America w/ chuck, ham, bacon & egg. Then forage for some Tums.
1. The Double Foster
Foster Burger
5339 SE Foster; Foster/Powell; 503.775.2077
Foster Burger does pretty much everything right, including knowing its limits. The gloriously simple Double Foster comes slathered in Foster Sauce and stacked w/ two patties cooked medium despite their thinness, allowing the pillowy/buttery roll from neighboring An Xuyen bakery to soak up the juice like a sponge. You can add everything from bacon to jalapenos, but really, you don't need to mess with perfection.