People in Portland love to talk about food. Specifically, they love talking about the same food. Over and over. So much so that, in the constant barrage of foodie-speak, reviews, and buzz, certain restaurants get lost in a sea of hype and repetition.
Sometimes, the mark of a good restaurant has nothing to do with trends or what your foodie friend says you should be eating. Sometimes -- and this is wild, so bear with us -- the mark of a good restaurant is that it makes great food. These are the 14 most underrated restaurants in Portland.
<em>Sunnyside</em><br />
<strong>What you're getting:</strong> Peixinhos da horta and the sautéed shrimp<br />
<br />
Hidden in plain sight, Fado is the best-kept secret in Sunnyside, serving owner Nick Ross' grandma's traditional recipes that he came to love during his childhood days in the Bay. (He'll be wearing a Giants hat, and he sports it with ferocity. Dodgers fans beware.) Start with the must-order bar snack that is ubiquitous in Portugal: tempura-fried green beans with house-made mayonnaise and piri piri sauce (peixinhos da horta). That's the perfect start to a menu that includes wine-steamed clams, steak, and sausage flambéd tableside.<br />
&nbsp;
<em>Kerns</em><br />
<strong>What you're getting:</strong> Crawfish Anh Luu or the nightly seafood boil<br />
<br />
Don't let the kitschy Mardi Gras look fool you: Tapalaya takes its Cajun-with-a-pinch-of-Vietnamese cuisine seriously. But you should get into the spirit, so grab a communal fedora and furry boa to don while you feast on crawfish over creamy stone-ground grits swimming in a peppered orange-brown sauce, a dish named after Tapalaya chef Anh Luu. If you're willing to do some work, go for the seafood boil and peel your way to shellfish rapture, or settle in for one of Portland's best mac &amp; cheese bowls. You may sweat, depending on your tolerance for spice, but that's no reason to be embarrassed -- plenty of other bald men have perspired into the exact fedora now sitting atop your cranium.
<em>Concordia</em><br />
<strong>What you're getting: </strong>Escargot à la Bistro Cocotte<br />
<br />
Depending on whom you ask, a Cocotte's either a fashionable French prostitute or cookware similar to a Dutch oven (but, well, French). And both can produce euphoric results (or so we hear). The chefs at Cocotte have perfected the use of the latter with their signature dish of pan-roasted half chicken atop farro risotto and veggies all soaking in rich jus. This small, airy establishment inside a pocket of Killingsworth's best new restaurants is both understated and classy, featuring a solid cocktail list with a few original concoctions alongside mainstays like the Vieux Carré. And the lemon-tinged snails are the best in town. Nine out of 10 French prostitutes agree!<br />
&nbsp;
<em>Irvington</em><br />
<strong>What you're getting:</strong> Brussels and pork au gratin<br />
If you must drag yourself to the Lloyd Center mall for your goth cousin's birthday present from Hot Topic, resist the urge to grab an Auntie Anne's pretzel on your way out. You'll want to escape the mall mayhem for a two-block jaunt back to reality. What reality you ask? The one where there's a great European-inspired restaurant in the basement of a Victorian home. Enter Petisco, with its rotating menu of solid French-Italian sandwiches and indulgent dinner courses like bacon-wrapped meatloaf. Spending an afternoon to buy those adhesive vampire fangs won't be a total waste after all.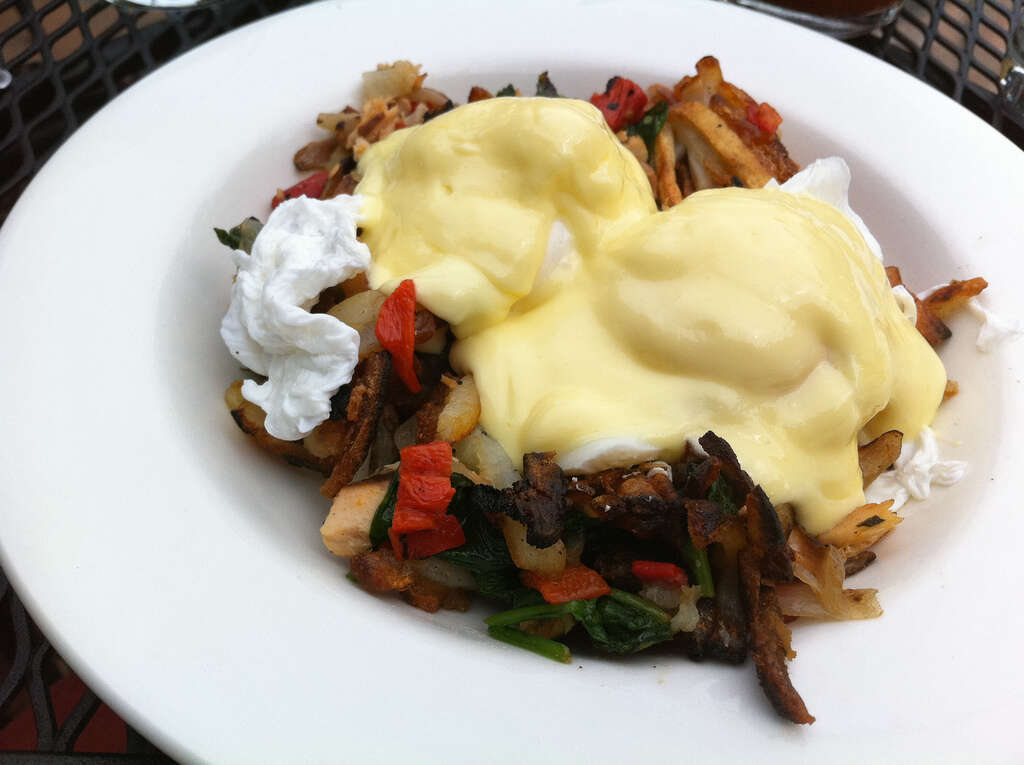 <em>Mississippi</em><br />
<strong>What you're getting:</strong> The breakfast pillow<br />
<br />
The perfect place to watch the hordes mill in line outside of Gravy, Equinox is the best-kept brunch secret in the Mississippi 'hood... and there's never a line. Not that the food's not worth it. Take, for example, the breakfast pillow, a puff pastry loaded with roasted veggies, topped with poached eggs, and drizzled with cheese sauce. There's a meaty version too, if you really want to just go back to bed afterward. Meanwhile, dinner's equally satisfying, and includes a brown sugar- and coffee-encrusted tuna that would be right at home in the morning. Thankfully, you don't have to wake up early to get it in your mouth.
<em>Division</em><br />
<strong>What you're getting:</strong> Green chile cheese fries and a red chile bowl (add a fried egg)<br />
<br />
How many quality restaurants share a building with a Plaid Pantry? One, I can think of only one, and it's La Panza (The Belly), whose patio tables have taken over several parking spots. It's rarely found outside of its home borders, and those in the know will tell you that a New Mexican restaurant is only as good as its chile. So strip away all the fluff and eat a bowl of straight-up deep-red chile with pinto beans. After soaking up the last bit of spicy sauce with your tortilla, you'll think you're on top of a mesa watching a Southwestern thunderstorm ravage the purple sky -- no, wait, you're still in the dull gray parking lot of a convenience store.<br />
&nbsp;
<em>Hollywood</em><br />
<strong>What you're getting: </strong>Chive blinis with trout caviar and crème fraiche<br />
<br />
Though consistently earning industry accolades, Cabezon made it to our underrated list because you people don't seem to get the message that it's worth pulling off Sandy in the no-man's land between Hollywood and Beaumont for Chef Dave Farrell's seafood classics and fresh creations. If the cioppino alone doesn't keep you going back, there's something wrong with you... and you've never had a chive blini!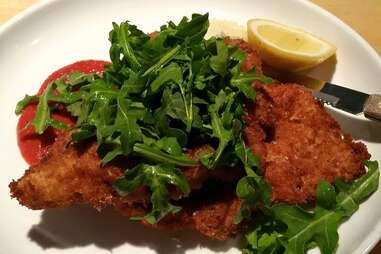 <em>Buckman</em><br />
<strong>What you're getting: </strong>Fried pork paillard<br />
<br />
From the outside, Roost looks like it could be a little coffee shop on a quiet stretch of Belmont, right before things begin to get chaotic. In actuality, it's serving up a fresh array of amped-up comfort food, from a fantastic take on the pork cutlets to fried goat cheese, putting a farm-fresh American flair into Mediterranean and Euro fare. It's a true testament when something as simple as a roasted chicken can be elevated to this level. Maybe it's just because the resto is called Roost. Or maybe it's because the place knows its way around a bird.<br />
&nbsp;
<em>St. Johns</em><br />
<strong>What you're getting:</strong> Los Angeles street-style carnitas burrito<br />
<br />
Some people think of Portland as a vacuum for LA-style Mexican greatness. Those people don't make it up to St. Johns nearly enough, because the neighborhood is enough to make a California transplant forget the Mission (not that they'd venture that far North). And what comes with the best burritos and tacos in Portland? The greatest all-you-can-smother salsas and pickled vegetables bar in the area, of course. And it's all served up in the traditional Mexican-food environment: an unassuming little grocery store.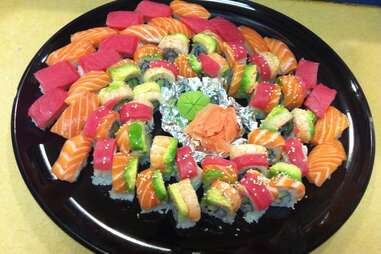 <em>Downtown</em><br />
<strong>What you're getting: </strong>Salmon nigiri, spicy tuna hand roll<br />
<br />
Despite an absence of dairy, a sushi train can be cheesy. So how does Sushi Ichiban transcend this to become one of the city's best? Well, for one, it ditches the stuffiness in favor of loud rock music. And, more importantly, the train thing is literal: a Southern Pacific toy train hauls a number of classic, perfectly assembled, crisp sushi rolls straight to you. More importantly, though, it's delicious in a way that transcends gimmicks. Though in this case, the gimmick is half the fun.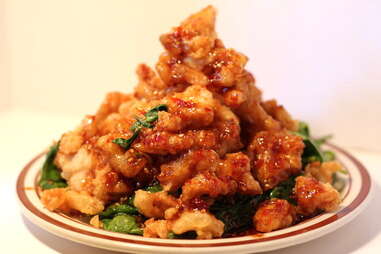 <em>Downtown</em><br />
<strong>What you're getting: </strong>Pad kee mao<br />
<br />
Close to the PSU campus, Baan Thai serves the exact same Thai dishes you can get at any of the dozens of surrounding Thai carts, except its take on them is 100x better. Baan Thai's specialty is definitely its unique and extreme spice levels balanced with traditional basil, lime, and fish flavors. We recommend the mild pad kee mao. Just be warned, this spot's version of "mild" is actually a euphemism for "holy shit!"
<em>Buckman</em><br />
<strong>What you're getting: </strong>The Original with carne adovada<br />
<br />
Located on a mostly barren-looking strip of SE Morrison, Pepper Box is the gem on the block. The portions are huge -- be warned, you may not actually need to order more than one pastrami breakfast taco, and the sauces are to die for. You're asked to choose New Mexican red chile or New Mexican green chile to add to your dish. The correct answer is, of course, both. Always both. Why pin them against each other when they actually get along so well? Pro tip: don't skip on the green chile cheese fries. Actually, that's more of a life tip. You're welcome.
<em>Irvington</em><br />
<strong>What you're getting:</strong> Fondue fries and Brussels sprouts<br />
<br />
Forget everything you've heard about this place, including the gorgeous hipsters and giant Mason jar drinks. The food menu is the main attraction at Swift Lounge. Yes, it has your regular old hamburgers and pork sliders, but what you actually want to order are the veg-based plates such as the one-of-a-kind fondue fries, roasted cauliflower, Brussels sprouts, and sautéed broccoli. Like your ma said, eat your veggies. They're probably not healthy anyway, and they're delicious.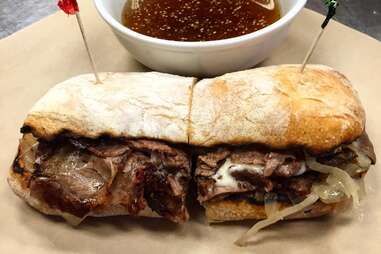 <em>Hawthorne</em><br />
<strong>What you're getting: </strong>Red wine-braised beef<br />
<br />
Devil's Dill takes its sandwiches seriously. The red wine-braised beef sandwich? Yep, that was braised in-house, and is, for the record, delicious. The sandwiches are consistently flavorful, and you can tell with each bite that every component is super fresh. These guys take no shortcuts in their sandwich art. They do, however, take shortcuts when they deliver to your house until 2:30am.<br />
<br />
<em><a class="vortex-open" data-campaign="2844" href="https://signup.thrillist.com/&quot; target="_blank">Sign up here</a> for our daily PDX email and be the first to get all the food/drink/fun Portland has to offer.</em>