With respect to K-Ci, there's only one place for a jojo, and it's right next to a steaming piece of fried chicken. Chicken and jojos are beautiful in their simplicity... just batter-coat some chicken and some huge potato wedges, fry them until they're golden brown, and serve them w/ dipping sauce. We've scoured Portland's deli counters and dives -- nothing fancy here -- to track down the very best, which even K-Ci would agree make better use of jojo than "All My Life".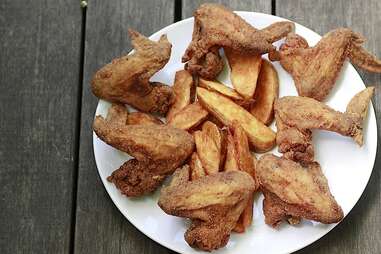 Alberta Market
915 NE Alberta St; Alberta Arts District
This unassuming convenience store manages to trump pretty much every deep fryer on the busy Restaurant Row by rocking huge, Southern-style wings w/ a hint of spice that pair perfectly with the salty jojos. The only downside is that they, like Paul McCartney, only have wings. Luckily, at $5 for six wings and jojos, you're not gonna complain.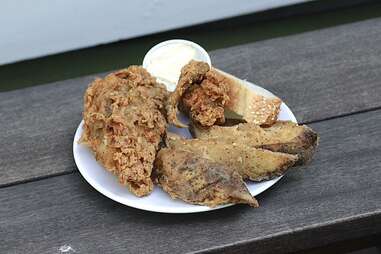 Mad Greek Deli
1740 E Burnside St; Buckman
Don't call the jojos "jojos" (even though they're totally jojos). They're "Greek fries", thankyouverymuch. These're coated with Mediterranean spices before being plunged into the fryer, and they're served along with huge chunks of salty chicken and an Omega sauce made of Charlton Heston feta, mayo, and secret spices.
Fryer Tuck's
6712 SW Capitol Hwy; Multnomah Village; 503.246.7737
Nobody's gonna call you Little John after you dive into one of Tuck's signature snack boxes, which include a mound of jojos and two or three massive chunks of bird that, at under $10, totally make you feel like you're stealing from the rich.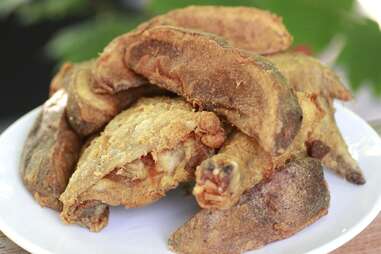 George's Corner Tavern
5501 N Interstate Ave; Overlook; 503.289.0307
This unassuming NoPo dive populated with blue-collar football fans and rain-soaked MAX track refugees fries up hunks of bird so big you need two hands to hoist them, and serves them up w/ huge jojos that make you think they've done something sinister to Mr. Potato Head in the back. Even better, you can score them w/ $1 PBRs and tequila Jell-o shots during happy hour.
Reel M Inn
2430 SE Division St; Clinton/Division; 503.231.3880
Reel M Inn apparently sources its birds from a farm near a nuclear power plant (note: this is unconfirmed), resulting in breasts the size of Nerf footballs w/ bubbly skin. The jojos, meanwhile, look like javelins and measure in at nearly a foot. Orders take at least 25mins, since they make 'em to order in a single fryer, and about 25 more to cool. Put on a little K-Ci to go along with those jojos, and get ready to fall in love.