Presented By

10 Food Delivery Services for When You Don't Feel Like Cooking for Your Next Gathering
Step away from the cutting board.
Presented By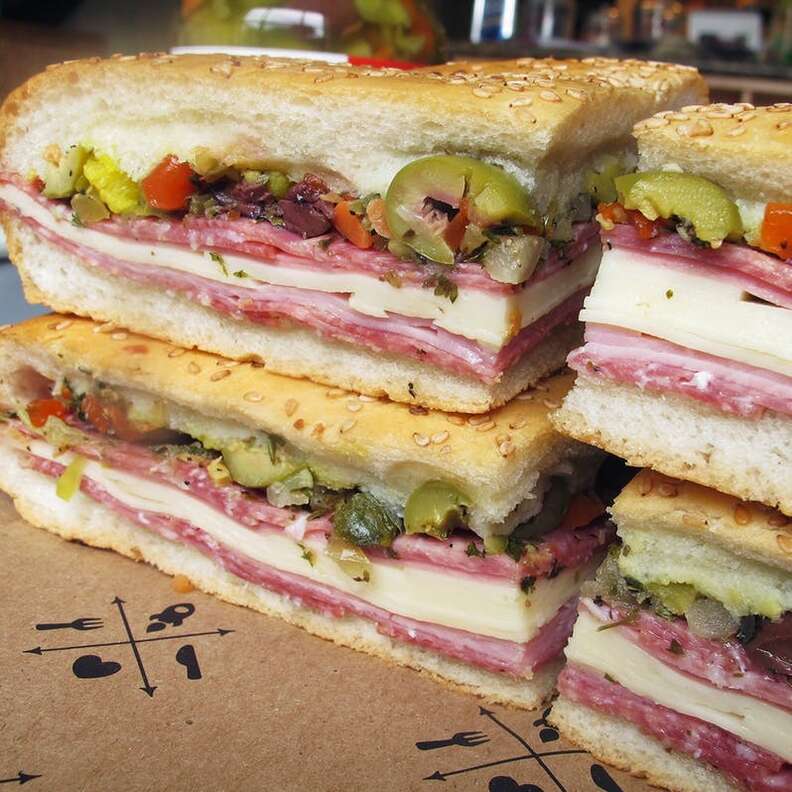 So, you're having friends or family over for dinner, but you really, really don't feel like braving the lines at Trader Joe's. Or cooking. Or both. That's why we sampled prepared foods ordered from the Interwebz (hey, somebody had to take on the lofty calling of eating deep dish pizza alone in their PJs at midnight watching Outer Banks season two) to find the absolute best places to order high-quality fare online. Just add canned cocktails and you've got yourself a party.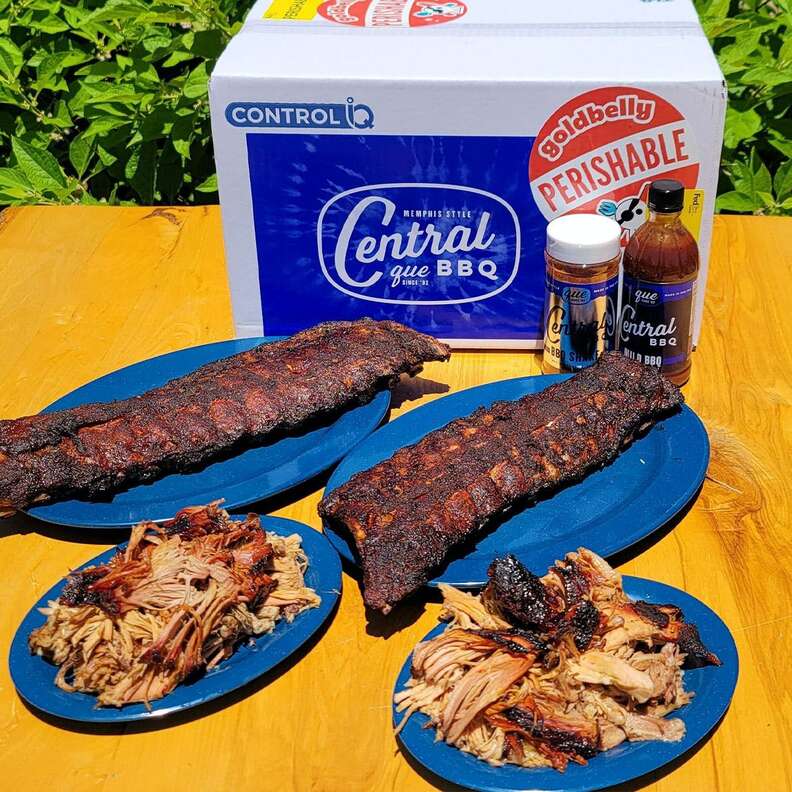 These are strange times we're living in, so even if it's just you and your roommates or family at your next "party," why not treat yourself to a monthly excuse to celebrate and gather over food? That's why we love Goldbelly's incredible six-month subscription to their greatest hits. We're talking drool-inducing pies, 'cue galore, and otherworldly lobster rolls. The sweet and savory assortments all serve four or more, and the element of surprise just makes this so much fun. Think: New Orleans muffulettas from Central Grocery, a first-rate Southern layer cake from Caroline's Cakes, and Memphis-smoked barbecue ribs from legendary Central BBQ.
If you're hosting a small birthday gathering, nothing says "congrats on turning another year older" like a tantalizing lobster roll. This set includes all the victuals you need to make four lobster rolls, along with two Maine whoopie pies and candles to complete the festivities. If you need more lobster (always), spring for the party pack ($265), which includes fixings for lobster and crab rolls, an appetizer platter and whoopie pies for eight to 10 guests.
NYC and LA friends who would like to hang up the apron for the evening, this one's for you: If your pals made a commitment to clean eating amid the pandemic (so, 89% of the people you know), wow 'em with meals from this organic meal delivery service that peddles fare free of gluten, dairy, and sugar without compromising on flavor. Some sample dishes include beluga lentil and beet salad with orange blossom vinaigrette, grass-fed grilled steak with sesame chili bok choy, and Brazilian fish moqueca with collard greens. While the plans are designed for solo folks embarking on multi-day healthy eating kicks, simply plate the colorful dishes, place in the center of the table with tongs, and let everyone sample a bit of everything — they'll never guess it was anything but homemade. If you're outside of NYC and LA, and having one or two folks over for dinner and feel like stockpiling some extra plant-based breakfast, lunches, and snacks for yourself, go for the three-day Feel Good Fix program for $198 and dig into holistic heaven.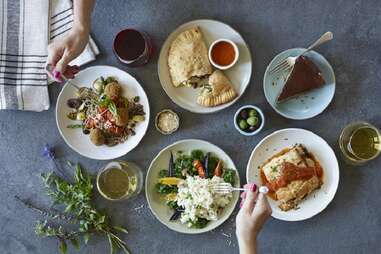 Another great option if you've got plant-based folks or various dietary restrictions at the table, Veestro offers 50-plus pre-made vegan meals created by pro chefs. When you're ready to eat, heat them up in the microwave and get excited for the crew to sink their teeth into hits like pad Thai, Hawaiian chili, and carrot osso bucco. You can also choose from categories like nut- and soy-free, and we're yet to meet a slice of their veggie pesto pizza we didn't gobble up and adore.
Takeout delivery apps are a dime a dozen, but not all of them allow you to schedule in advance as DoorDash and its sister app Caviar do. Through these services, you can place your order up to four days in advance, scheduling the delivery window down to the half-hour, so the food arrival from your favorite neighborhood restaurant is timed properly with the evening's festivities. Another fun fact about DoorDash: You can get a meal delivered to a loved one with their "send as a gift" option on the checkout page, complete with a personalized message to let them know you're thinking of them, wishing them a happy birthday, or simply thanking them for hosting a fun party, and letting them know that tonight's epicurean plunder is on you.
If you've got enough energy to throw your favorite protein on the grill and maybe cut up some lemon wedges or pre-marinate things if you're feeling ambitious, dinner is as good as served with Blue Apron's launch of high-quality meat and seafood, ready to be cooked up and devoured by you and your invitees. Each bundle (Great for Grilling, Surf & Turf, Seafood Trio, and Specialty Selection) includes 12 servings and arrives with a variety of spices and recipe ideas. Note: Butcher Bundles are available across all plans and can be ordered in addition to or instead of your weekly subscription box, so you'll need to be a subscriber. If you'd like, you also can order these bundles with Blue Apron's recently launched Add-Ons, comprised of four-to-six servings of an appetizer, vegetable side, or dessert. Say, snow peas & nectarine salad with grana padano & pistachios, truffled potato cakes with fontina & sour cream, or carrot cornmeal cake with mascarpone maple frosting.
Whole food, plant-based dishes arrive straight to your door with enough food for 37 servings (for $129), so there's plenty to heat up and present at the table for hungry guests. MamaSezz churns out fan-favorites like Southern-style potato salad, Tuna-ish Salad, Corn Chowdah, classic cornbread, and lentil dhal with quinoa. Don't forget the World's Best Tomato Soup and baked beans. Yes, it's all entirely vegan, and yes, it's actually good. Bonus: The brand supports local farmers and suppliers, all in the process of setting the foundation for your next epic dinner party.
This chef-designed meal delivery platform consults with nutritionists to ensure meals not only taste amazing, but are good for you, too. The service partners with local chefs across the country — they currently deliver to the DC metro area (plus Richmond and coastal Virginia), New York City, Philadelphia, the Bay Area, Dallas-Fort Worth, Houston, and southern California — to create regionally-inspired menus with responsibly sourced ingredients for standout dishes like grilled chicken with bok choy, radish, and cilantro mint sauce; vegetable biryani with chickpeas and basmati rice; and zucchini lasagna with ground turkey and sauteed peppers. Meal preferences run the gamut from paleo and vegan to Whole30 and Mediterranean. Bonus: Meals come in compostable packaging and a portion of every order supports Feeding America's efforts to help those facing food insecurity in America.
If you're craving Italian, you can order all your favorite provisions from Eatly via Instacart including Caprese salad, lasagna Bolognese, melanzane alla Parmigiana, fregola Mediterranea, ricotta cannelloni, and many, many more lip-smacking good entrees and sides. It's currently available in New York City, Los Angeles, Boston, Dallas, and Toronto and your order can makes it to your door in as little as an hour. (Dinner = saved.) Worth noting: The prepared meal options may vary from one store location to another, so log in to Instacart, enter your zip code, and shop the "prepared meals" category from the Eataly store near you. Yes, you should go ahead and add that Wolffer No. 139 dry rosé cider to your cart, too.
In an 11th hour scramble? This grocery delivery app is all about fast delivery (they say 10 minutes) with no order minimum and a flat delivery fee of $1.80. They're currently available in select areas of New York City, with plans to expand to other major US cities later this year. It's great if you're planning a sandwich spread for guests and want to order a big deli counter tab in a cinch, but we also love that you can order items from beloved vendors such as Black Seed Bagels and OddFellows Ice Cream Co. Bagels and lox on deck over here, y'all.
Clorox wants to help give you confidence to get back out there. That's why they've partnered with the Cleveland Clinic and CDC Foundation to form the
Clorox Safer Today Alliance™
, helping brands like United Airlines, Enterprise, and AMC Theaters create healthier public spaces for us all.
Clorox® Disinfecting Wipes
also come in convenient on-the-go sizes, so you're covered wherever you go.