Prix Fixe-less Valentine's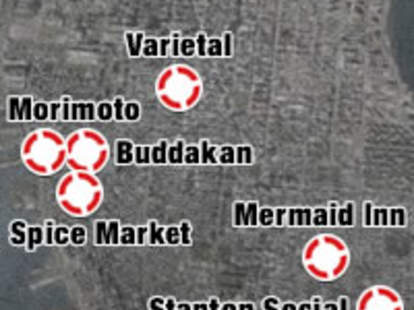 On V-Day, most restaurants rip you off with elaborate prix fixes -- making you too full/poor for sex. The following romance-friendly, a-la-carting spots just started taking reservations -- make yours now, or your girlfriend will murder you in your sleep.
Geisha:33 E 61st St; 212.813.1112; see the menuFrench-influenced Japanese entrées, swimmin' fresh sushi, and a prime setting to tell her about your exciting new book project, Memoirs of a Guy Who's Horny.
davidburke & donatella:133 E 61st St; 212.813.2121; see the menuYou won't have to waste precious love-moments scouring the menu at this whimsically swank modern American spot, because you'll clearly be ordering the RoboCop of culinary innovation: Lobster Steak.
NISH:405 E 58th St; 212.754.6272; see the spanking new menuNestled in a UES townhouse, this critically-fellated New American spot was called March 'til a few weeks ago, when owner Wayne Nish changed the menu and eponymoussed the name. Odd that he didn't go with "Wayne"..
Mermaid Inn:96 2nd Ave; 212.674.5870; TheMermaidNYC.comThe heated outdoor garden at this casually upscale seafood standby is the perfect place to drop to one knee, and propose you eat the skillet-roasted mussel you accidentally dropped on the ground.
Buddakan/Morimoto:88 10th Ave; 212.989.8883; BuddakanNYC.com75 9th Ave; 212.989.8883; MorimotoNYC.comOnly an ass would use this opportunity to crack a joke about Stephen Starr-crossed lovers. That's right, an ass.
Varietal:138 W 25th St; 212.633.1800This recently opened winotaurium's 75-strong by-the-glass list pairs with a constantly changing menu. If your date has trouble matching Szechuan Peppercorn-Seared Venison Loin with the appropriate swill... then she's normal, and probably a keeper.
Alfredo of Rome:4 W 49th St; 212.397.0100; wtf is Italian Sushi?A massive, awesomely garish spot offering both impeccably prepared old school grub and modern tweaks like "Italian Sushi" -- some of which consists of prosciutto and ham rolls, out of respect to those Italians currently sleeping with fishes.
66:241 Church St; 212.925.0202Wildly inventive, MSG-free fare from the most trusted name in Chinese: Jean-Georges Vongerichten
Spice Market:403 W 13th St; 212.675.2322Southeast Asian street food from the most trusted name in Southeast Asian street food: (see above).
The Stanton Social:99 Stanton St; 212.995.0099; behold the menuThis LES go-to's small plates range from duck confit empanadas to charred squid lettuce wraps. The bar area's ideal for a couple-tastic, post-dinner toast -- or for a newly-single guzzling session, if she dumps you for not treating her to a prix fixe.