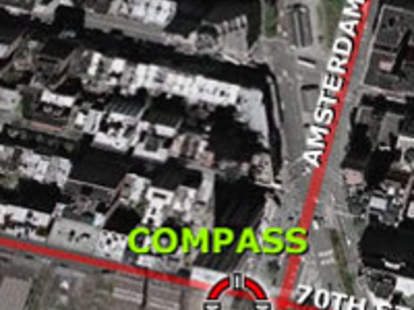 Parents in town? Just receive a corporate credit card? Dying in the very near future? Make the most of your circumstances by reserving a seat at Compass Restaurant's one-time-only, six-course dinner featuring wines from Vega Sicilia.
Warning: this dinner costs $515. Plus tax and tip. But your repast'll be prepared by John Fraser, who the Times singled out for combining "formidable energy with fastidiousness" -- the ultimate compliment for chefs, and cleaning women. Better, your meal will be paired with ten glasses of rare wine from Spain's Ribera del Duero region. You'll drink them in a 2nd floor private dining room, overlooking the 1st floor's miserable, three-course-eating proletariat. Your feast:
- Amuse of Hamachi Tartar with American Caviar and Apple Cider
- East Coast Oyster Fricasse with Quail Eggs, Peas and Chanterelles- Furmint "Tokaji Dry" Oremus 2003
- Grilled Yellow Fin Tuna with Blackberries, Spiced Tomatoes, Nicoise Olives- Bodegas Alion 1998- Bodegas Alion 2001
- Ragout of Suckling Pig with Fresh Cranberry Beans and Preserved Truffles- Vega Sicilia Valbuena 1998- Vega Sicilia Valbuena 2001
- Roasted Duck with Foie Gras, Spiced Strawberries, Fennel, Rhubarb and Swiss Chard- Vega Sicilia Unico Reserva Especial NV
- Saddle of Lamb with Fava Beans, Ramps, Morels and Serrano Ham- Vega Sicilia Unico 1991- Vega Sicilia Unico 1994
- Yoghurt Pannacotta with Vanilla-Raspberry Terrine- Tokaji Oremus Aszu 5 Puttonyos 1999- Tokaji Oremus Aszu 6 Puttonyos 1999
This event's limited to 24 distinguished guests, so if you have the means, grab a spot today. Even if your dad sticks you with the bill as "a lesson", or you get fired or unexpectedly cured, a meal like this should be worth every penny. Plus tax and tip.