If you want to be rewarded with more responsibility, you need to work really hard, unless you're Dolly Parton, who probably didn't even need to work 9-5, because of her giant, enormous, falling out of her blouse...talent. For a hardworkin' chef gettin' rewarded with a restaurant, check Prospect. After killing it as chef de cuisine beneath Boulevard's Nancy Oakes, Ravi Kapur's steppin' up to exec-chef her latest venture, Prospect, an upscale, contemporary Cali resto three years in the making that aims to skew younger than its predecessor in both clientele and cuisine...so tagliatelle-Os? The handsome space begins with a big ol' square bar of polished wood lit by vintage gas lamp-style fixtures, which gives way to the 120-seat main dining room replete with plush, half-circle leather booths and two/four-tops, all boxed by terra cotta walls that manage to look both earthy and modern -- think Encino Man, but totally post-makeover. The menu's composed of both brand new Ravi-made dishes, and inventive numbers the team at Boulevard thought up but were afraid to serve, from pig trotters paired with lobster, to pork cheeks with radish salad, kumquat gremolata, and ancient grains, which the Code of Hammurabi dictates you must consume or else sever your wife's breast and throw her in the river. Though the cocktail program's still in the works, rest assured it'll be stellar as they've gone and scooped up Range's bar manager, most likely because she pours a mean cup of ambition. Plus good drinks or whatever.
Recommended Video
How to Make Ombre Wine Slushies
Previous Venue
Next Venue
Venue Description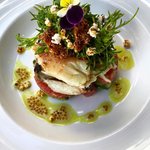 1. Prospect
300 Spear St, San Francisco, CA 94105
Sustainable and organic ingredients are the focus at this upscale yet casual restaurant in SOMA, with a daily rotating menu highlighting local seafood and farm fare in dishes like hamachi crudo with salted pineapple or Dungeness crab and avocado salad. Hit the bar for snacks like jalapeno deviled eggs or surf & turf chicharrones, or if you're in a hurry there's a daily rotating grab 'n go sandwich available.