An Asian-inspired gastropub on the Beach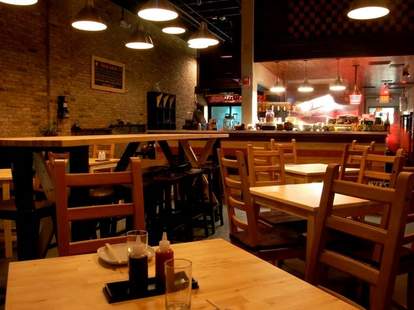 When East meets West, the results can be memorable, from Ichiro dominating in the bigs, to Michael Keaton hilariously polishing a window in a car fresh off the assembly line, even though it's not there!!! Man, that dude would've made a sick mime. Taking East-meets-West to new heights, get to Pubbelly.
From three industry vets (Casa Tua, Nobu, Sushi Samba), Pubbelly's an Asian-inspired gastropub whose cuisine blends Western eats with haute Asian street food, and's set up in the old Shiso space, where they've ripped out the middle and opened the room up to showcase exposed brick, concrete floors, and furniture made of sturdy blond wood, also the last phrase you want to see on the back of a DVD. Raw, marinated, and cured offerings include Jamon Serrano w/ wasabi & black olive mustard, and Jonah Crab Claws w/ yuzu Dijonnaise, while there's also a crazy assortment of small plates like short rib carpaccio w/ yuzu dressing, Asian-ish spaghetti & meatballs (somen noodles, red pepper, lemongrass, mint, peanuts), and butterscotched pork belly w/ pumpkin, bok choy, and corn powder -- which inspired the doc Corncane Cowboys, about crazy seed smugglers in Iowa. There're also seriously innovative dumplings (duck & pumpkin w/ orange, almonds & soy brown butter), off-beat rice dishes like kimchi & pineapple w/ pork belly, and large plates like whole branzino Chinese style and lemongrass jus & crispy garlic over lamb shank, also how sheep take ewe out in prison.
On the pub tip there's an international craft beer selection including Yanjing (China), Clipper City Peg Leg Stout (US), Delirium Tremens (Belgium), and Hitachino Belgian Style White from Japan, plus sakes like Sato No Homare "Pride Of Village", also what George Wendt was after successfully completing four jumping jacks.