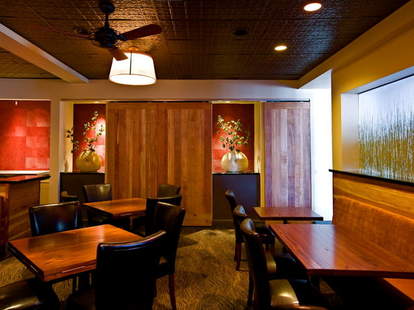 It's always something to behold when a venue's able to transcend others before it, like Vegas' Club XS, the Mall of America, or the six-story cat hotel you built Cheeks, who won't even use it, because cats do what they want. For a next-level Marina watering hole experience, hit The Republic.
The crew behind BIN 38 are giving customary bar grub & glug a turbo boost with The Republic, a swanky super-bar that stocks the largest domestic beer selection in SF, elevated American bar eats by an ex-Adagia/Nopa chef, and several comfortably classy zones (outfitted w/overstuffed club chairs n' booths, chandeliers, a massive copper bar, etc.) to lounge, dine, or knock back one, or...screw it, it's the weekend: two! The eats're pub-familiar but come with at least one delicious twist, e.g., wok-tossed chicken wings doused with curry-Tabasco sauce, jalapeno poppers stuffed with Dungeness crab, mini cheese steak sliders, and onion rings with spicy tamarind-chile ketchup, which may or may not hold a candle to your vaulted Srirachup. Washing it down's a ridiculous list of 60 American draft & bottled craft brews, ranging from Bear Republic Big Bear Black Stout, to Big Sky Moose Drool Brown Ale, to Deschutes Black Butte Porter, to Mad River Jamaica Red Ale -- (Jamaican me...forget I'm in America?).
The kicker? This joint's studded with 12 huge flatscreens, some of which sneakily hide behind slide-to-the-side-able panels of artwork. When there's no decent sports to be watched, The Republic'll play gloriously edgy pay channels like HBO, but hopefully not the show Cathouse, but, hey, they do what they want.