Presented By
Where To Eat Your Way Around the World in Washington DC Right Now
Book a reservation for a far-away dinner at these new eateries, no passport required.
Presented By
The nation's capital is home to countless embassies, diplomats, and professionals specializing in global affairs, so it's perhaps unsurprising that Washington, DC, reflects this diversity in their restaurant landscape. The city is filled with world-renowned chefs who run a wide array of haunts offering a taste of home to expats — from Norway to Kenya or Lebanon to Georgia (as in the country).
Sample just a few of the spots listed, and you'll quite literally be transported by flavors that will take you around the world, sans passport or jet lag.
Dupont Circle
Scandinavian cuisine is on full display at this colorful eatery from a former embassy chef turned restaurateur in Dupont Circle. Chef Mikko Kosonen spent 15 years as the executive chef for the Finnish ambassador to the US. During his time there, he cooked for politicians, diplomats, and DC's elite.
His highly lauded cuisine includes hits like herring sandwiches on Finnish-style rye bread and seared trout salad tacos. With an emphasis on simple, yet versatile presentations, Mikko uses cooking techniques such as curing, smoking, and pickling to achieve distinct flavors. Each dish is also made fresh in-house and several dishes include vegetable components like wild roots and foraged mushrooms. Of course, dessert is worth the splurge after eating so healthy. Most diners gravitate toward cinnamon rolls and whipped cream berry cakes to satisfy a sweet tooth. We'll make that a double order and take some Icelandic chocolate to-go.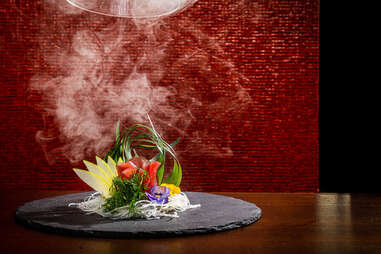 The Wharf
This omakase experience feels as if you've been transported to Tokyo for some of the freshest selections of sushi and sashimi the nation's capital has to offer. The waterside views of the city (and yes, you can see the Jefferson Memorial from here) add to the experience as you savor that warming bowl of miso clam chowder. This is one of the latest additions to The Wharf, which comes from a Washington veteran, Chef Kaz Okochi (of KAZ Sushi Bistro fame). He teamed up with Lucas Irwin, who studied under Iron Chef celebrity chef Masaharu Morimoto.
The menu is centered on modern and classic dishes from Japanese cuisine. Take, for instance, the umami-laden tofu and shiitake mushroom steak, marinated in a lemongrass miso glaze, or the colorful vegetable futomaki, a mosaic-style sushi roll made with seasonal vegetables. Sake and Japanese whisky tastings are also popular thanks to a versatile and extensive list. Kanpai!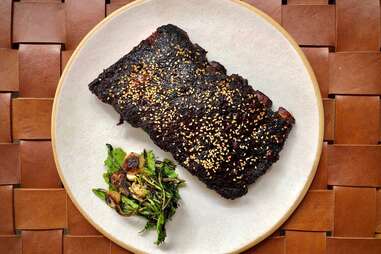 For a taste of Lebanon: Albi
Navy Yard
It's consistently ranked one of the best restaurants in Washington, DC, and the menu spans the Levant region thanks to Chef Michael Rafidi's Palestinian, Lebanese, and Jordanian roots. The modern Middle Eastern restaurant serves up sublime dishes that come from a coal-fired hearth, including prawns served with harissa garlic butter and smoked chicken with corn succotash and pepper tahini.
Turkish-style Manti dumplings are also a top pick, and they pair perfectly with a list of Middle Eastern wines and themed cocktails, like the Jaffa Orange — a citrus-based drink with vodka, orange juice, Don Ciccio & Figli Mandarinetto liqueur, and orange blossom. In addition to those offerings, Rafidi runs his Habibi Sofra Club dinner series, where he invites notable chefs to the kitchen for a prix fixe dining experience. Every dish and drink is carefully considered, so much so it's no wonder that "Albi" means "my heart" in Arabic.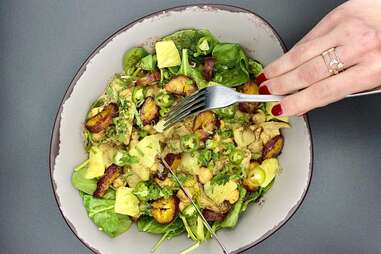 Downtown & Union Market District
Immigrant Food is located a block from The White House, and it's become somewhat of a restaurant think tank in just a few short years. That's thanks to this fast-casual eatery serving as a gathering place for immigrant communities with its Think Table initiative, an effort to help to build advocacy and awareness for refugee communities.
Grub-wise, Chef Enrique Limardo's culinary inspiration comes from his home country of Venezuela. One of our go-to's is the Venezuelan-style arepas that are accompanied by a Middle Eastern-style shakshuka. He also has bragging rights to making one of the best Cuban sandwiches in town, which pairs wonderfully with the pineapple matcha or mint limonana refreshments. And his most recent addition is a nourishing bowl that pays tribute to Vice President Kamala Harris. The "Madam VP's" entree combines Jamaican and Indian flavors with coconut-milk curried chicken stew, chickpeas, potatoes, pineapples, plantains, and a hint of spicy peppers, served over turmeric rice and baby spinach.
Dupont Circle
Nicknamed "The Consulate," this subterranean restaurant sits beneath Dupont Circle, making it slightly tricky to spot, but in-the-know diners flock here, including several embassy staffers, who always have a table reserved.
Chef and owner Kevin Onyona caters to all his regulars by name, which include a steady stream of diplomats and dignitaries in search of Kenyan cuisine. One of his staple dishes is goat, which is marinated then grilled before being slow-cooked down into a stew. It's available as an option on the group platter, also brimming with with beef and chicken, plus sides of collard greens, spinach cooked in cabbage, coconut milk, and corn-based fufu, known as ugali.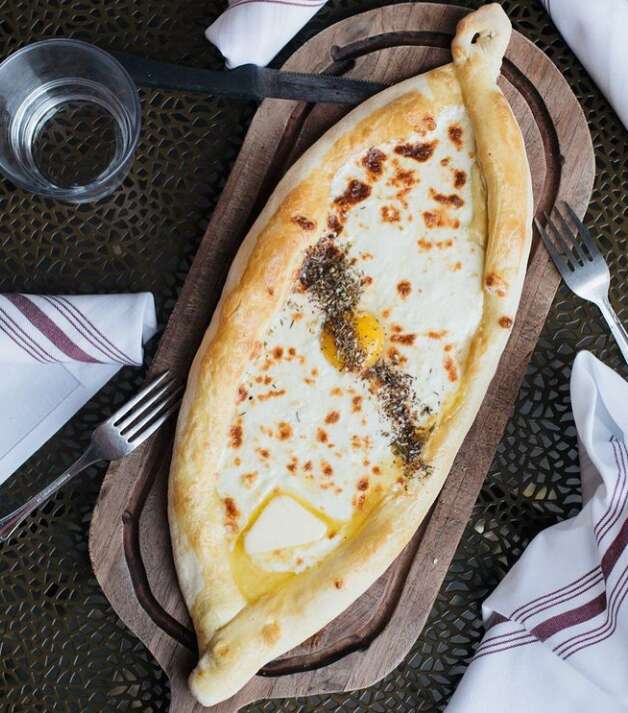 14th Street / U Street
Okay, okay, we confess this isn't exactly new, but if you're looking to venture around the world in a single dinner, we'd be remiss in not guiding you to Compass Rose. The menu features street food found around the globe — think patatas bravas from Spain, asado from Argentina, and kebab from Tunisia. But there is a signature dish that many Washingtonians order on-demand, and it's largely due to restaurateur Rose Previte's love of the country Georgia (where she spent several years abroad as an expat). There, she stumbled upon one of her favorite dishes, khachapuri, while visiting Tbilisi, and her interpretation of the traditional cheese-filled bread topped with an egg is divine — and the ultimate savory snack for anyone who's a fan of carbs or melted cheese.
For a taste of The Philippines: Pogiboy
Downtown
Filipino chefs Tom Cunanan and Paolo Dungca built an eatery around their fondest childhood memories, and it's been a sensation for diners visiting The Block — an all-Asian food hall concept located in the heart of downtown DC with outposts in Annandale, Virginia; and Bethesda, Maryland.
Their new concept is called Pogiboy, which in Tagalog means "handsome boy," and is inspired by the cherished childhood joys Cunanan and Dungca experienced growing up, especially while eating around the table with family. Playful dishes conjure up essential Filipino flavors, like the Pogi and To"Chino" Burgers, which are some very tricked out patty stacks on homemade ube (purple yam) buns; and Lechon Kawali, a pork belly dish that comes served in a fast-casual bowl format with a soft egg, Java rice, and Mang Tom sauce — a condiment as versatile as ketchup.
Clorox wants to help give you confidence to get back out there. That's why they've partnered with the Cleveland Clinic and CDC Foundation to form the
Clorox Safer Today Alliance™
, helping brands like United Airlines, Enterprise, and AMC Theaters create healthier public spaces for us all.
Clorox® Disinfecting Wipes
also come in convenient on-the-go sizes, so you're covered wherever you go.