Food truck, meet snowmobile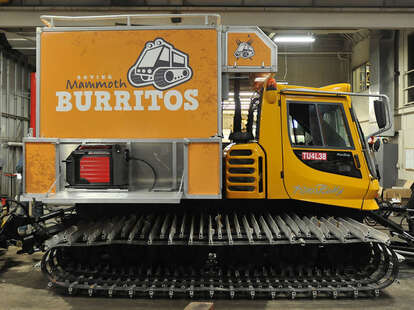 When the thing you want most seems out of reach, you've got two options: give up, or find the raccoon suit and make damn sure you tap "A" like a bandit while the P is flashing. Putting eats you want in places that're hard to reach even with the Super Leaf, Roving Mammoth.
Designed by a 40-year Mammoth Mountain ops vet, RM is North America's first-ever on-mountain, snow-tracked, totally effing bad ass food truck, which'll serve tortilla-filled goodness outta two retrofitted 330hp Edge snowcats from Pistenbully, or more formally, Ron Artest. Beginning today, the trucks'll hit Mammoth runs without access to food (chairs 4/9/12/23) and camp out at the bottom of the lift so you can grab breakfast 'n lunch burritos (including a green chili/egg/beans/salsa morning wrap) and eat 'em on the way up, though whether you eat it on the way down probably depends on your jump turns, and the pow-pow. And other ski terms. The trucks're equipped with a metal grate over one side of the treads, meaning you can actually walk right up a small staircase to a window to order your grub and drinks, which include easily boozed-up mixers thirst quenchers like sodas, juices, and vitaminwater, plus ample amounts of caffeinated bevs from coffee to Red Bull, also what dudes in Shawshank said to Morgan Freeman when he told them he was Irish.
Once they get the heating logistics figured out, they're also planning to have churros stuffed with cream cheese and strawberries -- though eat too many, and soon the only thing that'll seem out of reach is your own warped pipe.