Sure, the Alamo City loves its breakfast tacos, but with its laid-back attitude, wide range of culinary genres available, and usually temperate climate, San Antonio is a city that's tailor-made for brunch. Enjoy a meal at leisure with one or two or nine of your favorite people, sharing dishes that aren't on the menu any other day of the week. For brunch virgins and veterans alike, here are SA's 12 absolute best spots to try out.
Tobin Hill
What you're getting: Parmesan biscuits with honey butter and jam, grits carbonara, a Monte Vista Milk Punch or Winter Coffee

Cozy and inviting, Barbaro offers a thoughtful brunch menu that nods to the classics but doesn't get bogged down by them. The biscuits are fabulous, the grits carbonara (soft egg, bacon, green onion, and Parmesan) manages to be both light and satisfying and unlike any dish you'll find elsewhere, and the stellar build-your-own pizzas allow the brunch-food naysayers in your party to blaze their own trail. There is no going through the motions here, an approach that extends to cocktails that are the perfect complement to the truly original food, and to the warm service that always makes you feel like you're dining amongst friends.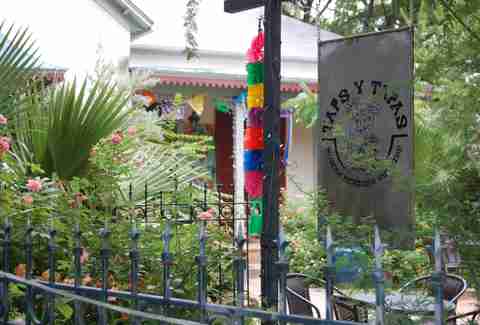 Five Points
What you're getting: Huevos a la paloma, chilaquiles verdes

The only iffy prospect when it comes to venturing out to Taps y Tapas is the certainty of finding parking. Otherwise, it is absolute perfection -- visually adorable, with plenty of seating inside and out, and with a tight but diverse menu of impeccably prepared dishes. Because this is a Mexican place, the offerings that fall within that genre are the true standouts. These include the huevos a la paloma -- shredded corn tortillas and pork in a chili sauce served over grits -- and chilaquiles verdes. Current fans of this unpretentious gathering place for craft beer aficionados and noobs alike will find much to love here come brunch time, even if they have to circle a few times to find a parking spot.
The Pearl
What you're getting: Hangover Hash or The "David Lee Roth" Krispy Kreme Burger

Any time of day, visitors to the Pearl are met with an abundance of top-notch dining options. But if you're deciding where to eat for brunch, consider Boiler House's menu description of Hangover Hash: "Braised suckling pig, chichirones, potato-peppers-onion hash, two fried eggs, charred tomatillo salsa and sriracha crème." Like the David Lee Roth, with its salty-sweet mash-up, the Hangover Hash is substantial food for carnivores. So is most of the brunch menu. Come prepared to indulge, and to really, really enjoy doing so.
The Quarry
What you're getting: Frito pie omelet or famous Southern fried chicken

If you've never been to Max's -- either at the Quarry here in SA or one of the other seven locations across Texas and in Denver and Atlanta -- the image you have in your mind is likely incorrect. Max's is at the Quarry, in Alamo Heights, where the closest thing to a "dive" is... well, nothing at all. But that doesn't mean it's not a great place to kick back. Max's accurately touts its fare as "gourmet comfort food," including the jalapeño buttermilk-marinated chicken deep-fried in a way that gets it nice and crispy without overcooking or making it too greasy. It's fantastic but just one worthy option on an eclectic and original brunch menu. And the service is always fast and friendly, even when the place is packed.
Southtown
What you're getting: Rico Suave licuado, fruit cup with chile and lime, Sincronizada torta

One of Chef Johnny Hernandez's quintet of SA eateries, The Fruteria stays true to its Mexican roots in both atmosphere and food. Much of the brunch menu's focus is on fruit, from fresh-pressed juices and licuados -- smoothie-like fruit blends -- to spiced fruit cups and salads bursting with seasonal fruit. Substantial plates, tortas, and open-faced tostadas showcase various proteins cooked with Mexican flare. The Sincronizada is a simple sandwich of scrambled eggs, ham, Oaxaca cheese, avocado, and crema served on a birote roll. Enjoyed alongside one of The Fruteria's bright fruit offerings, it is satisfying and complex without being heavy or fussy.
Boerne
What you're getting: Buttermilk pancakes with strawberries, wurst kolaches

Sure, this Czech eatery is not exactly convenient for inside-the-Loopers, but it's worth it to make the drive every now and again. Little Gretel is very much a part of the town in which it operates -- unpretentious, stylish but decidedly un-hip and content to be so, charming with a Hill Country feel, and always packed with locals as well as tourists. There is nothing assembly-line or phoned-in about any of Little Gretel's food, but do yourself a favor and give the pancakes or bakery specialties a try. And if you're a San Antonian who hasn't yet nailed down a go-to kolache place... well, there's just no excuse for that. Little Gretel is a great place to rectify that.
Southtown
What you're getting: Eggs in hell, blintzes

The eggs in hell -- three baked eggs in a spicy tomato sauce served with grilled bread and a charred lemon polenta -- are guaranteed to wake up your lazy Sunday. But Feast also accommodates sweet-toothed diners as well as those seeking a steak or burger. In the light of day, Feast's chic, upscale-but-friendly vibe remains. And though it is probably the hottest joint in town right now, it somehow feels like simply a really, really great neighborhood joint.
Alamo Heights
What you're getting: Sardou or Sunday breakfast

The richness of hollandaise and Brie is countered by the spinach and artichokes in the Sardou, by our decree rendering Cappy's particular Benedict offering downright healthy. An equally valid route is the hearty meal with the straightforward name: Sunday breakfast, a beef tenderloin with scrambled eggs, Jack cheese, and pancakes. Tucked behind neighboring shops on Broadway, Cappy's is hard for the uninitiated to see from the street but worth the extra effort to find -- especially if the weather permits patio dining.
Southtown
What you're getting: Breakfast sandwich, arepa Benedict, or lemon pound cake French toast; bread with pancake butter and jam; bottomless mimosas

Honestly, you could probably just eat piece after piece of thick, doughy bread slathered with butter that tastes like pancakes and be perfectly content to call it a day. But to do so would be to miss out on the chef's creative takes on brunch fare -- which, like all of Monty's menu, change according to available ingredients and the kitchen's bursts of inspiration (though several items remain fairly constant staples). At the core of The Monterey's popularity is its food, of course, but the relaxed atmosphere that invites cross-table conversation contributes to its status as a destination restaurant. This is never more true than at brunch, when some diners might be a bit more hungover than others, but everyone seems pretty happy to be there.
Olmos Park
What you're getting: Family FOLC

FOLC is known for its family-style plates of American fare, a concept that works really well at brunch. Depending on the size of your party -- or the size of your appetite -- the Family FOLC should make everyone happy. Consisting of a half-chicken, eight eggs, four biscuits, roasted fingerling potatoes, and a Dutch baby prepared either savory or sweet, it's a substantial meal that offers up a great representation of what FOLC is all about. Don't feel like sharing? Consider the salt cod with avocado, tomato, and onion on toast, or the pork belly biscuit sandwich. And don't neglect to ask about a wine or beer pairing -- with its light touch and kiss of sweetness, the Guadalupe Brewing Co. Texas Honey Ale is a solid choice for pre-noon imbibing.
Eastside
What you're getting: Chicken-fried grits, chicken + waffle, or ham & butter eggs with sweet potato hash; Bloody Mary bar

When it comes to food, there aren't many categories in which San Antonio is severely lacking. But for some reason, there is a dearth of that lively combo of uplifting music and comfort food that is the gospel brunch. Fortunately, we've got Tucker's, a nearly 70-year-old Eastside bar and music venue that under its current ownership has put a lot of thought into its soul food menu. The result is short and sweet; the five main dishes are really all you need, because why would you want to order anything that isn't chicken fried to perfection, served in some combination with grits, hash, biscuits, and/or waffles? The entertainment makes this a true experience rather than just a meal, and the unbelievably low prices make this adventure in good eating a no-brainer.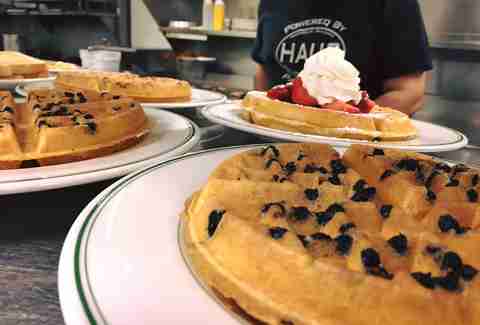 Medical Center, North Central
What you're getting: Peach & pecan waffle or authentic Munchener Apfel Pfannekuchen, custom recipe whole hog sausage

The key to fully appreciating a visit to Magnolia, especially for Sunday brunch, is patience. The savviest of diners put their names on the list and run a couple of errands, or bring a book or, at the very least, make sure that they only show up with companions whose company they truly enjoy. There will be a wait, but the payoff is consistently superior food with a whisper of a German influence. Most of the lengthy menu is fairly traditional and centered around serious egg dishes, waffles, and pancakes, including the aforementioned Pfannekuchen. Think that goopy-sticky-sweet processed apple pancake you've had at chain restaurants is the real thing? This will change your mind and transform you into a willing member of the Magnolia queue.
Sign up here for our daily San Antonio email and be the first to get all the food/drink/fun in the Alamo City.