Sure, the Alamo City loves its breakfast tacos, but with its laid-back attitude, wide range of culinary genres available, and usually temperate climate, San Antonio is a city that's tailor-made for brunch. Enjoy a meal at leisure with one or two (or nine) of your favorite people, sharing dishes that aren't on the menu any other day of the week. For brunch virgins and veterans alike, here are SA's 12 absolute best spots to try out.
Tobin Hill
Cozy spot offering up thoughtful takes on breakfast classics
Cozy and inviting, Barbaro offers a thoughtful brunch menu that nods to the classics but doesn't get bogged down by them. The biscuits are fabulous, the grits carbonara (soft egg, bacon, green onion, and Parmesan) manages to be both light and satisfying and unlike any dish you'll find elsewhere, and the fantastic build-your-own pizzas allow the brunch-food naysayers in your party to blaze their own trail. There is no going through the motions here, an approach that extends to cocktails that are the perfect complement to the truly original food and to the warm service that always makes you feel like you're dining amongst friends.
The Quarry
Southern fare in a high-end dive
Don't let the name mislead you, as this isn't your college dive that smells of cigarettes and spilt beer; it's a dive in the sense that it's a cozy spot you can come for good conversation with those you're close with good food and drinks. Though Max's Wine Dive has seven locations across the country, it feels right at home here in Texas. Relax and enjoy as Max's showcases the South with sweet potato donuts, king cake French toast, and chicken-fried steak poutine topped with a sunny-side-up egg.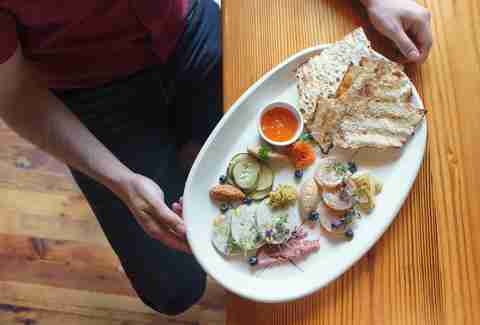 THE PEARL
A fine purveyor of meats
As you might guess from its name, this spot's claim to fame is its meat products, which get cured in-house for one to 12 months -- and as such you'll be hard-pressed to find a dish that doesn't include meat in one way or another. This timeless method of preparing meat feels appropriate with the renovated historical building that Cured occupies. For a main course, you're best off listening to the chef, so go ahead and get The Chef's Breakfast with biscuits, crab meat, eggs, boudin noir, praline bacon, fried green tomatoes, and a michelada. There's also a diverse charcuterie selection that features those aged meats alongside plenty of house-pickled sides. Every item on the menu will hit the spot when you're feeling more in touch with your carnivorous side.
Southtown
A polished take on the fruit stands of Mexico
One of chef Johnny Hernandez's quintet of SA eateries, The Fruteria stays true to its Mexican roots in both atmosphere and food. Much of the brunch menu's focus is on fruit, from freshly pressed juices and licuados -- smoothie-like fruit blends -- to spiced fruit cups and salads bursting with seasonal fruit. Substantial plates, tortas, and open-faced tostadas showcase various proteins cooked with Mexican flare. The Sincronizada is a simple sandwich of scrambled eggs, ham, Oaxaca cheese, avocado, and crema served on a birote roll. Enjoyed alongside one of The Fruteria's bright fruit offerings, it is satisfying and complex without being heavy or fussy.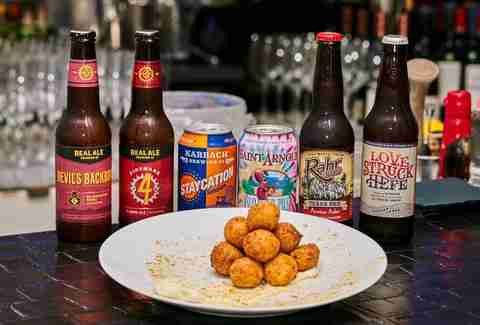 Southtown
Upscale American breakfast classics in a trendy atmosphere
The eggs in hell -- three baked eggs in a spicy tomato sauce served with grilled bread and a charred lemon polenta -- are guaranteed to wake up your lazy Sunday, but Feast also accommodates sweet-toothed diners, as well as those seeking a steak or burger. In the light of day, Feast's chic, upscale-but-friendly vibe remains. And though it is probably the hottest joint in town right now, it somehow feels like simply a really, really great neighborhood joint.
Alamo Heights
Casual fine dining for contemporary American cuisine
Tucked behind neighboring shops on Broadway, Cappy's is hard for the uninitiated to see from the street but worth the extra effort to find -- especially if the weather permits patio dining. In the Sardou, the richness of hollandaise and Brie is countered by the spinach and artichokes, which in our opinion renders Cappy's particular Benedict offering downright healthy. An equally valid route is the hearty meal with the straightforward name, Weekend Breakfast: a beef tenderloin with scrambled eggs, Jack cheese, and pancakes.
Eastside
A 70-year-old Eastside treasure serves up soul food for gospel brunch
When it comes to food, there aren't many categories in which San Antonio is severely lacking. But for some reason, there is a dearth of the lively combo of uplifting music and comfort food that is the gospel brunch. Fortunately, we've got Tucker's, a nearly 70-year-old Eastside bar and music venue that under its current ownership has put a lot of thought into its soul food menu. The result is short and sweet; the five main dishes are really all you need, because why would you want to order anything that isn't chicken fried to perfection, served with some combination of grits, hash, biscuits, and/or waffles? The entertainment makes this a true experience rather than just a meal, and the unbelievably low prices make this adventure in good eating a no-brainer.
Medical Center, North Central
The finest pancakes in town (obviously)
The key to fully appreciating a visit to Magnolia, especially for Sunday brunch, is patience. The savviest of diners puts their name on the list and runs a couple of errands, or brings a book or, at the very least, makes sure that they only show up with companions whose company they truly enjoy. There will be a wait, but the payoff is consistently superior food with a whisper of a German influence. Most of the lengthy menu is fairly traditional and centered around serious egg dishes, waffles, and pancakes, including the pfannekuchen -- think that goopy-sticky-sweet processed apple pancake you've had at chain restaurants. This will change your mind and transform you into a willing member of the Magnolia queue.
Southtown
Bright, modern, pop art-inspired European diner
Let's keep it simple. The Bite Burger has four key ingredients: Kobe beef, bacon, avocado, and egg. If that's not the most tantalizing quartet of star ingredients you've ever heard of, you're either lying, or you're an octopus disguised as a human. Even if the burger doesn't excite you, and you're somehow not into the idea of eating perfectly crafted eggs Benedict with Canadian bacon, there's always the lamb cigars -- they're kind of like egg rolls, except filled with lamb and superior in every way.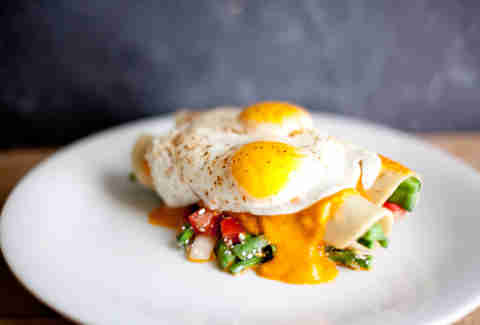 Alta Vista
Refined Tex-Mex and interior Mexican fare
La Fonda might not be the trendiest, cheapest, or most convenient spot to grab brunch, but it's still great enough to warrant inclusion here. The hacienda-style building features a gorgeous patio with a sprawling oak in the center that makes for a welcoming and relaxing venue. The brunch menu features an upgraded Tex-Mex breakfast staple with the steak and egg migas, and the barbacoa enchiladas brings a delicious twist on everyone's favorite weekend-only taqueria treasure. La Fonda also showcases their specialities like fish tacos, oak-grilled fajitas, and spinach and mushroom enchiladas. Wash everything down with a mezcal mule or even a margarita… don't doubt the curative powers of a morning margarita.
DOWNTOWN
A classy Sunday spot in the St. Anthony Hotel
If you're after a more swanky vibe to show off your Sunday best, Rebelle is your go-to; the moodily lit interior is just the right amount of swanky, and even the food looks elegant on your plate. For a decadent treat get The Parisian, a thick cut brioche French toast with strawberry-blueberry coulis, honey butter, and caramelized Rice Krispies. On the savory side, the Il Scafta en Ferno -- farm eggs baked into spicy tomato sauce with spring vegetables and buffalo mozzarella and polenta -- is a heart-warming delight. There are five brunch cocktails, all of which are bright and uplifting; if you're in a group, order The Funday for a pitcher of rum, orange and pineapple juice, pomegranate, and lemon.
THE PEARL
Southern comfort food with a gourmet twist
Southerleigh earns every ounce of its fine, Southern-dining reputation, thanks to a refined menu that still provides the wholesome, home-cooked feeling you'd expect. The natural warmth of the interior's brick, stone, and wood with exposed metal beams creates a complementary atmosphere for dishes like the braised country ham Benedict featuring jalapeño cornbread and cajun-cream hollandaise, the Texas gulf crab and avocado omelet, and the cracker-crusted redfish with gulf crab beurre blanc. Even better, Southerleigh has its own brewery operation, meaning you can wash all that stick-to-your-ribs goodness down with a michelada made with beer brewed in-house.
Sign up here for our daily San Antonio email and be the first to get all the food/drink/fun in the Alamo City.