Healthy Restaurants in San Antonio That Don't Suck
Charles Barkley notwithstanding, the fat jokes at San Antonio's expense have tapered off over the past few years, knocking us from the most recent ranks of chunkiest cities in the country. Is it any coincidence that there has been a recent surge in new restaurants in the Alamo City that serve cuisine as tasty as it is good for you? We think not. Here are the 10 best.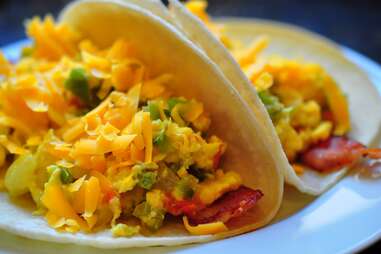 Medical Center
Want a Mexican lunch that doesn't weigh you down? Mision's got you covered. Want a heaping plate of cheesy, traditional enchiladas? Mision's got you covered there, too. Serving breakfast and lunch six days a week from a simple, brightly painted strip-mall location, Mision does something that few other eateries do, giving diners the ability to eat Mexican every day without going up in pants size.
Five Points
There's a lot to love about The Cove, what with its live music and abundant seating. It's also the only place in town where you can get your car washed while enjoying "SOL" food (that's Sustainable, Organic, Local), including fab fish tacos, great salads, and a host of creative burgers and sandwiches.
Far West
For more than 20 years, Mina & Dimi's has been serving traditional Greek fare made with fresh ingredients in a warm, lively atmosphere. Is it possible for you to overindulge? Definitely. But it is also pretty easy to stick to healthy cuisine and not feel like you're missing out. Mina & Dimi's feels at once like a neighborhood joint and destination dining -- the kind of restaurant that inspires loyalty, where one visit leads to another, and where, before you know it, you're a regular.
Downtown
In addition to serving truly healthy and amazing food, O'liva scores in another respect: its nod to SA's history and culture. Chef Chuck Hernandez creates Latin and New American dishes for O'liva's unique service concept: lunch only, except on Fridays. Menu items change based on what's in season, but if you get the chance, try the spicy-sublime ahi tuna aguachiles.
Government Hill
If you're used to processed foods, Grayze will be a shock to your system, in the best possible way. The menu is broad, the wine list extensive, and the atmosphere intimate, and there's a different vibe depending on whether you're coming for lunch, dinner, or brunch. While menu items vary depending on what's in season, some tried-and-true standouts are almost always available and consistently solid; the Bird is the Word roasted chicken breast and the bison burger are stellar.
Downtown
In addition to its weekday lunch service and boxed lunches to-go, Pharm Table also offers workshops and outreach programs designed to educate San Antonians on transformative, mindful eating. But even the most greens-resistant diners will find something to love on Pharm Table's tight but eclectic menu; the substantial farm-to-table tacos are a great choice, especially when shrimp is available.
Medical Center, Stone Oak, Northeast
Pasha's extensive menu features something for everyone -- bowls, stews, seafood and chicken plates, kabobs, gyros, and salads -- all with a definite Mediterranean flair. All three locations are popular and especially crowded at lunch, and it's no wonder. You can't blame folks for seeking out food that is a step up from typical fast food at not much higher a price.
Alamo Quarry
Exceptional ceviche and a wide variety of tacos, tostadas, and quesadillas form the cornerstone of Urban Taco's seafood-centric menu. Everything is made fresh, and it shows. You'll also have a wide assortment of tequilas and agaves to spend those calories on.
Alamo Heights
09ers are great diners -- that is, they're loyal restaurant patrons who show their appreciation of good food by keeping their favorite eateries in business for years and years. Twin Sisters is a prime example of this phenomenon. Family-owned and -operated since 1981, it offers a great traditional breakfast and brunch, and a lunch/dinner menu that accommodates famished vegetarians as well as hungry carnivores.
Tobin Hill
It's an apt name with a double meaning -- the food itself is nutrient-dense, sustainable, and respectfully sourced, and you will definitely be compelled to clean your plate once you taste it. Chef Cat New's dishes are creative and substantial, and there's not a dud on the menu. The hours are a little quirky, so check the website before you go. It'd be a shame to miss out on a dining experience guaranteed to make you feel so good.
Sign up here for our daily San Antonio email and be the first to get all the food/drink/fun in the Alamo City.
Michelle Burgess loves everything about fall -- college football, the State Fair of Texas, Thanksgiving -- but it doesn't mean she'll tweet about any of it. Follow her anyway @MishiBurg.