The Best Italian Restaurants in San Antonio
While the flavors of SA generally run heavier on cumin and chili powder than oregano and basil, San Antonians do not have to live on Tex-Mex alone... or even Tex-Mex, BBQ, and chicken-fried steak alone. For those times when Italian fare is in order, here are a dozen of SA's best spots to try.
Southtown
Can an eatery that is at its heart a simple sandwich & gelato joint truly be classified as an Italian restaurant? Um, yeah, it can. Located in the Blue Star complex, Alamode is a welcome addition to Southtown, offering a tight, creative menu that changes daily. Ingredients are top-notch, flavors are bold, and portion sizes are substantial.
Castle Hills
The king of local pizza making is no slouch when it comes to other Italian fare, as evidenced by its delightful Burrata Bar, substantial salads, and amazing desserts. Sure, you'll have to battle throngs of other Dough-philes pretty much any time you go, but the rewards are well worth the sacrifice.
North Central
The newer Italian eatery from uberchef and restaurateur Jason Dady, Tre Enoteca is great any day of the week, but is an especially ideal spot for Sunday brunch. Ordering family-style brings an added layer of intimacy to enjoying these familiar dishes with an Italian twist, including brown butter-basil hash browns and Tuscan-marinated steak.
Northwest Side
Drive in any of three different directions from Aldino and in five minutes you'll hit an Olive Garden, with its competitive prices, endless breadsticks, and food that, like a Quarter Pounder, is comforting in its sameness regardless of what city you find yourself in at any given time. Or you could just say no to chain purveyors of bastardized Italian food, and instead opt for the elegant, consistently satisfying Aldino, an SA favorite for more than 20 years.
The Pearl
If Goldilocks lived in the Alamo City, Il Sogno would be her favorite restaurant. Everything is just right -- the menu, not too big or too small; the dishes, a mix of familiar and exotic; the setting, as casual or as formal as each party would like for it to be. Two areas in which there is no middle ground: the service and the food quality, both of which are consistently sublime.
Alamo Heights
Fresh, seasonally inspired dishes -- including an astoundingly good gnocchi -- and a setting that is gorgeous both inside and out are the hallmarks of this mainstay along the bucolic Broadway corridor. Regardless of what you select for an entree, though, make sure you save room for dessert -- Nutella X3, perhaps.
Alamo Heights, Northwest side, River Walk
Known for its extensive wine list and signature shrimp dish, Paesanos' original location has been serving up thoughtfully prepared Italian comfort food to '09ers since 1969. While its offshoots have a ways to go when it comes to longevity, each has developed its own following and distinct personality. Heck, thanks to the River Walk location, SA might start getting a rep among tourists for its standout pasta.
Castle Hills
Since an ownership change in 2015, Rossini has consistently lived up to its promise of delivering "authentic Old World preparations with a contemporary twist." Stellar antipasti is just one highlight of a menu full of dishes that would be familiar and welcome in any true Italian home kitchen.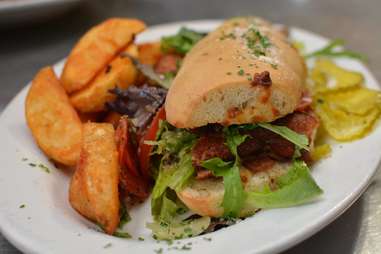 Downtown
Casual and homey, Guillermo's is a solid choice, especially for lunch; decent prices and a lengthy menu of pasta, pizza, hearty salads, straightforward sandwiches, and unique daily specials will satisfy a large group with eclectic tastes. Launched in 1995 by an SA native, the popularity of Guillermo's can be attributed to the genuine thoughtfulness that goes into every dish.
Medical Center
Yes, the building in which Louie's is housed resembles a diner or abstract art representation of a tub of Blue Bell Homemade Vanilla more than a traditional Italian restaurant. But Louie's lengthy menu is dominated by classic Italian dishes, all of which are served up with an attitude of unpretentious friendliness (and with friendly prices).
Medical Center
Housed in a converted farmhouse and boasting a charming front patio, Aldo's is a great setting for a special occasion. The prom-night crowd must be absolutely tremendous, but what's unclear is how all the young girls in tight, pretty dresses eat here and then go dance. This is the kind of place where you linger over a huge meal, then waddle out to the car so you can go home and put on sweats.
Far West
Hidden away in a strip mall a few miles south of Ingram Park Mall, Umberto's won't win any awards for decor. But locals who crowd Umberto's love this place for its hearty portions of rich, filling Italian favorites, as well as the staff's ability to make every patron feel like a valued regular.
Sign up here for our daily San Antonio email and be the first to get all the food/drink/fun in the Alamo City.
Michelle Burgess is a writer and dog wrangler living and sweating in San Antonio. Follow her tweets, rare as Myanmarian painite, @MishiBurg.