The Best Late-Night Restaurants in San Antonio
Carb addiction is real in San Antonio. If you think about it, it's almost impossible to avoid. We have so many bars equipped with strong drinks, fast service, and good company, the need for late-night joints specializing in grease and bread is a necessary part of our complex ecosystem. These temples of carbs help maintain the balance and fortify us for the day to follow, which hopefully won't be as rough thanks to some late-night grub.
So the next time you've had a few brews and find yourself in need of a taco, slice of pizza, or some al dente pasta, keep this helpful list of San Antonio's best late-night eats close at hand for quick reference.
Monte Vista
Open Fridays and Saturdays until 1am, Barbaro has your late-night Monte Vista pizza needs covered. Nestled in a small space off of McCullough Ave, the joint gets crowded near closing time on weekend nights so be prepared to wait. The crowd is always amicable, however, and the wait is undeniably worth it. Check out the Clams Casino pie which is loaded with clams, white sauce, garlic, chilis, and parsley. It's cheesy, carby, and the perfect antidote for a late SA night.
Downtown
Sure, Mi Tierra is a tourist trap located in a mostly inconvenient part of the city. But the food is good. Ignore the obnoxious mariachi band, the slow service, and the gaggles of tourists and just focus on the baked goods. Navigate your way through the loud, colorful decor, saddle up to the ordering counter and ask for a Pan de Huevo the size of your face. The sweetbread won't disappoint.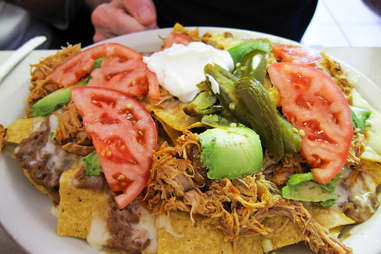 Med Center
Hidden in the depths of the Med Center, Datapoint is no longer a secret only doctors and nurses get to enjoy (sorry, guys). The taqueria is cheap, fast, and consistently delicious. Known for their fresh tortillas, carnitas tacos, and addictive green salsa, Datapoint will feed you until 3am on Fridays and Saturdays and until midnight every other day.
Tobin Hill
Everyone needs a go-to late-night spot on the St. Mary's strip, and Faust should be considered for the No. 1 spot on any list. The crowd is always friendly, the drinks are cheap, and the menu is full of Southern comfort staples like fried okra, macaroni & cheese, fried chicken, and gumbo. The kitchen is open until 3am Friday and Saturday nights, so your greasy food oasis is ready even after the bars close.
Tobin Hill
Sometimes late-night food is about convenience, and Pizza Classics always delivers in that category. It's located within walking distance of all major bars on the St. Mary's strip, the service is fast, and the food is hot. Party trick: Since they deliver, order a pie and have it sent to whatever bar you're enjoying -- your new friends will love you forever, or at least until last call.
Multiple locations
Whether we're rushing towards the airport for an early morning flight, craving beans and cheese after a late night out, or in need of a quick, cheap dinner -- Mama Margie's is there for us. Best feature of a Mama Margie's visit is the drive-thru option. Sometimes late-night eaters don't have the time or energy to leave their vehicle. Mama Margie's truly understands this plight.
Terrell Hills
Arirang feels like a secret. The food is good, it's open every day until 2am, and yet the crowd is consistently small. Try their Bibimbap, which comes with rice, vegetables, and an egg in a hot stone bowl, and enjoy the restaurant before it becomes a SA hit. Late-night fare doesn't always mean tacos, burgers, or pizza, guys. It could mean lightly fried, crispy fried dumplings, and expertly prepared Bibimbap with an extra egg.
Tobin Hill
Start with the pimento cheese & chips and finish your meal off with a fried bologna sandwich because that's the ultimate late-night meal. The vibe is laid-back, the bartenders will teach you something about music, or beer, or entrepreneurship, and the kitchen is open until 1:45am on Fridays and Saturdays.
Sign up here for our daily San Antonio email and be the first to get all the food/drink/fun in the Alamo City.