The Best Eating Neighborhoods in San Antonio, Ranked
8. Castle Hills
Anchored by beloved local mainstays Dough and Picnikins, the Castle Hills dining scene packs a big punch into a small -- just under 2.5 square miles -- patch of geography. Restaurant choices reflect the area's diversity and adventurous palate; three first-rate sushi restaurants and a brand-new Ethiopian spot (Berbere) are within shouting distance of each other.
7. Far Northwest
From I-10, The Rim looks like any other suburban shopping center: there's a Target, and a Hobby Lobby, and a Best Buy... all the expected anchor stores. But this concrete sprawl just outside Loop 1604 is now also home to the fabulous Hopdoddy Burger Bar (where, seriously, the standard by which all other burgers -- and shakes! -- will be judged from now on has been set), The General Public, Mash'd, and Tiago's Cabo Grille. Also serving the Shavano Park area and its neighbors are notables El Bucanero, Pam's Patio Kitchen, Wildfish, Green Vegetarian Cuisine, and Ajuua! Mexican Grill.
6. Tobin Hill
Technically, The Pearl is part of Tobin Hill. But each stands alone as its own dining hub, unique in personality and vibe. Tobin Hill is a little less shiny than its master-planned counterpart, a little more relaxed and boho. Without designated parking lots, the logistics can get tricky at peak hours. But as you're circling the block in search of an open spot, keep your eyes on the prize: fabulous restaurants including The Cookhouse, Barbaro, The Clean Plate, and, if you expand the boundary by a block or so, perennial SA fave The Cove.
5. Downtown
Thanks to its mix of historic charm and progressive development, Downtown is a truly dynamic, interesting city center that San Antonio can be proud of. Its dining scene is a reflection of that, featuring a blend of old favorites (Bohanan's, Mi Tierra, Pete's Tako House) new classics (Kimura, The Luxury), and young upstarts (Rebelle), all of which bring something different to the table (pun intended).
4. Alamo Heights
If all neighborhoods boasted an all-star lineup of eateries like Alamo Heights does, no one would ever have to leave his or her zip code to find a memorable meal. Since that's not the case, 09ers are forced to share their favorites with the masses. But thanks to the sheer number of top-notch spots -- Cappy's, Tre Trattoria, Paloma Blanca, Lee's El Taco Garage, Silo Elevated Cuisine, etcetera ad nauseum -- there's room for all of us.
3. River Walk
Sure, the River Walk is studded with chain restaurants; some people seek out the comfort of the familiar, even when on vacation. But it's also home to some of the city's finest dining options as well. Before you dismiss the River Walk as being for tourists only, think about how awesome it is to see a show at The Majestic followed by dinner at one of SA's great destination restaurants like Biga on the Banks, Bella on the River, Restaurant Gwendolyn, Boudro's, Ocho, Acenar, and Lüke. Sure, you may be called into service to take a couple of quick iPhone pics for vacationers strolling along our iconic waterway, but shouldn't we all be enthusiastic ambassadors for the Alamo City anyway?
2. The Pearl
Know you want to go out for dinner, but not sure what you're in the mood for? Start heading for The Pearl and figure it out on the way. With more than a dozen stellar restaurants and bars, including Southerleigh, Supper, Boiler House, Cured, The Granary 'Cue & Brew, and Nao, this converted former brewery grounds is a mecca for diners -- almost like a giant fine-food court. And while they are just across US 281, nearby standouts such as Shuck Shack and Grayze are close enough to count as part of The Pearl's bounty.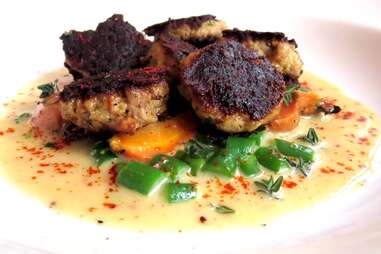 1. Southtown
There's no two ways about it: Southtown parking sucks. But thanks to a bevvy of superior dining choices, the hassle is well worth it. Brunch at Feast or The Fruteria Botanero, happy hour at Hot Joy or Bite, beer or micheladas at B&D Ice House or The Friendly Spot, and dinner at Bliss have all conspired to give Southtown a national culinary showcase with checklist menu items constantly rotating.
Sign up here for our daily San Antonio email and be the first to get all the food/drink/fun in the Alamo City.