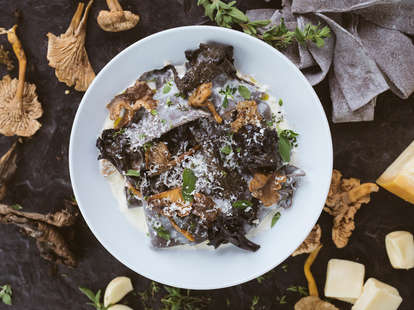 San Antonio's Best New Restaurant of 2017 Brings Truly Great Pasta to Southtown
If you dine out with any regularity in San Antonio, it should come as no surprise that our fair city has become only the second in the US to be named by UNESCO as a Creative City of Gastronomy. Indeed, despite local restaurateurs' maddening penchant for closing successful eateries and immediately open the "Next Big Thing" (looking at you, Monterey), there's been an impressive surge in fine dining options in this town over the past few years. That said, our pick for the best restaurant of 2017 was an odds-on favorite among all the contenders this year, thanks in large part to its pedigree -- we're talking, of course, about Battalion.
The latest venture from the folks behind Feast and Rebelle (two of the best restaurants in San Antonio) Battalion shares all the hallmarks of its forerunners: impeccable service, undeniable style, a unique identity, and food that can stand on its own, even without the chic ambiance and fresh vibe. It also gets bonus points for being an incredible new Italian option, in a town that's not exactly overrun with incredible Italian options.
Housed in a refurbished two-story, nearly 100-year-old former firehouse in Southtown, Battalion is a sleek, chic, light and bright(ish) space, thanks in part to the designers' decision to keep the fire station's mammoth garage doors. But don't mistake bright for stark; Battalion is positively cheery compared to the neon swank of Rebelle. It still has presence, and it's still provocative, but this space is more than dark corners and shadows.
Conjure up an image of an Italian restaurant in San Antonio, and what likely comes to mind are booths, tablecloths, linen napkins, and thick carpet that has seen better days. Battalion, on the other hand, is dominated by hard surfaces and sharp edges -- striped marble bar tops; exposed ductwork and brick; sleek and minimalist chairs and tables; bare, polished floor. It's not a stretch to imagine that this space was warmer, somehow, when it was a fire station.
But if Battalion doesn't rely on cushy seats and brocade wallpaper to project warmth, it's because it doesn't have to. Crafted by founder Stefan Bowers, executive chef Ezekiel Cavazos, and pasta maker Elene D'Agostino, the thoughtful menu manages to be both varied and tight. Highly recommended from the antipasti menu is the charred eggplant dip, with pine nuts, mint oil, and cocoa; choices from the primi menu are diverse, and include a risotto that changes daily, shrimp scampi, grilled octopus, Romano beans with brandy and pancetta, and meatballs made with three cheeses, pork, and beef. The handful of insalate and contorni selections are equally provocative, and satisfying without being overly filling.
Battalion's 10 pasta dishes are each delightfully unique -- a comforting pumpkin ravioli with Amaretto and sage, rich spinach dumplings with parmesan-truffle cream, earthy buckwheat pappardelle and wild mushroom ragout -- and mean that the only sensible move to make is an order-several-and-share approach. Main courses run the gamut of proteins, from chicken and fish to lamb chops, veal, pork loin, and steak. A real standout -- and that's saying something, given its company -- is the eggplant Parmesan, cheesy and rich, but lacking in the greasy clunkiness that is the norm when this dish is crafted by less deft hands.
While SA has a few restaurants that will eat into your savings account, most are pretty reasonably priced -- this ain't Dallas, after all -- and Battalion is no exception. Portata principale (main dishes) are $26, but that's more than twice the price of any item on any other sections of the menu. The wine list is lengthy, and the firefighter-themed cocktails are fun and well-crafted.
In short, you'll find little to complain about at Battalion. If you're apt to quibble, it will be either because of the unisex bathrooms (off-putting to some), noise level (high, especially the later it gets at night), or... well, there isn't really anything else to moan about, as long as you remember to make a reservation rather than take your chances. It's a great place for celebratory dinners, large groups, and even date nights, provided you aren't planning on too much intimacy/whispering sweet nothings.
As 2017 winds down, it's difficult not to start dreaming about what the dream team of Bowers & Goodman will come up with next. Fight that urge! Instead, get down to Southtown for a taste of what's best in San Antonio right this minute.
Sign up here for our daily San Antonio email and be the first to get all the food/drink/fun in the Alamo City.
Michelle Burgess is a writer and dog wrangler living and sweating in San Antonio. Follow her tweets, rare as Myanmarian painite, @MishiBurg.