The 9 Best Vegetarian-Friendly Restaurants in San Antonio
When waxing poetic about the amazing food San Antonio is known for, vegetarian cuisine is pretty heavily overshadowed by our mainstays -- BBQ, Tex-Mex, tacos both puffy and breakfast. While the Alamo City probably won't surpass our neighbors to the north as a veggie-fare mecca, we hold our own pretty well. Here are nine spots that will delight vegetarians and even have something to offer all the avowed, yet open-minded, carnivores out there.
Tobin Hill
Priding itself on its commitment to both clean eating and respect for the planet, La Botanica makes food that is not just really good for vegan fare, but really good, period. Bright flavors, creative cocktails, and an extensive, thoughtful food menu put La Botanica in a class by itself.
Eastside
An all-organic menu with a Southern spin -- think comfort food, but without the guilt -- has made Sweet Yams a favorite of San Antonians looking for a spot to enjoy gluten-free, vegetarian- and vegan-friendly food that delivers on taste as much as on health benefits. The price can't be beat, either
Castle Hills
There's no meat to be found at SA's only "veggie burger stand." Instead, vegans who feel excluded from the speed, variety, and low cost of fast food will revel in this no-fuss, no-frills, all-meatless alternative to the golden arches.
Stone Oak, Northwest Side
Most commitments to eating salad for lunch every workday fail for the same reason: lack of variety. Billing itself as "the next-generation salad bar," Salata provides options out the wazoo -- five kinds of lettuce or greens mixes, three dozen veggies and fruits, cheese, nuts, and pasta, plus a nice selection of chicken, seafood, and other proteins. Add one of several signature dressings, plus soup and lemonade, and there go all your excuses.
Northwest Side, The Pearl
If for no other reason than to try the amazing cauliflower hot wings, give SA's only 100% vegetarian, 100% kosher restaurant a try. No, you won't think you're actually eating chicken wings instead of cauliflower, but you honest-to-God won't mind. Seriously.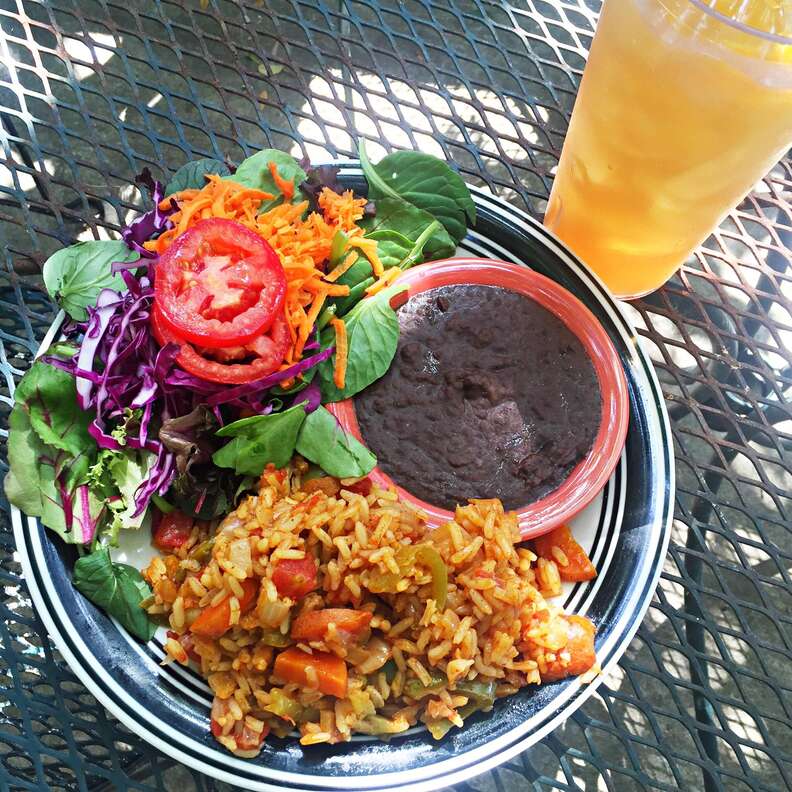 Westside
We have all come to expect massive portions from our Tex-Mex restaurants, and Viva Vegeria doesn't disappoint. But here, you can stuff your face with abandon, as there will be no food coma and bloated regret later on. Founded by a vegan chef who wanted to give San Antonians with food restrictions access to fresh, flavorful cuisine, Vegeria satisfies with dazzlingly colorful, inventive dishes that clearly represent the cook's love that is poured into each dish.
Alamo Heights
Promising "enlightenment, one taco at a time," Adalante is the perfect spot for diners who desire a gentle introduction to healthy eating. Menu items at Adalante are familiar -- nachos, tacos, quesadillas, enchiladas, and chalupas dominate -- and feature real cheese, but are lighter and fresher than standard fare and are veggie-centric, with a few chicken and tuna choices but no other meat to be found.
Southtown
Mexican and Tex-Mex traditionalists might balk at the idea of a vegan eatery co-opting menudo and street tacos. But hold your judgment until you try some of what Señor Veggie has to offer, which includes a fairly broad range of choices beyond Mex/Tex-Mex. The consistently friendly service is simply the icing on the (vegan) cupcake.
Balcones Heights
Newbies to Indian cuisine will appreciate Simi's expansive lunch buffet, which includes 30+ choices every day. The dinner menu includes a huge variety of vegetarian appetizer, soup, and entree options. Open since 1989, Simi's is family-owned and has built up a loyal clientele thanks to its consistency, variety, and friendly service.

Sign up here for our daily San Antonio email and be the first to get all the food/drink/fun in the Alamo City.
When not on deadline, San Antonio writer Michelle Burgess roams her suburban neighborhood late at night, looking in her neighbors' windows for decorating tips.