Thai Dee shares their space with a corner store, and their signage is invisible. You'll also see a few disheveled loiterers skulking about the entrance. In fact, I have a friend (who won't be named) who decided to try Thai Dee, drove by the place, and based on its outward appearance, refused to enter. But if you've learned one thing so far it should be this -- don't judge a restaurant on its signage or its loiterers. Once the red curry touches your lips and the wood paneled interior warms your heart you'll find yourself helplessly addicted.
Just know this about San Antonio: strip malls are home to some of our best restaurants. Maybe it isn't the same in Austin or Dallas or Houston, but in SA this is the case, and Simi's is no different. Housed in an unbecoming strip mall off Fredericksburg Rd, Simi's cooks up the best naan this side of New York. Opened in 1989, Simi's has worked hard to create a family atmosphere and they execute it. Come in during lunch and you might see the joint's owner working hard to make you happy. He'll make your visit noteworthy.
Another strip mall gem, Thai Topaz is overlooked by SA residents and press alike. Are you noticing a trend? Great food inside a less than stellar exterior is a way of life out here. Get used to it. Come at dinner and watch as one waitress single handedly cashes out to-go orders, waits on inside patrons, and patiently explains the menu's complexities to a Thai Topaz virgin. I have literally never seen more than one waiter inside this place, and it is grade A entertainment. I wish I had one ounce of the talent that the waiters at Thai Topaz have. Besides the entertainment, the food is beyond good. The basil fried rice is cosmic. Give it a shot.
No one talks about Kohinoor, and I have no idea why. The food is delicious, and the service is excellent. When a restaurant makes you feel like family, you're in good hands, and Kohinoor does just that. Where else in San Antonio can you get tawa fish lovingly wrapped in tin foil? Wash it all down with an ice cold Mexican coke. Heads up: Kohinoor has a heavy hand with spices. If you're not ready for serious heat, ask them to go easy on the peppers. They will oblige.
Recommended Video
The History of Delivery & Takeout
Overshadowed by the likes of Sam's Burger Joint and Chris Madrid's, Babe's is just waiting to make you a deliciously oversized hamburger. Nothing against Sam's or Madrid's (those places rock), but Babe's tastes perfect. The sesame seed bun provides a nice extra crunch to the thick, cheesy patty. Some contrarians may complain that the fries are too salty or the burgers are too greasy, but isn't that what burgers are about? So sit down, order a cheeseburger, watch the grill crew do their thing, and enjoy a SA institution.
Tucked away in one of the Med Center's many strip malls, it's easy to overlook this San Antonio staple. They opened their doors in 1990, and the décor still looks it, but the place churns out some of the freshest sandwiches our city has to offer, like the pâté on French bread. To top it all off, each lunch comes with soup or salad and a cream puff for dessert. Definitely get the onion soup. The seafood variety is strong, but it pales in comparison to their intoxicating onion elixir.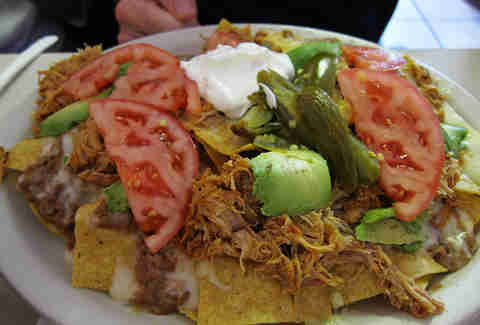 Strip mall. No publicist. Just damn good food. Probably the best tacos in San Antonio (ducks for cover). Homemade tortillas with soft, salty refried beans and white cheddar cheese equals hangover annihilator. Order four of them if you're feeling naughty, and squeeze a healthy portion of green hot sauce on them. Most employees prefer to speak Spanish, but if you aren't comfortable conversing in Spanish, they'll still work with you.
When you're a Tex-Mex restaurant in San Antonio and your neighbor is Rosario's you're destined for the underrated moniker. Here's the thing: Rosario's is good, but Tito's is really, really good. Sit on the patio, get a fat chamoy margarita, order the mole enchiladas and enjoy all of Southtown's frenetic energy.
Sign up here for our daily San Antonio email and be the first to get all the food/drink/fun in the Alamo City.
Stephen Ross loves strip malls. Follow him on Twitter at @estebanjross for retweets and SA musings. Follow him on Instagram at @stephenjross for filter-less pictures.