The Best Food Trucks in San Antonio
Forget reservations and tipping your server and food that is cold when you get it because it's been sitting for who knows how long. Food trucks cut out the middleman and eliminate much of that fuss. Craving Puerto Rican cuisine? Pakistani? Maybe just a jacked-up hotdog? Queue up to one of SA's 15 best mobile kitchens for some near-instant gratification.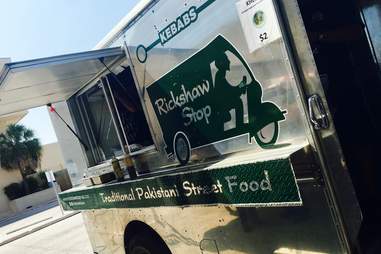 Michelle Burgess/Thrillist
SA's only food truck featuring Pakistani cuisine, Rickshaw Stop is best known for its kebabs and samosas, which are deep-fried triangles of dough filled with seasoned meat or potato. Try "The Loner," a beef Bihari or chicken boti tikka kebab and two samosas.
Courtesy of Chela's Tacos
The cilantro chicken, and potato and cheese with grilled jalapeños and onions are both excellent, but you can't go wrong with any of the 20 menu options that include a wide variety of veggie, meat, and seafood options. When it's not catering a private event, Chela's truck, and its outstanding cuisine and service to match, can be found at The Block.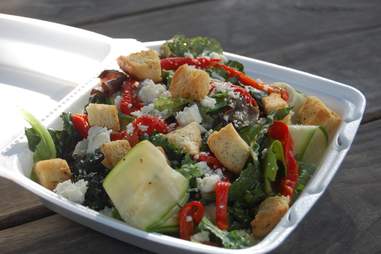 Michelle Burgess/Thrillist
You can't go wrong with the porchetta sandwich or taco -- succulent pork creations that could convert even the staunchest vegetarian by aroma alone. The menu is eclectic and comprised of items you won't find elsewhere and that run the gamut from healthy, hearty salads to the aforementioned plays on pork. 
Courtesy of Wheelie Gourmet
Moroccan cuisine is at the core of Wheelie's offerings, but the menu changes sometimes if the chefs have found an ingredient they can't resist. The OG gyro and the "Chicka, Chicka Bang Bang!" are always available, though, and are consistently outstanding choices.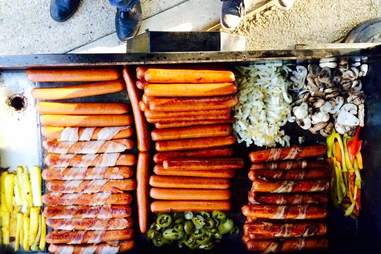 Courtesy of Alamo Hot Dog Co.
The intersection of Crockett and Presa is the usual haunt of Alamo, which is technically a cart and not a truck. But a full-blown truck would be overkill when all that's needed to churn out these beloved dogs is a well-stocked yet humble cart. Try the Original, a bacon-wrapped all-beef hotdog griddled to perfection.
Courtesy of Puerto Rican Grub Express
Decisions, decisions! You can't go wrong with any of the traditional PR fare lovingly prepared by the hardworking family that owns PRGE, but it's hard to pass up the Cuban sandwich... or the pastelillos, which are meat-filled turnovers -- like Puerto Rican empanadas. Whatever you choose for a main course, leave room for the tembleque, or coconut pudding.
Courtesy of Bite Street Bistro
The shrimp burger with spicy slaw is always a solid choice; try it with the parmesan truffle fries. These guys are some of the most mobile of SA's mobile chefs, parking at Port San Antonio one day, The Block on another, and in the lots of Rackspace and a bevy of other private businesses in between. Track them down on Facebook before you hit the road.
 
Try tots and a Thai Dog, with a sweet chili glaze, Sriracha, cabbage, and a mint, cucumber, cilantro, and sesame vinaigrette and served on a substantial grilled bun. If you've never been served a hot dog that's nearly too pretty to eat, you've never been to RockerDogz. These are some dazzling dogs.
Courtesy of Say.She.Ate
Akaushi beef sliders with caramelized onions and bleu cheese, duck-fat fries, and a grilled banana-Nutella-marshmallow sandwich for dessert. A note on the fries: the ducks that sacrificed themselves so that these fries could be created died for a noble and delicious cause. Their little duck families should take great comfort in that.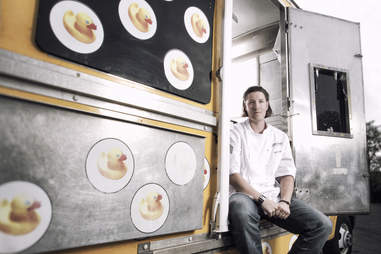 Courtesy of DUK Truck
Bahn mi and a steamed bun. If you're at all familiar with SA's food landscape, you are already acquainted with the talents of Chef Jason Dady. The DUK Truck is an extension of Dady's brick-and-mortar efforts and is a worthy addition to his roster of eateries. DUK ("Dady's Underground Kitchen") has an ever-evolving menu, but the items have one thing in common: they're all fantastic.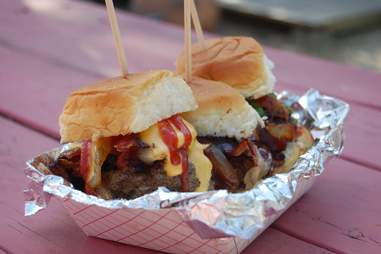 Michelle Burgess/Thrillist
A mainstay at The Point, Slider Provider has built a solid rep for its substantial portions and unique flavors. Convinced you'll hate PB&J on a burger? Don't be so sure! Get the three-pack and try a mix of traditional (the Chuck Norris), the spicy (Cowboy from Hell, with Hatch peppers, pepper jack, garlic wing sauce, and Tabasco pickles), and something off the beaten path (the aforementioned Goobster, perhaps).
San Antonians love our spice, even if it doesn't always come from a serrano or habanero. A little Cajun/Creole is a nice treat sometimes, which is where Where Y'at comes in. Order the beignets and a shrimp po'boy, unless it's crawfish season, in which case, sample a bit of everything while it lasts.
Courtesy of Winner Winner
The Mimi Melt -- Texas toast sandwiching American cheese, bacon, raspberry chipotle sauce, and chicken marinated in jalapeño juice, coated in seasonings and fried -- is a good choice for serious appetites. Throw in some guacabolas -- battered and fried guac with a bite of chicken in the middle -- and dinner is complete.
 
Precisely what will be on the menu on any given night is never easy to predict, but that's part of the adventure! Just put your palate in the capable hands of the Tapa Tapa crew and enjoy the ride. 
Fish tacos with homemade salsa and corn tortillas. No one in Texas wants the Lone Star State to be California. But its Baja-style fish tacos? We'll take some of that, courtesy of the truly nice guys at Mr. Fish.
Sign up here for our daily San Antonio email and be the first to get all the food/drink/fun in the Alamo City.
Michelle Burgess lives and writes in San Antonio, heavily favoring assignments that somehow incorporate any or all four of the major food groups of Texas: chili, Tex-Mex, deep-fried, and barbecue.