The Best New Bars and Restaurants in San Antonio
<strong>Sternewirth |&nbsp;</strong>Michelle Burgess/Thrillist
Sure, San Antonio sometimes feels like a smaller city than it really is. That intimacy is part of what we love about living here. But in reality, the greater SA area has 2.3 million people, and that means when it comes to dining and nightlife, the landscape is in constant flux. This might make it tough to keep track of all the new spots that are worth a visit. Fortunately, we're on top of it, and have put together a list of the nine must-try bars and restaurants that have opened of late.
Southtown
Devoted foodies bemoaning the move of Starfish to Austin will be charmed by its replacement, a gastropub that veers away from seafood and into an eclectic, globally influenced menu. Chef Diego Fernandez didn't miss a step in the transition, especially with regard to the passion he brings to the kitchen as well as the front of the house. He describes the new eatery as "affordable, approachable, and flexible" in its influences, and promises the same attention to detail he brought to Starfish.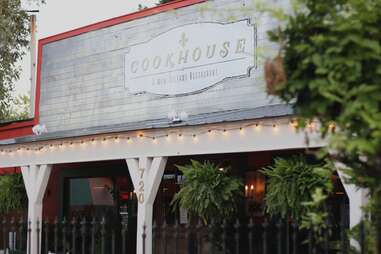 Tobin Hill
Thanks to its earlier food truck incarnation, Where Y'at, Cookhouse hit the ground running with its October brick-and-mortar launch. Chef Pieter Sypesteyn mines the complex flavors of New Orleans, melding French, Italian, Spanish, and Caribbean influences with their better-known Creole and Cajun cousins. The result is a creative, thoughtful menu that goes beyond the expected.
Downtown
Located inside The St. Anthony Hotel in the heart of Downtown, Rebelle is the newest project from the team behind Southtown's beloved Feast. Though large, Rebelle certainly doesn't have a tough time filling seats; reservations are definitely recommended. Rest assured, your efforts will be rewarded with fun cocktails and amazing food -- heavy on steaks, seafood, and creative veggies, all with a French twist.
Hotel Emma
If the dining scene were a beauty pageant, Sternewirth would be hard to beat. Though cavernous, with soaring ceilings, Hotel Emma's upscale, retro bar manages to create intimacy with smartly situated seating areas. The drink menu is beyond extensive, featuring original cocktails; draught, bottled and canned beers; a large selection of wine; and page after page of hard liquor. Bartenders recommend the signature cocktail, The Three Emmas, a unique combo of gin, gran classico, apricot, and absinthe.
Government Hill
Missing Arcade Midtown Kitchen? Thanks to the direction of chef Pedro Cuellar, formerly of AMK, Grayze fills that void nicely. Expect unique takes on comfort food, all at refreshingly nice prices, and served either on a comfortable patio or the intimate but comfortable dining room. Order whatever sounds good to you -- nothing here is an afterthought.
North Central
If you've ever thought about opening the first Big Lebowski-inspired bar in San Antonio, you're now officially too late. Early complaints upon its November launch included a staff that was unschooled in the lexicon and lore of The Dude, but this strip mall sports bar seems to have hit its stride. Come for the mini bowling, beer pong, and weekly trivia nights, along with the obligatory White Russians.
Hotel Emma
Like its Hotel Emma neighbor, Sternewirth, Supper is a spot that could easily rely on its hot location and upscale retro vibe to succeed. Thankfully, it does not. Offerings are seasonal and eclectic, with a decidedly American bent, and include a range of vegetarian and hardy protein dishes. In both style and substance, Supper delivers.
Downtown
Technically, Juniper Tar's January opening was a re-opening, coming on the heels of a "time-out" the cocktail lounge took in November following half a year of operation. Rather than just a catchy tagline for this pretty, pretty bar, "bespoke cocktails" is a fitting description for its bartenders' careful, almost loving approach to preparing drinks. Especially noteworthy is its deft use of fresh fruit, something you don't realize you've been missing until trying a drink that gets it right.
North Shearer Hills
If you're on the hunt for your next favorite dive bar, look no further than The Bang Bang Bar. Housed in a squat red building situated behind a rusty chain-link fence and next to a Kelly green tire store, the new bar is loud, super-casual, and the epitome of unpretentious. The trio of women behind The Bang Bang -- which has a sort of vintage, roller derby vibe -- include two members of local band Girl in a Coma, as well as the former owner of Martini Ranch.
Sign up here for our daily San Antonio email and be the first to get all the food/drink/fun in the Alamo City.
Michelle Burgess is a San Antonio writer who would rather talk about BBQ and beer than politics any day of the week. Follow her tweets, as rare and precious as the white peacocks of Australia, @MishiBurg.