The Best Steakhouses in San Antonio
The Alamo City dining scene offers an embarrassment of riches -- from the expected (barbecue, Tex-Mex), to the unique, growing roster of farm-to-table standouts -- so it's forgivable to forget for a minute that we're also a haven for steak-lovers. This is cattle country, after all, surrounded as we are by bustling ranches as old as Texas itself. When it comes time to feast on gargantuan portions and cocktails like a well-oiled businessman, these 11 steakhouses have you covered.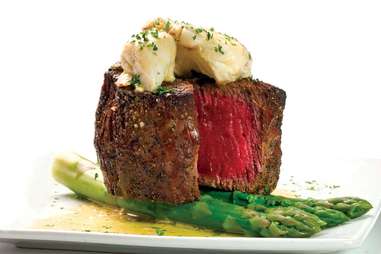 La Cantera
Impeccable service and attention to detail elevate this 14-location restaurant to a lofty position among similarly priced steakhouse chains. Lunch, which is offered only on Fridays, is a great time to try Perry's massive, delicious pork chop at a nice price -- like, a serious, comparable-to-burgers price. Whenever you go, though, save room for dessert. It's amazing.
Downtown
Bohanan's takes its role as a treasured go-to for San Antonians celebrating special occasions seriously, delivering stellar food in a classic steakhouse atmosphere. All of the steaks and seafood items on the menu are outstanding, but for something truly singular, opt for the Akaushi filet, rib eye, or Strip. You'll drop a hefty chunk of change, but true carne-sseurs will find the experience well worth it.
River Walk
Founded in 1967 by a husband-and-wife team and housed in historic La Villita, Little Rhein is a charming, intimate, and romantic space that has been beloved by San Antonians for decades. The staff's personal attention serves to make each and every customer feel like a valued regular.
Downtown
If this restaurant had existed in 1836, diners would have been almost close enough to the action to determine the color of Davy Crockett's eyes (for the record, they were blue). Fortunately for diners, the one-of-a-kind view and consistently warm, friendly service are only part of 1718's story. The tight menu delivers on quality and flavor, especially where it counts: in the steaks.
The Pearl
Regardless of what you're craving, Boiler House's extensive menu will satisfy. There are no bad choices here, from appetizers like the superb Dr. Pepper Tomatillo Hog Jowls or Bison Tartare, to the succulent 14oz bone-in tenderloin. This is thoughtful, creative food, expertly prepared and served by a knowledgeable, attentive staff. Worth the splurge.
Far Northwest
Brace yourself: this is a chain. But it's a small chain -- just over a dozen locations across Texas and the South -- and is a nice addition to The Rim's roster of restaurants. Bob's fans are split between those who love the whole glazed carrot that's served with every steak, and those who think it's overrated. The steaks sing, though, rendering moot the whole carrot issue.
Far Northwest
Since its launch in 2011, Myron's has developed a following of loyalists who appreciate its low-key, neighborhood vibe. It's the second location for the family-owned restaurant (the first is in New Braunfels), but never operates as though it's in another's shadow.
Alamo Quarry Market
When it comes to marketing, Fleming's has long been king of the steakhouses. The restaurant's frequent promotions introduce new customers to its fabulous food and unwavering commitment to service, which is just good business. Promotions will get you in the door, but great steaks will keep you coming back.
Tobin Hill
With its broad menu, it would be easy for Josephine Street to suffer in quality thanks to its efforts to be all things to all people. Thankfully, that's not the case. The steaks are always cooked perfectly, and the warm, casual atmosphere is a nice change of pace from standard white-tablecloth-and-china steakhouses.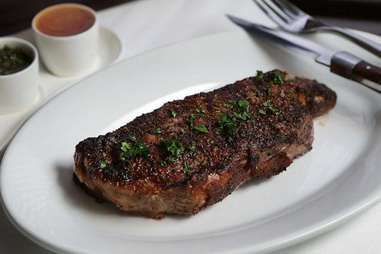 Stone Oak
A carnivores' nirvana, J-Prime combines the quality ingredients and stellar preparation of a great traditional steakhouse with the sheer food volume of a Brazilian steakhouse. The food is outstanding, and there is a unique flair in the manner in which it is served, creating a haven for meat lovers with huge appetites.
Stone Oak
With a menu that's locally sourced -- and supplemented by a sprawling on-site organic garden -- 18 Oaks overlooks the TPC course at JW Marriott San Antonio Hill Country Resort & Spa. Lauded for its spectacular brunch, 18 Oaks is no slouch in the steak department, either. While the service can sometimes be hit-or-miss, the food is consistently spot on.
Sign up here for our daily San Antonio email and be the first to get all the food/drink/fun in the Alamo City.
Michelle Burgess is a San Antonio writer. She walks the streets of her neighborhood nightly, trying to appear casual as she peers into strangers' windows for design ideas. Follow her @MishiBurg.