San Antonio's 2015 was nationally defined by Ozzy's apology for pissing on the Alamo and city council's long and cumbersome dispute with Uber and Lyft. But it was also the year that catapulted our city into the discussion for best food in Texas. So, if you're looking to branch out in 2016, use this list as your fearless sherpa.
Recommended Video
Send Foodz: New York City Wine & Food Festival
Best new restaurant
Cookhouse
Address and Info
Tobin Hill
We finally have a Cajun restaurant that would make Ignatius J. Reilly proud. The fried boudin balls will have you moaning audibly with pleasure, but we're really just waiting until they put gumbo back on the menu. If you want to try those boudin balls, act swiftly because Cookhouse adjusts its menus per the season and before you know it, they may disappear.
Best new bar
Mezcalería Mixtli
Address and Info
Olmos Park
With over 70 bottles of mezcal, Mezcalería Mixtli is frequently and fairly misidentified as just a "mezcal bar." This place is much more than that and it's probably the best bar in our city. Its Spanish gin and tonic was in rotation last August and would have inspired Hemingway to write another classic. Try its take on bar peanuts, cacahuates con chile too. The spice will entice you to drink more and that is a very good thing here.
Best new burger
The Old Main Assoc.
Address and Info
Monte Vista
It sounds gimmicky, but The Old Main Assoc. is not playing with its Concha Burger. It's messy, sweet, salty, and has a pink bun too! If you're smart, you'll order it with bacon to help cut the burger's sweetness.
Best new seafood
Shuck Shack
Address and Info
Tobin Hill
Jason Dady is at it again, you guys. Clam chowder and half a baguette in Downtown SA? Order this and dip the bread into the broth and renew your love with life. Follow it up with an old fashioned and be content with the world.
Best new pizza
Barbaro
Address and Info
Monte Vista
Yeah, Barbaro has been around for a while (thanks pizza gods), but its margarita pizza is new and beautiful and completely delicious. Smoked mozzarella, roasted tomatoes, cilantro, basil, avocado, and pickled jalapeños + you = holy pizza matrimony. Support this pizza in sickness and in health.
Best new sushi
Nama Ramen
Address and Info
Northwest
This is not a joke: a ramen place with great sushi now exists on Babcock Rd. A lot of San Antonio residents patiently awaited the opening of Nama Ramen and the restaurant has delivered consistently. Try the salmon nigiri. For $9, you can't beat it.
Best new bakery
La Boulangerie
Address and Info
Downtown
La Boulangerie has an excellent array of pastries and tarts to choose from, but its bread steals the show. Get a sourdough loaf on your way home from work and make a meatloaf sandwich with your leftovers. No other bakery in SA makes bread that comes close to how good this stuff is.
Best new craft beer joint
The Hoppy Monk
Address and Info
Stone Oak
Question: where else can you get a (512) Wit and a Ballast Point Sculpin IPA on draft in San Antonio? Answer: nowhere. If the beers aren't enough for you, order a bowl of pozole and peruse its extensive cigar selection.
Best new drink
The Last Word
Address and Info
Downtown
The person who engineered these drinks might be a genius and the Seasonal Julep is the creator's most impressive. With Jack Daniel's, seasonal simple syrup, and a heavy dose of fresh mint, it shouldn't matter what season it is when you drink this thing. Drink it in summer, winter, fall, or spring for all we care.
Best new first date spot
Sternewirth
Address and Info
Tobin Hill
Sternewirth is Hotel Emma's resplendent bar. Unlike the lobby bars you're probably used to, it has good alcohol and excellent bartenders making strong drinks. Order the Three Emmas for you and your date and walk next door to the library where you can intellectually stimulate each other for hours on end.
Best new hotel
Hotel Emma
Address and Info
Tobin Hill
Excluding LaMarcus Aldridge, Hotel Emma was the most anticipated addition to San Antonio in 2015. The hotel's interior is straight from a Wes Anderson movie, the book collection was donated by a Harvard Fellow, and every room comes with a fully stocked ice box. Buy a drink at the Sternewirth and take it with you as you tour the premises.
Best new sandwich
Dignowity Meats
Address and Info
Dignowity Hill
Good barbecue in Texas without exorbitantly long lines + best new sandwich in SA = in your mouth tomorrow. Dignowity's KC brisket sandwich comes with smoked brisket burnt ends, pickles, mustard cabbage slaw, and barbecue sauce on Texas toast. Order it with a side of sharp cheddar mac with smoked bacon and a Mexican coke. Make sure to stop by during your lunch hour: Dignowity has limited hours and is only open Monday through Friday from 11am to 3pm.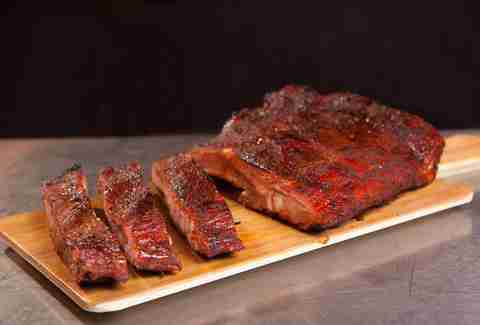 Best new barbecue
Smoke
Address and Info
Stone Oak
You can tell how good a barbecue joint is based on the ribs and Smoke's are fall-off-the-bone tender. Get an order of its beef short ribs with a side of macaroni -- if you like the meal, you can buy the kitchen a six-pack of Shiner Bock. Check it out Monday through Saturday from 4:20-7pm for its happy hour and $2 off drinks.
Sign up here for our daily San Antonio email and be the first to get all the food/drink/fun in the Alamo City.
Stephen writes for Thrillist San Antonio. You can find him wearing out his welcome at any of these fine establishments. Follow him on Twitter @estebanjross and Instagram @stephenjross.