Looking for a new brunch place to add to your rotation? We turned to 11 San Diego chefs to find out where they like to fuel up come Saturday and Sunday morning and what they like to feed their faces with before they get back to feeding yours.
His pick: Breakfast Republic (address and info)
North Park
North Park's newest breakfast restaurant earns praise from Chris Gallo for "huge and delicious" coffee drinks and a "great selection" of eats, including items that are more complicated to pull off, like shrimp and grits. His favorite dish is the breakfast bacon mac 'n cheese, topped with crispy Parmesan bread crumbs and three eggs, any style.
Chef/co-owner Javier Plascencia of Romesco and Bracero
His pick: Pan Bon (address and info)
Little Italy
The chef behind one of the most anticipated new restaurants in San Diego likes how you can watch bakers and chefs going about their business at this new spot in Little Italy, located steps from Bracero. His usual order is the Pan Bon Breakfast, featuring a trio of eggs (scrambled, sunny side up, and poached), plus bacon, a sausage patty, a small salad, a potato cake, and toasted bread... though sometimes he'll order something simple, like bread and cheese. He also loves the mini dessert cakes. Clearly, this is a man who knows how to live.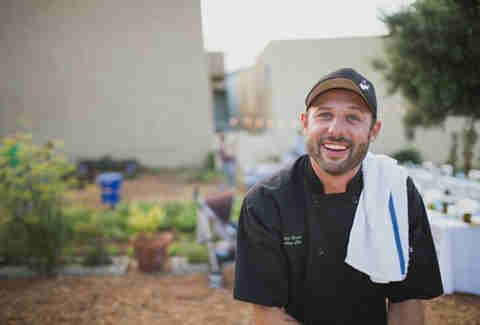 Consulting chef Nick Brune of Local Habit and chef/co-owner of Eco Caters
His pick: Toronado's monthly brunch & beer event (address and info)
North Park
Brunch items change with every event, but Nick Brune says organizer Nate Soroko "does a great job of putting everything together" and attendees can count on "at least six different chefs cooking something amazing." One of his favorite dishes from a recent event was a cashew cream-braised carrot with butter-poached turnip, paired with AleSmith's My Bloody Valentine.
Her pick: Whisknladle (address & info)
La Jolla
Isabel Cruz is a fan of Whisknladle for brunch because it's walking distance from her house and the food is simple, seasonal, and made from scratch. Her typical order is the chilaquiles with chipotle-braised chicken and eggs, a plate of seasonal pancakes (to share), and a michelada. FYI: if you don't live close enough to Whisknladle to arrive on foot, both of the brunch dishes she mentioned are available at all three Prepkitchen locations (Whisk's slightly more casual sister restaurant).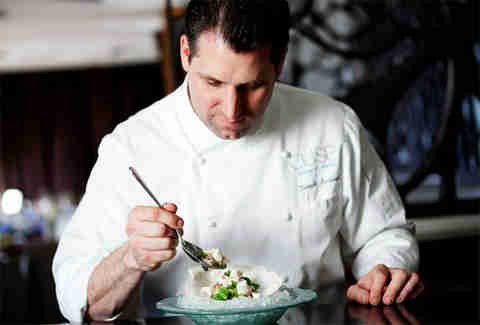 His pick: Cafe Chloe (address & info)
East Village
On Sunday mornings when he's not sleeping in, Donald Lockhart is digging into a caramelized onion tart or poached eggs with wild mushrooms at Cafe Chloe. He says the inviting atmosphere makes it feel like being at his mom's house (presumably without the pressure to help with the dishes).
Chef de cuisine Meredith Manee of 1500 OCEAN at Hotel del Coronado
Her pick: Mister A's (address & info)
Bankers Hill
Meredith Manee loves Mr. A's for brunch, noting features like "an amazing view of the city, well-executed dishes, great drinks, consistently excellent service, and surprisingly reasonable prices" make it difficult to go anywhere else. The croque-madame (with thick slices of brioche, Gruyere, prosciutto, arugula, and a balsamic-fried egg) is her go-to order.
His pick: Great Maple (address & info)
University Heights
A fortifying brunch at Great Maple followed by a visit to the Hillcrest Farmers Market is Ryan Johnston's idea of a perfect Sunday. He can't say no to a maple bacon donut fresh from the fryer (and neither should you).
Executive Chef Jon Sloan of Juniper & Ivy
His pick: Fig Tree Cafe (address & info)
Hillcrest, Liberty Station, and Pacific Beach
The chef that heads up one of the most exciting restaurants in the city digs the "quiet and charming" vibe of Fig Tree Cafe, noting it's "always a go-to" for weekend brunch. Chances are good he's ordering the granola topped with fresh fruit and house-made strawberry yogurt, or the stuffed French toast (with mascarpone cheese, strawberries, and mango), so you know his stance on the age-old sweet vs. savory brunch conundrum. And good news for anyone who has the occasional weekday morning free: you can order these dishes any day of the week.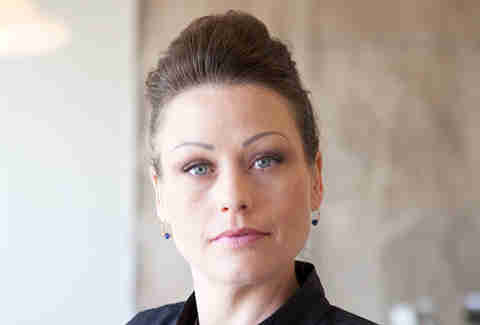 Her pick: Cardamom Cafe (address and info)
North Park
Sundays are Karrie Hills' "eating day" -- a time to relax and indulge. One of her favorite ways to kick back is with a coffee and a croissant or a quiche breakfast at Cardamom Cafe in North Park. The charming spot gets bonus points from the chef for its "rustic, laid-back" vibe. It should also be noted that in addition to sweet croissants like almond and chocolate, you'll find unique savory options, like Black Forest turkey and Asiago (arrive early for the best selection).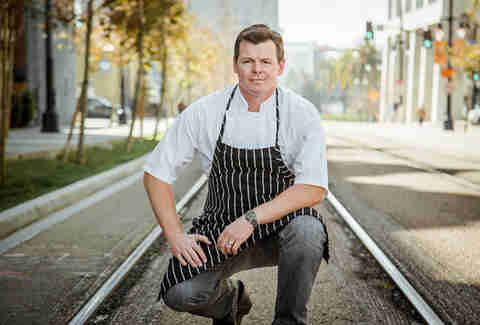 His pick: Draft (address and info)
Mission Beach
"Draft in Mission Beach is my go-to brunch destination. Besides a decadent brunch menu, they have ocean views and a huge craft beer selection," says Warner. He definitely takes full advantage of the restaurant's indulgent offerings. The French toast BLT with poached egg, bacon, and hollandaise is his favorite dish.
Executive Chef Rose Peyron of Counterpoint
Her pick: Antique Row Cafe (address and info)
Normal Heights
Straightforward, homestyle breakfast and lunch dishes served by caring and attentive staffers earn Antique Row Cafe a special place in Rose Peyron's heart. Her go-to order is the Antique Values breakfast, a best-of-all-worlds combo plate with thick-cut French toast, two eggs any style, and two sausage links or bacon strips -- all for just $6.50, though she always adds a side of homestyle potatoes. Even with the extra starch, the bounty of delicious breakfast eats is still less than $10. Impressive!
Sign up here for our daily San Diego email and be the first to get all the food/drink/fun in town.