Being vegetarian or vegan shouldn't mean suffering the constant hassle of unloading a laundry list of specifications onto beleaguered servers. Nor should it mean poking sheepishly at a sad salad while your dining companions enjoy far more enticing meals. Luckily, this is SoCal, and we know how to take care of people who are taking care of their bodies and/or the planet.
When you're going meatless in San Diego, here's where you should be going.
East Village
What you're getting: Lettuce cup tacos
Petco Park isn't exactly known for its veggie-friendly fare, so if you're looking to pre-game somewhere healthy then this is the place. Walking distance from the stadium is Sol Cal Café, a vegan restaurant and juice bar that's owned by former NFL player Jacob Bell. From the cold-pressed organic juices to the vegan burgers, everything is made fresh in-house. Taking it one step further, everything is also organic, local, GMO-free, dairy-free, gluten-free, vegan, and unrefined to ensure you're getting the best ingredients possible in each dish. That's definitely more than you can say for a ballpark hot dog.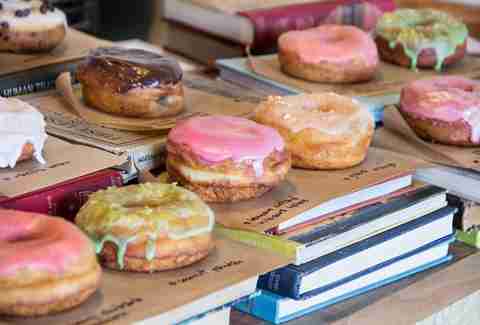 Normal Heights
What you're getting: A donut you'll feel slightly better about eating
Most places don't cater to vegans with a sweet tooth, but if you've stopped by Nomad Donuts then you know it's not your typical donut shop. It keeps a couple of traditional varieties available, but the menu is designed for the more adventurous donut lover. Unique flavor options like blackberry peach jelly or hibiscus sugar donut holes change daily but pastry chef Kristianna Zabala always has several vegan donuts available. Using an egg- and dairy-free version of yeast dough she creates choices like chocolate banana peanut butter and peach habanero guava.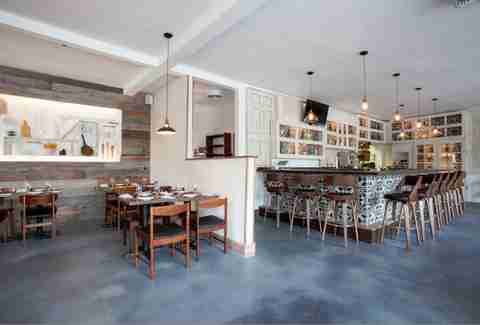 Little Italy
What you're getting: Vegan ravioli
All of the delicious breads, pastas, and cheeses make it pretty much impossible for vegans to enjoy traditional Italian fare in most restaurants, but not any more. Brothers Dario and Pietro Gallo opened Civico 1845 in Little Italy earlier this year and along with the standard offerings it has a special vegan menu that includes everything from ravioli to tiramisu. Pietro's dedication to veganism and healthy living inspired him to adapt everyone's favorite Italian classics to be 100% vegan or gluten-free.
La Jolla and Downtown
What you're getting: Coliflor asada tacos
Puesto offers several vegetarian-friendly items like potato soy chorizo and veg tacos or the verduras bowl, but this August it's added a vegan taco to the lineup as well. Puesto's chef Luisteen Gonzalez collaborated with local singer/songwriter Tristan Prettyman to create a coliflor asada taco full of charred cauliflower, pickled carrots, chile almond crema, and jalapeño pico on a blue corn tortilla.
 
Downtown
What you're getting: A bean burrito
San Diegans love their Mexican food, but lots of Mexican restaurants cook with lard making even their bean burritos off limits to vegetarians; not at Pokez. The food is made with vegetable oil, not lard, so everything served can be made 100% vegetarian and even vegan. The entire menu is conveniently labeled to let you know which dishes are totally animal-free. Plus it's open Downtown until 3am to satisfy those post-bar late-night burrito cravings.
North Park
What you're getting: Tempura-fried squash blossoms
Every Thursday vegetarians can get down at Urban Solace. One day a week Chef Matt Gordon serves a three-course vegetarian dinner featuring meat-free dishes that change every month. You can choose from hearty options like heirloom tomato tartlets with sweet corn puree and warm asparagus salad or tempura-fried squash blossoms with house ricotta, avocado, and pepper coulis. 
 
Escondido and Liberty Station
What you're getting: Whatever looks good on Meatless Mondays
Stone is known for its commitment to using local and organic everything in the foods served at its restaurants, so it's no surprise to anyone that it would have a Meatless Monday menu. While the entire Meatless Monday menu is vegetarian, many of the items are vegan or can be made vegan upon request. If you can't make it to one of the locations on a Monday, there are also vegan dishes that you can order any day of the week like the house-made hummus appetizer.
Normal Heights
What you're getting: A peach ginger pop
Both vegetarians and vegans can beat the heat with Viva Pops. The fruit-based vegan popsicles are all natural and sweetened with either sugar or agave. The flavors change all the time, and even if you're a carnivore you can't pass on treats like lavender lemonade, peach ginger, and strawberry with coconut milk.
 
Ocean Beach
What you're getting: Vegetarian pho
Even though pho is traditionally prepared with beef broth, OB Noodle house offers a vegetarian alternative. This version is made with vegetarian broth, lightly fried tofu, and fresh veggies. You can even request the vegetarian broth in any of the pho on the menu. If it's too hot out for a steaming bowl of noodles, try some of the other veg dishes like spring rolls or tofu lettuce wraps.
Normal Heights
What you're getting: Ratatouille pizza
Not many places in town will make you a vegan pizza, but Blind Lady has got you covered. In addition to the many vegetarian choices like polenta with ratatouille or quattro formaggi pizza, the place can also use Daiya cheese upon request to make many of the vegetarian pizzas vegan.
 
South Park
What you're getting: Mushroom and veggie Wellington
The word chocolate might be in the name, but this place offers so much more than just sweets. Eclipse serves a daily brunch and dinner menu full of meatless and vegan choices. For brunch try the crispy quinoa fritters or dine on mushroom and veggie Wellington for dinner followed by a piece of vegan olive oil almond cake for dessert. If that doesn't satisfy your sweet tooth there are even vegan truffles with flavors like coffee caramel and Champagne cherry.
Little Italy
What you're getting: The I Am Awesome (which is a healthy eggplant Parm!)
It might be a new addition to San Diego's Little Italy neighborhood, but Café Gratitude already has a following of conscientious eaters in the Bay Area and other places like LA and Kansas City. The foods served at the restaurants are 100% organic and plant based with much of the produce coming from local sources as well as the founder's Be Love Farm in Vacaville.
Sign up here for our daily San Diego email and be the first to get all the food/drink/fun in town.
Sara Norris is an adventure-loving, travel-obsessed freelance writer and photographer currently based in San Diego, CA. Follow along with her latest adventures on Instagram: @saraknorris.