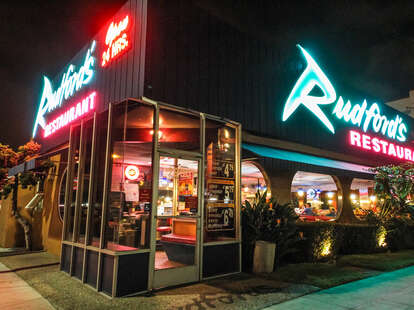 With a 24hr taco shop on just about every corner in town, San Diegans know that they'll never go hungry when late-night cravings strike. But there are times when yet another Cali burrito just isn't going to cut it, so we're giving you five prime spots to sit down and satisfy any late night desire you might have, at least as far as food goes. Rudford'sNorth ParkThere's nothing like tradition, and this place has been feeding SD since the '40s with daily specials like pot roast, roast pork, and sirloin tips. You can expect all of the standard diner food, but try your luck with the Big Nick, which is pretty much a burger tower made of 2lbs of beef patties, eight eggs, gravy, cheese and a 1/2lb of fries. If you can take it down in less than 30min, it's free, and they'll give you a t-shirt, but we all know you're in it for the glory.
Rose Donuts
Linda Vista
The sign may say donuts, but that doesn't even begin to cover what this place has going on. Rose's has everything you could possibly want to binge on at 3am from BLTs, Polish sausages, and burgers to sticky buns, cookies, and loads of ice cream. Oh, and there are also donuts. Because not having them would be kind of crazy.
Studio Diner
Kearny Mesa
Tucked away in a totally random part of town, and located on the lot of SD's only movie/TV studio (you remember Silk Stalkings, right?), you'll find the staff at Studio Diner burning the midnight oil to bring you all the classic American diner fare, plus a menu section dedicated to dishes from the East coast, like Maryland crab cakes and clam rolls. So whether you're having a late-night hankering for lobster salad, a 1lb burger with the works, or a slice of warm Julian apple pie a la mode, they've got you covered.
Brian's 24
Gaslamp
If you worked up an appetite getting your groove on in the Gaslamp, Brian's is the spot to satisfy the late-night munchies of the downtown after-hours crowd. You can't go wrong with a full pound of pizza tots covered in chopped pepperoni, gooey mozzarella cheese, and their house-made marinara sauce or a peanut butter burger with bacon and American cheese after a night of dubstep and heavy drinking.
Night and Day Cafe
Coronado
Coronado isn't the first place that comes to mind as having a happening nightlife scene, but the Night and Day Cafe is worth the drive over the bridge. Serving food until 1am during the week and 24hrs a day on the weekend, this place might be small, but there's a reason its been around for more than 80yrs. They cook the food on the grill right in front of you, so get a seat at the counter and take your pick from a combo of Mexican food and diner grub, offering breakfast anytime and a graveyard menu for hungry night owls.