When it comes to beloved restaurants, more of a good thing is always a... good thing. San Diego diners are lucky enough to have a handful of sister locations of favorite spots in the works, including Bruxie, which is due to open its second San Diego location in Horton Park this fall; Lucha Libre, which will unleash its extraordinary California burritos in North Park this summer; and Soda & Swine, which will stretch out into new digs in Liberty Station in April.
Not to be too pushy, but we've got a few other places in mind that ought to spawn a second location:
North Park
If you're not already hooked on the Sicilian- and New York-style pies here, it's probably because you live outside of the double-threat pizza shop's fairly generous delivery zone, which includes North Park, South Park, University Heights, and Normal Heights. Sure, it's worth the drive to score a slice of Barack-Oli-Ricotta and a corner slice of Sicilian-style Meatda ($9 on Thursdays, with a draft beer), but we think it's high time for Paulie and co. to unveil another location, ideally Downtown (where there's slice shops aplenty, but only a handful have any real game).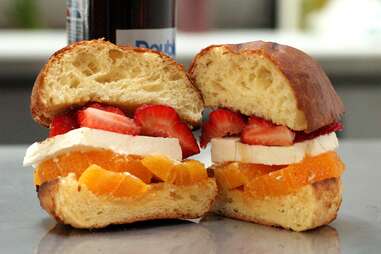 North Park
BFD's menu of oversized sandwiches (made with carved meats roasted on-site -- not cold cuts), plus creative salads, cookies, and a fridge stocked with beer, wine, and craft sodas is such a proven winner that we're sure a second location would thrive, no matter where it was to spring up.
Ocean Beach
This no-frills sandwich shop slings a tasty assortment of subs and arguably the best acai bowl in San Diego, made with acai purée blended with your choice of soy milk or apple juice (the better option). It's exactly what you want on a sunny day at the beach, but driving (and parking) in OB on days like that means contending with hundreds of other people who had the exact same idea. A secondary location a bit farther afield would be welcome. Obviously, the name would have to be different, but that's a minor detail.
North Park
San Diego has no shortage of taco shops, but we definitely need another City Tacos... or even two more. Imaginative fillings, like shrimp battered in a serrano-tempura batter, adobo-rubbed mahi mahi, and pork tenderloin with a spicy, sweet, and sour demi-glace have been attracting repeat customers since the shop opened last spring. (It also helps that all nine tacos are priced at $3.50 apiece.)
Normal Heights
Primo pies and an excellent selection of pints are the main draws at this Normal Heights haunt that has been named one of America's 100 best beer bars by
DRAFT
magazine for the last five years running. We're due for a sequel, and even have a location in mind: the recently vacated digs of Pizzeria Mozza, in The Headquarters. How awesome would that be? (Answer: so awesome.)
Midway
Locals love the toasted, hollowed-out garlic rolls stuffed with pasta here, but we're confident a second shop amid the breweries and bars of North Park would make loyal carb-loading connoisseurs even happier.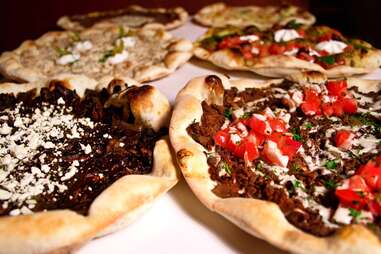 Rolando
Flat bread "pizzas"; other-worldly hummus; and warm, crumbly falafel are just some of the treasures you'll find at this family-run Mediterranean-Lebanese restaurant that has handily attracted praise from intrepid foodies, despite being located in Rolando, an area of town best described as "somewhat close to SDSU." A second location would be right at home in Hillcrest.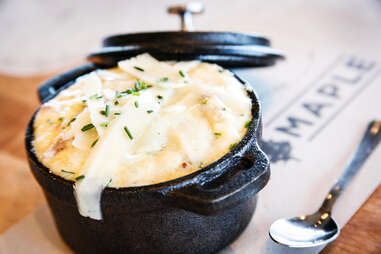 Hillcrest
If the insanely long wait on weekend mornings at this trendy spot in Hillcrest is any indication, San Diegans love them some brunch. A second location would fill up with diners hungry for maple bacon donuts, brioche French toast logs, and scramble melts, no problem.
Sign up here for our daily San Diego email and be the first to get all the food/drink/fun in town.