A classy wine-haven arrives in North Park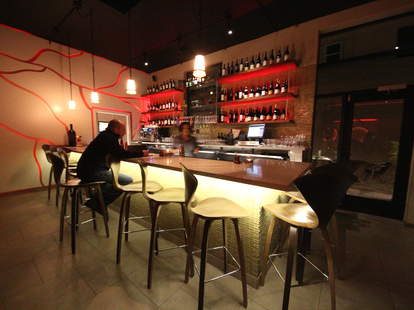 In 1994, a young prophet from Compton described a place he was on a Fantastic Voyage to find, a haven "where [he] can live [his] life and maybe eat some steak". Nearly 20yrs later his vision is finally a reality, thanks to a couple of dudes in North Park who're ensuring there's literally no chance you can't stand this Heat, and will want to get yo' ass in it promptly with artfully prepared eats (including steak!), a great selection of wine, and sake cocktails.
The former home of Eric Nies's favorite hangout (Urban Grind) has been completely redone with modern elements like the LED-lit veins running through the "lava wall" juxtaposed with rustic wood furniture in the dining room and lounge to give the place a homey feel, which will seamlessly change to a homie feel when Coolio finally does arrive.
The minimalist menu's broken up into three categories (snack, start, savor) with one item in each section reflecting the "Heat" theme, including the aptly named "Heat Burger", which -- aside from just being a great cooking tip -- also's got gruyere, marinated 'shrooms, and a fried egg on top. If you're having one of those days where you just want to destroy something beautiful, leave Jared Leto alone and tear apart this salmon with dashi, black garlic, Brussels sprouts, and turnips
A play on the fireside favorite, this chocolate mousse is topped with toasted marshmallow fluff & graham cracker crumbs and then the whole joint is smoked with applewood chips.
The bar's rocking five craft taps and five sake cocktails including the "Hotto Ne Tzu" with Gekkeikan sake, Kobai plum wine, agave, pomegranate, Sprite, and serrano chili pepper that packs a punch, but be warned: if you can't stand in Heat, it's time to get yo' ass out the kitchen, as non-employees aren't supposed to be in there anyway.