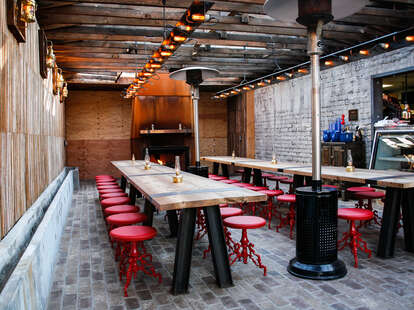 The culinary yin to Polite Provisions' boozy yang, Soda & Swine's directly next door to the cocktailery, where Michelin-starred Jason McLeod (who recently gave C&C's menu a small makeover) has created a build-your-own-bar-food menu centered around large, meaty balls (Insert laugh track).
You're probably saying to yourself, "I can taste the carbon monoxide poisoning from here", but breathe easy, there's totally no ceiling on the uber-exposed interior to hold in all those heater fumes.
Here's how the menu works: Pick one each from five types of balls, four different sauces, and four cheeses before deciding on single-ball sliders, or opting for a tripled-up sub like this mashup of classic beef meatballs, mozzarella & marinara.
This slider with chorizo meatballs, a tangy chipotle sauce, and pepper jack cheese will be good in any season, not just the four with Jerry O'Connell and Sabrina Lloyd
If like, eleventy thousand meatball sandwich combos isn't enough, they've also got a variety of small plates like this crispy polenta with burrata and arrabbiata, which, even though it is Italian for "angry sauce", is not just a shot of Fireball.
Scientists say that deep-fried pizza balls served with Parmesan and marinara can actually make you skinnier and, like, stronger. Or something.
Because Soda's undeniably in the name, they'll be stocking plenty of craft bottles and bringing over drafts and housemade versions from next door.
And if you can't bear to part with cocktails, the strikingly handsome staff will gladly bring any of this deliciousness over to Polite Provisions.