Gourmet pizza from the folks behind Urban Plates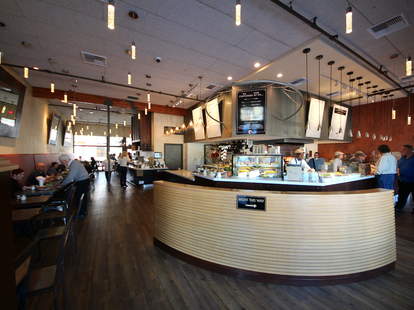 Not actually what Michelle Pfeiffer called 3.14... to try and give it an edgy appeal to the kids in Dangerous Minds, Urban Pi -- from the folks behind Urban Plates -- is the first iteration of a planned fleet of fast-casual, build-your-own organic pizza joints where you're literally free to stack extra ingredients on your pie, since there's no extra charge.
From organic CA cheeses to imported wild organic Sicilian oregano, the crew's going to great lengths to secure ingredients you can egregiously and irrationally pile on your pie with any of five sauces, including pesto and peanut
On top of the freebies, they're rocking a few premium add-ons for a small pittance, like the grated Parm and crushed red peppers in those jars caramelized onions & pancetta on this pepperoni/ meatball 'za with asiago and extra fresh mozz
If you like to party, get one of those fun Hawaiian shirts and a glass of all-organic suds (Berkeley's Bison, Olympia's Fishtale, etc.). If you like to drink housemade juices, just please quietly sip from that strawberry/mint lemonade on the left.
Even though both this butterscotch pudding with caramel sauce and that cookie are made in-house using natural sweeteners like agave and cane sugar, doesn't mean this isn't one of their more Dangerous Finds.