Breakfast is the most important meal of the day according to everyone's mom. So it only makes sense to tip our five-paneled hats to the places that make a habit of having it available all week long -- none of this "weekend brunch only" business. Here are San Diego's best spots to get your morning meal on:
Recommended Video
Thrillist's Best (and the Rest): What's the Perfect Fast Food Meal?
Pacific Beach & other locations
The Fig Tree Café has a trio of locations to satisfy your breakfast cravings. Since it only uses the freshest local produce, eggs from a family-owned ranch in Ramona, and humanely-raised meats, chowing down at Fig Tree might be the most ethical thing you'll do all week. For all of you vegetarian, vegan, and gluten-free types, Fig Tree has you more than covered -- though you'll miss out on the joy that is ordering a side of Man Candy: thick bacon with brown sugar and paprika.
Downtown
Café 222 has been serving breakfast bright and early seven days a week for more than 20 years. Of course, the menu is full of classic breakfast staples like waffles and scrambles, but the "in-house specialties" are where you'll find the really good stuff, like pork tamales and eggs covered in Mexican gravy, properly shredded corned beef hash, and chicken fried steak and eggs.
Hillcrest
Hash House is not the place you go for a light breakfast. Hash House is the place you go for a breakfast so huge it would sustain you for an entire month if you were a snake (shoutout to all the reptilian people out there). The guys in the kitchen are not only making the best breakfast you'll ever shove into your face, they're also engineering geniuses who are breaking down the barriers between architecture and food by making everything on your plate as deliciously vertical as possible. Now, who's ready for a fried chicken Benedict on a biscuit with maple reduction and bacon mashed potatoes?
La Jolla
There's a reason Harry's Coffee Shop is on so many "best diner" lists, including our own. It's been doing San Diego's finest take on a proper NYC greasy spoon in La Jolla since before bell-bottoms were a thing. Harry's opens at 6am so early birds can get their eggs and bacon at the crack of dawn, but breakfast is served all day for those who can't function before noon -- which is a whole bunch of you. It's famous for The B.W. Benny, made from a golden waffle with bacon inside and out, stacked with grilled ham, poached eggs, and drizzled with hollandaise.
Hillcrest & Del Mar
You definitely want to hit Snooze for breakfast (hehe). If the breakfast pot pie with its flaky puff-pastry crust drowning in rosemary sausage gravy or the six different dishes covered in hollandaise don't have you drooling, maybe the following two words will: Pancake. Flights.
Ocean Beach
Located steps from the sand in the space previously occupied by Shades, this casual, indoor/outdoor spot by the same team behind Wonderland Ocean Pub specializes in stick-to-your ribs breakfast fare like smothered omelets, espresso double chocolate pancakes, and homemade biscuit sandwiches. Best of all, most tables serve up views of the ocean (and the OB Pier), which makes for some excellent people-watching.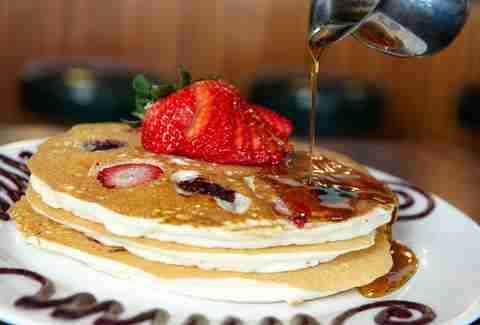 Mission Beach & other locations
The Mission is a breakfast institution in San Diego. Your menu options are healthy-ish and the perfect mix of traditional breakfast favorites, like French toast made with house-baked cinnamon bread on a palate of berry purée, and Latin dishes, like Mission chilaquiles that have yet to meet a hangover they can't cure.
Little Italy
The breakfast menu at this laid-back cafe with communal tables and a chef's marketplace mainly consists of baked egg dishes, but if you're heading here for your morning meal, the can't-fail bet is a croissant sandwich. They're made to order with an over-easy egg, Gruyère, arugula, aioli, and your choice of protein (maple pork or chicken Thai sausage). Don't let the fact that it's the first meal of the day stop you from ordering a cookie, breakfast pastry, or even a second croissant. Everything produced by pastry chef Adrian Mendoza -- one of San Diego's best chefs of 2016 -- is well worth the bonus calories.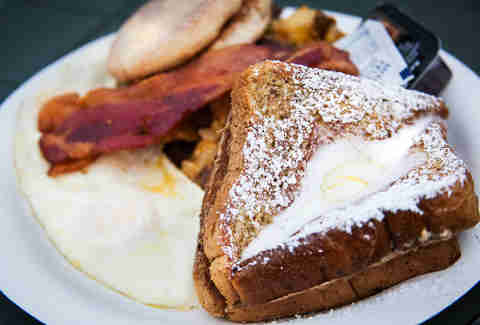 Pacific Beach
There are only three reasons why people in PB are awake at the crack of dawn: 1. Surfing. 2. They haven't gone to bed yet. 3. Breakfast at Kono's. You couldn't ask for a better way to start your day than sitting right on the beach with a giant breakfast burrito in one hand and a cup of coffee in the other.
La Mesa
This buzzy spot on the La Mesa strip slings breakfast till 3pm daily. Its expansive menu has a bounty of egg dishes (including frittatas, omelettes, Benedicts, and more) alongside enticing sweet dishes like bananas Foster french toast and Reese's and ice cream pancakes. The list of bloody marys is also worth a look, especially if you gravitate towards options with over-the-top garnishes: case in point, "The Barnyard" bloody is served with an entire roast chicken (among other things).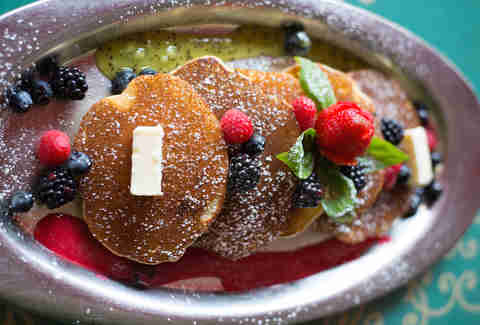 Gaslamp & University Heights
Amidst the bars and greasy food in the Gaslamp, Café 21 serves farm-to-table breakfast with a twist. If you're into drinking your breakfast, there's a variety of ginormous Bloody Mary's on the menu that could be entire meals themselves, but the omelettes are really where it's at. They're baked in cast-iron skillets and full of protein like prosciutto, lamb, short ribs, and beet-cured salmon.
Liberty Station & other locations
True to its name, this local chain with locations in Liberty Station, East Village, Encinitas, Ocean Beach, and North Park serves up a mean breakfast. Standout items include the cinnamon roll pancakes, shrimp and grits, and the Breakfast Sammie, made with thick-cut applewood-smoked bacon marinated in paprika and brown sugar with a sunny-side up egg (dubbed by us to be one of the best in SD). Owner Johan Engman (who also owns and operates three Fig Tree Café outposts) is looking to expand his breakfast brand even further with the debut of North Park Breakfast Co. this summer.
University Heights
Located in the heart of University Heights, this longtime favorite offers early morning eats like hearty scrambles, lemon ricotta pancakes, and a slew of sandwiches in a casual, comfortable space with three distinct rooms: the front living room, the cozy "hearth room" (which has a wood-burning fireplace), and an outdoor patio. The beverage selection is particularly notable, with boozy options like Tamarindo Micheladas and eight different varieties of mimosas available by the glass or in a flight.
Sign up here for our daily San Diego email and be the first to get all the food/drink/fun in town.