Because you can't eat burritos ALL the time (or CAN you?), San Diego also has burgers. Seriously though, sometimes there's just no substitute for the perfect harmony of juicy beef, a pillowy bun, melty cheese, and whatever other deliciousness that particular joint likes to add to the mix. When the craving hits, you're sure to get lucky at these 13 burger joints, each of them reigning supreme in their respective neighborhoods: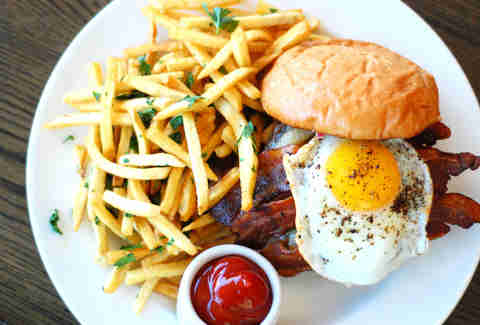 La Jolla
Whisknladle (address and info)
What you're getting: WNL Burger
At just shy of $20, the WNL Burger certainly isn't the cheapest burger you'll ever order; but, it is undoubtedly worth every penny. Made for breakfast lovers, the operation starts with a perfectly toasted bun that is stacked with a juicy beef patty, strips of bacon, artisan Gruyère & cheddar, caramelized onions, lettuce, and house remoulade, all topped off with a fried egg.
Point Loma
Slater's 50/50 (address and info)
What you're getting: The Burger of the Month, whatever it is
Slater's switches it up every month with a featured specialty burger. It's always an over the top, heart attack inducing, must-try creation that's only around for a few precious weeks. If you're looking to order off the regular menu, get yourself a "B'B'B' Bacon". Made with Slater's signature 50/50 patty (half ground bacon, half ground beef), it's further porkified with bacon-American cheese, bacon, bacon-island dressing, and a bacon-pretzel bun, with a sunny side-up egg on top.
Pacific Beach
Rocky's (address and info)
What you're getting: 1/3lb burger
Rocky's is as traditional as it gets. They only take cash, and their hamburgers are classic. When a burger is this good, you don't need to get all fancy with tons of crazy toppings and extras. All you need is a well-made beef patty, mayo, lettuce, tomato, and onion. At Rocky's, they do what they want; so instead of going IN the burger, their pickles are placed ON TOP of the bun.

Hillcrest
Hash House A Go Go (address and info)
What you're getting: Apple-smoked bacon & mashed potato burger
You'd better not eat all week before ordering this monstrosity... or at least bring along a friend who can help you out. Hash House's burgers are famously huge and made from double beef patties with all kinds of good stuff in between them, like apple-smoked bacon, mashed potatoes, lettuce, tomato, and red onion.
Ocean Beach
Raglan Public House (address and info)
What you're getting: Bare Lil Lamb
There are lots of choices at Raglan, but the "Bare Lil Lamb" is something for the more adventurous burger lover. Made with a New Zealand all-natural lamb patty instead of beef, it comes with bleu cheese crumbles, mint dressing, lettuce, tomato, red onion house chutney, aoli, and beetroots, all on a toasted focaccia bun. You can order yours with or without an egg. So yeah, it'll have an egg on top.
Clairemont
BABS (address and info)
What you're getting: The Texas Burger
Hidden away between noodle shops and dim sum on Convoy, you'll find not only the best burger in Clairemont, but also one of the best burgers in town. Everything they serve at BABS is Juicy Lucy-style: stuffed full of gooey, melted cheese. Accurately named for a state where everything is bigger, it's served dripping in BBQ sauce, stuffed with cheese, and topped with bacon, lettuce, tomato, onion & thick-cut onion rings.

Encinitas
Encinitas Ale House (address and info)
What you're getting: Grass-fed Kobe Wagyu burger
Encinitas Ales house advertises their burgers as "locally world famous", and the Kobe Wagyu burger is made with nothing but the best. The patty is 10oz of 100% grass-fed Kobe beef from New Zealand, layered with melted Gruyère, Gorgonzola, crispy onion straws, tomato, and baby greens, on one of their house-made buns.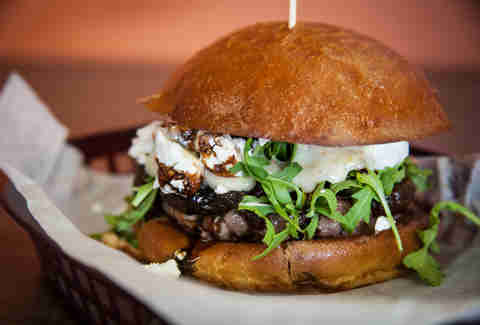 North Park
Twist Sandwiches & More (address and info)
What you're getting: The Twist
Don't blink as you're driving by Twist, or else you'll probably miss it. Wedged between a liquor store and a taco shop is one of the best burgers in North Park. If you're looking for your standard burger, it's on the menu and aptly named "The Boring", but if you're looking for a burger that will blow your mind, order "The Twist". Full of flavor, "The Twist" comes with a 7oz beef patty, goat cheese, prosciutto, arugula, caramelized onions, balsamic syrup, and "Twist sauce".

South Park
Station Tavern (address and info)
What you're getting: A hamburger, duh.
Order yourself a hamburger or cheeseburger, and you'll get a simple 1/3lb angus patty with salt, pepper, lettuce, onion, tomato, and pickles. Then venture a little further down the menu to check out your customizable options. Dress that burger up any way you like with extra beef patties, bacon, a sausage patty, more cheese, avocado, sauerkraut, a fried egg, jalapeños, caramelized onions, or pepperoncinis.
Bankers Hill
Doods Foods (address and info)
What you're getting: The Flying Cheeseburger
Take a peek inside Tin Can Ale house where you'll find the dudes behind the counter at Doods Foods making burgers so big that they're almost daring you to try and take one down all by yourself. The Flying Cheeseburger has double all the good stuff; double meat, double cheese, double bacon. There's also some lettuce, tomato, and buttermilk sauce buried somewhere in there.

Downtown
Hodad's (address and info)
What you're getting: That depends. How hungry are you?
Hodad's is a local fave so be prepared for a line out the door if you get there during peak meal times, but it is well worth the wait. Their burgers are available in mini, single, and double so come hungry and order accordingly. No matter what size you opt for pile it up with extras like cheese, bacon, MORE beef, and pastrami. Don't forget to save room for one of their shakes.
Golden Hill
Counterpoint (address and info)
What you're getting: Cheeseburger
Not everyone wants all the extra stuff that restaurants pile on their burgers, and you can't get a cheeseburger that is more simple and straightforward than the one at Counterpoint. It comes with a half-pound patty, American cheese, spicy aioli, pickles, and fries on the side.

Little Italy
Waterfront Bar and Grill (address and info)
What you're getting: Texas Burger (with bacon)
In a neighborhood famous for their Italian food, Waterfront is holding it down for the American fare. Their half-pound burger comes topped with grilled onions, lettuce, tomato, pickle, and whatever cheese your heart desires (if your heart hasn't given up already). Definitely add bacon, because obviously.
Sign up here for our daily San Diego email and be the first to get all the food/drink/fun in town.