Best Burgers in San Diego You Can Order For Takeout and Delivery
Get your burger fix.
San Diego's culinary scene has pretty much been dominated by our universal love for tacos, burritos, tortas, and all things south of the border -- and with good reason. After all, it wasn't so long ago that California was still part of Mexico, and those roots do run deep. But in recent years, a growing number of restaurants, from diners and coffee shops to fast casual and fine dining, have come to realize that for some of us, diving into a big, juicy burger is an itch we just have to scratch, and often.
Whether you prefer your burger classic-style, embellished simply with fresh lettuce, tomato and onion, or you love unusual and over-the-top garnishes, we've done the (delicious) work of seeking out the best burgers San Diego has to offer via safe curbside pickup, takeout, or delivery. If you'd like to support these local businesses even more, ask them to throw some merch in with your order, and as always, tip generously.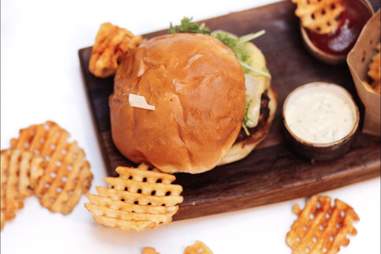 Madison on Park

| Taylor Balding
University Heights
The Burger from neighborhood eatery Madison on Park is made with Angus beef, seared and slipped into a brioche bun. But things get more exciting from there with the addition of sharp-aged white cheddar, pickled shallots, and jalapeño-bacon sauce, served with waffle fries and house-made pickles. Vegetarians can sub a flavor-packed chipotle black bean patty at no extra charge. In addition, Madison has been giving 100% of sales (not just proceeds) on food and gift cards back to its staff, and has set up a
GoFundMe
to support the employees where donations are quadruple matched by the restaurant owners.
How to order:
Call 619.269.6566 or order
online
for pickup
South Park
The namesake Fernside burger layers two smashed burgers, charred on the outside and juicy pink inside, layered with gooey American cheese, shredded iceberg, house-made pickles, and a dollop of Fernside sauce in a buttery grilled bun. Pair it with crispy-on-the-outside, fluffy inside salt and pepper waffle fries and a boozy, refreshing slushie or a double craft cocktail. We like the Cobra Clutch for smoky mezcal/tequila sipping or a heady Spanish-style gin and tonic with Junipero gin, elderflower and Becherovka.
How to order:
Order
online
for pickup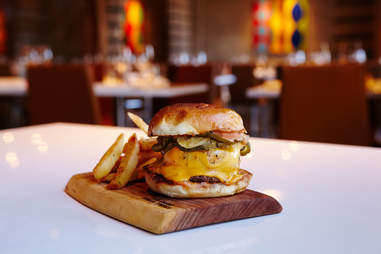 Courtesy of Juniper and Ivy
Little Italy
You'll have to watch out for Juniper and Ivy's not-so-secret secret menu burger, the In-N-Haute, which is Executive Chef Anthony Wells' homage to In-N-Out's Double Double. The coveted burger only appears occasionally on the weekly Juniper and Ivy takeout menu, and when it's available, it sells out fast. What's all the fuss about? Two Flannery Beef patties, dry aged 28 days, grilled medium rare, topped with local onions that are sous vide with mustard until tender and then tossed on the grill, pickles made in-house with local cucumbers, and a flavor bomb "animal" sauce. Fries (made in an involved, two-day process) and housemade kimchi ketchup come with.
How to order:
Order
online
for pickup
Ranch 45

| Haley Hill
Solana Beach
Ranch 45 uses all natural Brandt Beef, your choice of smoked cheddar, gruyere or blue cheese and fresh butter lettuce, heirloom tomato, and Bermuda onion on a soft brioche bun for its craveable Brandt Burger. It comes with a generous portion of crispy fries and a tangy house-made pickle, and is available for both lunch and dinner. Shop their provisions section while you're ordering and save a trip to the grocery store.
How to order:
Order
online
for pickup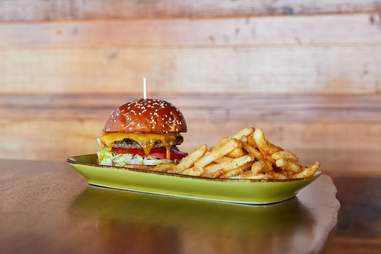 Jimmy's Famous American Tavern

| Lucianna McIntosh
Point Loma
J-FAT's Famous Cheeseburger is a down-home as it gets. A plump, sizzling patty, oozing melted cheddar, LTO, and thousand island dressing on a toasty bun, with a big pile of hot fries (the upgrade to parm-garlic fries is totally worth the extra charge), or go for a crunchy coleslaw or Caesar sidecar. The tavern does fine plant-based burgers, too -- the Beyond Meat burger tops the perfectly grilled patty with cheddar, spinach, avocado, and mayo. Pick up a Jameson and ginger or Tito's mule kit to round it out, and while you're waiting, hit the grocery section for all your pantry needs.
How to order:
Order
online
for pickup
North Park
The Classic Cheeseburger at 619 Spirits, San Diego's first urban distillery, sports a half-pound patty, smothered in your choice of Swiss or cheddar cheese, LTO, pickles, and 619 secret sauce on brioche. Enjoy it with to-go cocktails, one of 619's award-winning vodkas, or a 619 vodka slushie for $5.
How to order:
Order directly
from the restaurant for takeout and get a 20% discount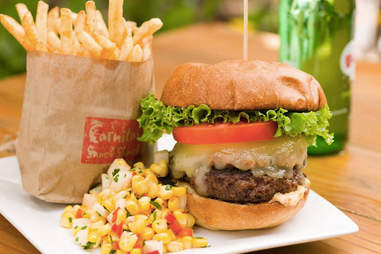 Courtesy of Carnitas' Snack Shack
Embarcadero
This local chain is offering a pared down version of its regular menu, but it's kept all the best stuff. Try the tasty Blue Collar Burger, a thick patty of lean ground chuck seared to perfection and topped with melty American cheese, lettuce, tomato and onion (LTO) and their special sauce, all on a brioche bun. Dress it up with bacon or a fried egg, and wash it down with a growler of margaritas (prickly pear!).
How to order:
Order
online
for pickup at the Embarcadero location only
ERIN JACKSON/THRILLIST
Ocean Beach, Downtown
Head to Hodad's OB or downtown location for their wonderfully satisfying bacon cheeseburger, available in mini, single and double versions. It comes with all the requisite toppings -- we recommend Blue Jay style, slathered in blue cheese sauce and softly grilled onions instead of raw ones. Add a side of frings (onion rings and fries) and a milkshake and indulge in one of San Diego's most beloved burgers.
How to order:
Call 619.224.4623 (Ocean Beach) or 619.234.6323 (Downtown) or visit a location to order for pickup
Sara Norris/Thrillist
La Jolla
While the surroundings may be as fancy as all get-out, the Drugstore Hamburger is a stripped down, essentials only burger. Don't let that put you off, though. A full seven ounces of Niman Ranch ground beef, classic LTO, pickle, and mayo inside a grilled sesame seed bun make this the burger you loved as a kid -- elevated just right for the grownup you.
How to order:
Call 858.777.6641 for pickup
COURTESY OF RAGLAN PUBLIC HOUSE
Ocean Beach
Juicy house-ground lamb is the star of this burger, surrounded by an assortment of garnishes that, at first glance, sound crazy. Crumbled blue cheese, mint jelly, tomato chutney, garlic aioli, and pickled beets -- it shouldn't work, but trust us, it does. If that's not stuffed enough, you can add a sunny-side-up egg for a slight upcharge. Instead of the standard fries, get the sweet potato version, the blue cheese topping provides a clever savory contrast.
How to order:
Order
online
for pickup
Sign up here for our daily San Diego email and be the first to get all the food/drink/fun in town.
Erin Jackson is a San Diego-based food writer and photographer who loves sharing her latest finds. If you enjoy food and cat photos, by all means, follow her on Instagram @ejeats.