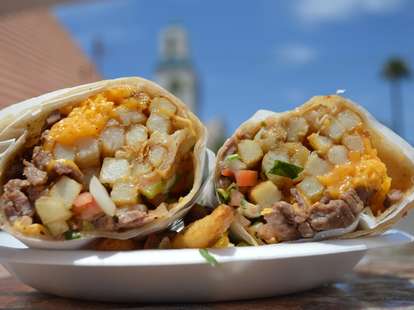 We take our California burritos seriously in San Diego (making them one of the few things we can say that about). This carne asada and French fry-stuffed behemoth was invented here, and has been diligently soaking up our late-night booze ever since. Now that they're so thoroughly intertwined with life in SD, the question must be asked: who does them best?
That's too big a question for any one person to answer, so we assembled a panel of the very BEST people for the job: native San Diegan surfers who work up the kind of appetite only a burrito can handle. Eight of them gave us their top-five picks, and we assigned points (five for a first place, four for a second, and so on…), arriving at this definitive list of the finest damn California burritos in San Diego, and therefore the world.
Multiple Locations
This list of heavy hitters wouldn't be complete without a nod to the OG of California burritos, Santana's -- you know, back before most of them became Fresh MXNs and you still had your innocence (-ish). Though the California burrito's origins still remain unclear, many credit Don Arturo Santana with inventing this Cal-Mex staple during the late '80s. Add the fact that almost every burrito master mentioned Santana's in their picks, and our semi-fallen friend deserves recognition.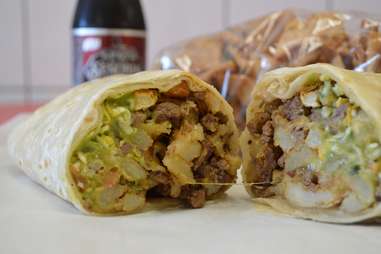 La Mesa
This no-frills, strip mall spot started out as a sit-down joint in Pacific Beach in '80 before it moved to its current location to embrace its inner hole-in-the-wall. It boasts the usual suspects: burritos, tacos, and enchiladas, with its enormous California burrito being the standout. Known for its sheer size (roughly equivalent to a small baby, not that you'd ever eat one), this delicious beast comes with chopped up carne, french fries, guac, pico, and cheese, and a red and green salsa for those of you (aka all of you) who like it hot.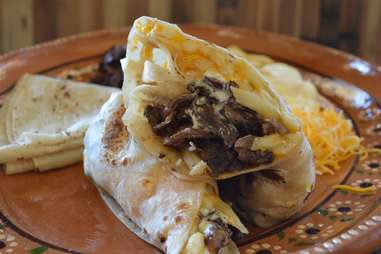 Solana Beach and Carlsbad
This staple nails everything from its well-cared-for carne asada, to its homemade salsas (available for purchase!), to its Mexican markets filled with specialty items like that super-weird, salty paste candy you used to eat as a kid. The Cali burrito features tender flap meat that's marinated overnight then cooked over an open flame, french fries, cheese, sour cream, and tortillas so fresh that there's still flour on top. Plus, if you need to order money and buy booze -- which naturally, you do -- you can do both at the Solana Beach location. Multitasking!
Bird Rock
Don Bravo represents one of the more eclectic entries on this list, boasting a more upscale vibe than your typical burrito joint, plus some non-traditional offerings like hamburgers (?!), ceviche, and CHURROS. These veterans use slices of grilled Angus beef, which equals more tender carne than you'll find at the run-of-the-mills. Add ocean views and alcohol (frozen margaritas, bottled Mexican beer) and you'll be glad you decided to class it up a bit.
Multiple Locations
This tried-and-true favorite is 10in long (no wonder it's a favorite) and filled with high-quality carne, fast-food style fries, pico de gallo, guacamole, sour cream, and (duh) cheese. It's not incredibly overwhelming, plus the seven locations boast nod-worthy salsa bars and drive-thrus, and they're open 24 hours. With a location on Garnet, smack in the middle of PB, Rigoberto's Cali burritos have saved many an inebriated evening.
North Park
If you're in North Park at midnight and you've been drinking, there's a good chance you'll be saying "I need to go to Saguaro's" because A) it's super close to the bars, B) it's open 24 hours, and C) it's delicious even if you haven't been drinking. Burrito master Chris Rinder notes, "Saguaro's meat is flavorful, it has almost a chipotle spice to it. It comes with pico, but you have to add guacamole (or sour cream), because unfortunately, it doesn't come with it."
Multiple Locations
A household name in America's Finest City, Lolita's was founded by Joaquin and Dolores Farfan, who have been some of the top burrito slingers in San Diego since they opened their first location in Chula Vista in 1984. The Cali burrito is their calling card, and comes with carne, guac, sour cream, and crispy fries, but their carne asada fries are also bomb. Another location opened outside Petco Park, boasting six beer taps and tons of flat screens, so we can eat (and drink) our feelings when the Padres… they're GOING to win. Someday.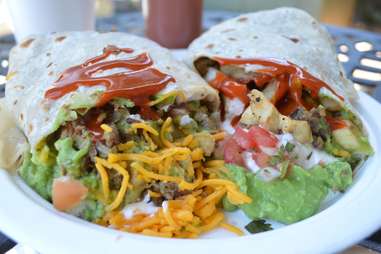 Linda Vista
Jesse Verduzco's spot's sheer breadth and depth of good burritos, from the Surf-N-Turf to the Hawaiian, might be -- dare we say -- unrivaled in SD. But if you are going to go the traditional route, the Cali is made with carne asada, short and thick fries, guac, sour cream, salsa, cheese, and the biggest tortilla you've ever seen. Grab some buñuelos on your way out, because they're buñuelos.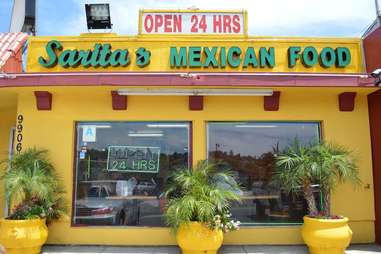 Spring Valley
Located in a place many San Diegans have never heard of, Sarita's is about as traditional as hole-in-the-wall Mexican food gets. This 'rito is a cubit-long (your elbow to your wrist, you're welcome) giant that several of our burrito masters ranked high on their lists. Dave Smith notes "The burrito is like the size of your calf. They load it up with guacamole and sour cream, so you never have to buy extra. That's always been a big turn on." They're also open 24 hours.
5. Fresh MXN (Formerly Santana's) (8pts, tie)
Multiple Locations
If you're from San Diego, it's highly likely you've gone here 13,589 times (roughly). So we asked, "Is Fresh MXN as good as Santana's was?" Almost exactly half of our burrito masters said "no," but in the end, the scale tilted towards Fresh MXN, which our burrito masters argued, still makes more or less the same burrito. This chain is also everywhere. You can't really avoid Fresh MXN, especially if you consume alcohol. And, okay, also... the cheese. The cheese at MXN doesn't melt completely, so if you're going to MXN, take it home and mic it for 30 seconds.
Mission Hills
This campy, Mexican wrestling-themed taqueria puts gourmet twists on classics (all-beef hotdogs wrapped in bacon, steak and shrimp tacos), the most famous of which being their Surfin' California burrito, which was featured on Man v. Food. And yeah. It's cylindrical awesomeness. It's a 14in tortilla stuffed with carne asada that's been soaked in a lime marinade, shrimp, chipotle mayo, house-made french fries, pico de gallo, sliced avocado, and cheese, and you can still get it up until 2:30am in the morning. Bonuses: free refills and a selection of bottled beers (locals and Mexican).
Multiple Locations
The Robledo family opened the first Roberto's in San Ysidro in 1964, and whether or not it was the first real "Mexican taco shop" as the chain claims, we're not sure. But, we do know that the majority of our burrito aficionados sang Roberto's praises, including Josh Hansen of Hansen's Surfboards, who summed it up well, "From a surfer's standpoint, Roberto's is super convenient, they have a bunch of them, and they're all really consistent." Plus, those views overlooking the estuary/ocean at the Torrey Pines joint? Mmm.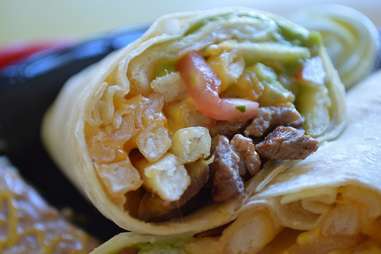 Multiple Locations
Emerging from the sea of tortillas wrapped in tinfoil and showing up in almost every list of favorites, Nico's average-sized California burrito takes the top spot. Burrito master, Garrett Eastman, said that, "Sometimes you get a burrito that has a pocket of meat, a pocket of cheese, a pocket of whatever. It's not mixed well. Nico's mixes it up well, so you get a little bit of each thing in each bite." Nico's has three locations in San Diego and fifteen in Arizona. Jose Carreon (son of the founders), runs the original Ocean Beach location and says that he tries to keep it old school, sticking to what his Mom and Dad started. You can walk into the OB location (bring cash), and if you're a regular, it's likely Jose will be asking if you want your usual before you're even all the way inside. Jose says it makes sense that we asked surfers, because they're a huge percentage of his customers, and "when they come in, they are SO hungry."
A special thanks to all our panelists: Josh Hansen (Hansen's Surfboards), Garrett Eastman, Chris Rinder, Tim Bessell (Bessell Surfboards), Dave Smith, Jon Yip, Ryan Hageman, and Pat Meissner.
Sign up here for our daily San Diego email and be the first to get all the food/drink/fun in town.