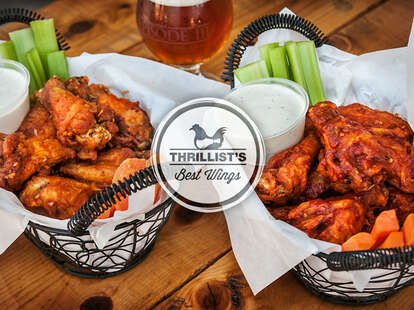 Wings prompt all kinds of difficult decisions. Do you go BBQ or Buffalo? Do you make a joke about Paul McCartney or Thomas Haden Church? These are debates that have befuddled man since the beginning of time, so to help provide at least a little clarity, here are the best of the best poultry limbs (well, the tinier ones) San Diego has to offer, in no particular order.
Any Flavor at Dirty Birds
Pacific Beach
Once you get over the lack of a Jamal Anderson presence, Dirty Birds makes amends with some of the most kick-ass wings in San Diego. You can't go wrong with any of the 30 flavors, but definitely try out the six newest ones, including Old Bay, Ninja, and Italian Stallion, which together sound like the makings of a great action movie.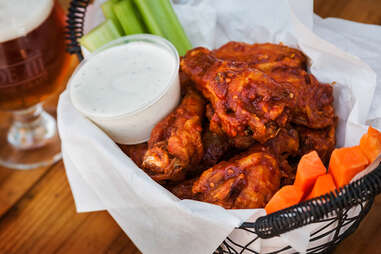 Foggs Flaming Hot Sauce Wings at Phileas Foggs
Scripps Ranch
Even if you like your wings scorching, watch out for the FOGG ALERT warning. They aren't messing around -- the Foggs Flaming Hot Sauce will burn your face off. But, like, deliciously.
Salted Pepper Chicken Wings at Royal Mandarin
National City
Nobody does salt & pepper wings like Royal Mandarin, but call ahead and order to go -- the secret is out and this place gets packed! Good news is, you can also order those crispy suckers by the party tray, so stock up and have some friends over. Or, you know, just stock up.
Cajun Garlic Wings at The Canyon Sports Pub and Grill
Chula Vista
Bringing a little bit of Louisiana goodness to SD, Canyon's cajun garlic wings are a can't-miss for serious wing-lovers. If you're not down with garlic, you are possibly a vampire, but rest easy, Mr. True Blood, as they have award-winning hot wings that are some of the best in town.
Alabama Chicken Wings at Felix's BBQ
Lincoln Park
"Good things come to those who wait" doesn't always apply to going into a career as a waiter, but it DOES apply to Felix's Alabama chicken wings, which're marinated for 24hrs before being fried up to a crispy golden brown. Order them with BBQ sauce, or just take them down as they are.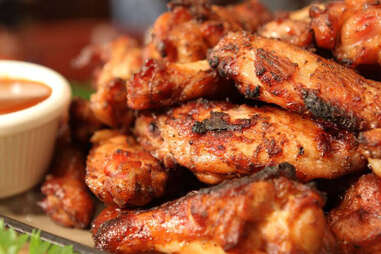 Dry Rub Wings at Brazen BBQ
Hillcrest
Over at Brazen BBQ, they slow-smoke their wings and serve them with a dry rub, Buffalo sauce, sweet Creole mustard, or their homemade secret recipe B.R.A.G. BBQ sauce.
Vietnamese Fish Sauce Wings at Que Huong
City Heights East
Buck tradition (well, Western tradition) and forget the hot wings -- do them up Vietnamese-style, because Que Huong is the spot for wings doused deliciously with fish sauce.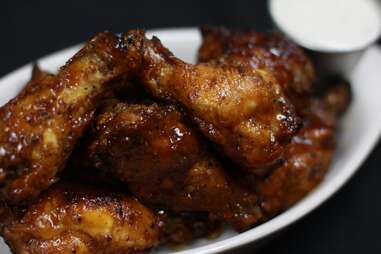 The Gambler at Riviera Supper Club
La Mesa
They've got about half a dozen flavors to choose from, but if you're willing to try your luck, order The Gambler: a dozen wings, 11 original-style and one Kenny Rogers serenade burning one mixed in the bunch for a surprising kick in the mouth.