Pete's Seafood and Sandwich

| Erin Jackson/Thrillist
Pete's Seafood and Sandwich

| Erin Jackson/Thrillist
Fast-casual restaurants are having a moment in San Diego. These days, you can score anything from sushi burritos and poke bowls to stacked sandwiches and over-the-top fries for less than $10, and get them faster than you can ask, "What's a sushi burrito?" To help keep your stomach full and your money in your pocket, we've rounded up a bunch of the best fast-casual lunches in San Diego. Look no further the next time you're debating where to go to lunch that won't take all afternoon.
A giant sandwich
North Park
This fast-casual spot in North Park has 15 sandwiches priced under $10 on the menu, ranging from homemade meatloaf to a lightly breaded fish sandwich, which means you'll probably want/need to make at least a few return trips before you find your favorite. If you're stumped, the chicken cutlet sandwich is a good place to start. It's also huge, so it's best to think of it as a quick lunch and dinner option.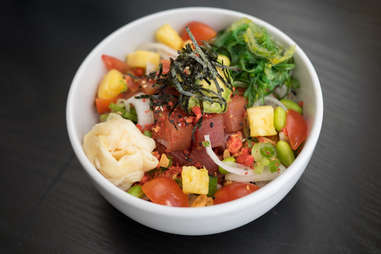 The OG SD
Grantville
Ringing in at just under $10, this poke bowl starts with three scoops of tuna marinated in a mix of soy sauce, sesame oil, and honey, served on white rice, brown rice, or mixed greens, and topped with onion, avocado, and sesame seeds. From there, you can customize it to your liking with a slew of different toppings like pineapple, mango, seaweed salad, and even crushed Flamin' Hot Cheetos. If you want a little extra heat, ask for a dash of Oh No sauce (spicy mayo with citrus and chili flakes).
The Veg Out roll
Hillcrest
Most options at this snug storefront, notorious for housing burrito concepts, are on the pricier lunch side, but you can snag the Veg Out roll, a vegetarian-friendly item with beets, arugula, Persian cucumber, jicama, and blue corn chips wrapped up in rice and nori with Bitchin' Sauce and lemon garlic dill yogurt for $9. If you're at all worried that the vegetarian option will translate to a lack of flavor, don't -- the burrito packs a tasty punch on its own and comes with three zesty dipping sauces (and tiny spoons for precise placement of said sauces) so you can amp it up if need be.
The Royale
Little Italy
The most affordable sandwich on the menu at The Crack Shack is also one of the most delicious. Nestled between a toasted house-made English muffin is a delicious savory Jidori chicken sausage patty, an organic sunny-side-up egg, and a slice of smoked cheddar. It's everything you need in a breakfast (or lunch!) sandwich, and nothing you don't. Not bad for $9.
Fish tacos
Marina
Carnitas' Snack Shack is always a good place to go when you're trying to rein in your lunchtime spending, but you'll only find these blackened and grilled Mahi Mahi tacos at the chain's newest digs on the Embarcadero. They're topped with the standard shredded cabbage and pico de gallo (plus not-so-standard avocado crema). At $9 for the pair, it's a pretty solid deal, especially when you factor in the bay views and prime people-watching.
Chicken Chile Verde or Spicy Southwest pizza
Kearny Mesa (& others)
The spicy, smoky flavors and Southwestern ingredients on these limited-time pies (like red & green enchilada sauce, roasted red peppers, and spiked sour cream) make them the perfect compromise when you're simultaneously craving pizza and an enchilada. Don't put off getting your fix for too long; both pies will disappear from the menu on August 1st, only to be replaced with a new, delicious, nontraditional pizza.
Street cart fries
Hillcrest
The street cart fries at Spitz are one of the best running arguments for eating a salad for lunch some other day. Topped with garlic aioli, feta cheese, onion, green pepper, tomato, olives, and pepperoncinis, they're everything you've always wanted from a plate of loaded spuds. The straight-up version will set you back $8.50. There's also the option of getting "the works" -- which nets you some zesty feta and your choice of meat, but that'll bump you a smidge over $10. Considering you'll end up with enough food to share, count it split two ways.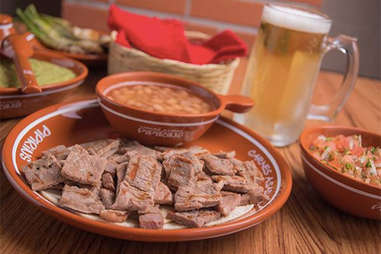 Carne asada
Gaslamp
If you count yourself among the carne asada-obsessed residents of San Diego, you might want to put this budget-friendly spot at the top of your go-to lunch list. Don't go in expecting to find the same carne asada you'll find elsewhere. Here, the tender cuts of steak are cooked Guadalajara-style (order over lava rocks), which gives the meat an unmistakable campfire flavor. The 4oz lunch portion (served with beans, soft white corn tortillas, and salsas) will set you back a mere $6.50. Portions are generous, so you probably won't feel like you have any room for a slice of chocolate cake or flan ($2.80 each), but get dessert anyway. Both options are so delicious you'll find a way to polish them off without too much trouble.
Veggie burger
Ocean Beach
Good veggie burgers are hard to find. Many are mushy, bland discs of sadness that only taste good to people who haven't eaten meat in years. That's not the case here, where chipper staffers will hook you up with your choice of three different patties (tempeh, black bean, or "beefy" -- a Gardein patty available for $1 extra) stacked with flavorful toppings like sautéed mushrooms, crispy onion rings, and chipotle aioli. The Mushroom Swiss and Holy Guacamole (both $7.25) provide enough fuel for lunch, but if you want a fountain drink and a side order, the classic burger combo (with a tempeh or black bean patty) rings in at just under $10. Oh, and it has a dedicated parking lot! That's a BFD in OB.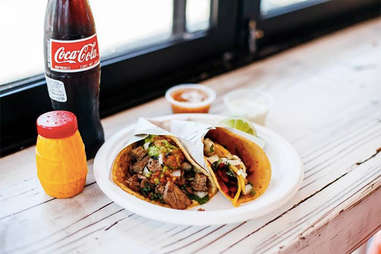 Two tacos
Core-Columbia
The new Downtown digs of this popular spot, holding it down in La Jolla for years, offers a multitude of hunger-annihilating eats served up fast. A duo of tacos is a good way to go for lunch, especially if you want to avoid burrito bloat. We're particularly into the al pastor (tender marinated pork that's slow-cooked on a rotisserie and served with pineapple and chipotle sauce) and the classic carne asada, but there are also several seafood options, and a nopal taco for vegetarians. Tacos range from $2.69 to $4.29, so depending on which two you choose, you can probably still squeeze in a side, like grilled corn on the cob with mayo, Parmesan cheese, and chili pepper ($2.99) or a paleta ($2.79), and still spend less than a Hamilton.
Sign up here for our daily San Diego email and be the first to get all the food/drink/fun in town.
Erin Jackson is a San Diego-based food writer and photographer who loves sharing her latest finds. If you enjoy food and cat photos, by all means, follow her on Instagram.