Editor's note: Dining restrictions are changing often and without much warning due to the COVID pandemic. We recommend double-checking the hours and dining options available at any establishment prior to your visit.
If you're in craving fish tacos, there's no shortage of places offering their own takes around San Diego. Although the delicacy originated in Baja California, fish tacos made their way to San Diego where they are beloved by locals as well as out-of-towners looking for flaky fish nestled inside a soft tortilla. While the question of who serves the best fish tacos in San Diego is a controversial subject to say the least, we broke it down into 12 manageable categories to help you find a fish taco that suits your needs:
Visit Facebook for schedule
As mentioned, fish tacos are a Baja California creation, but what if they originated in England? That's what God Save the Cuisine, a local food truck specializing in British cuisine, aims to achieve with its version. The fish and chips taco is what you'll want to order. It's like the name suggests: local-beer-battered fish with thick-cut fries tossed in salt and malt vinegar served in a pliable tortilla. Check their Facebook page for the truck's schedule.
Multiple locations
The story of Rubio's is the stuff of legends and it begins with founder Ralph Rubio. While on spring break from San Diego State University, Rubio and a bunch of friends traveled to San Felipe, Mexico, where he discovered fish tacos from a small vendor. He was smitten with the concoction and in 1986, opened his first shop in Pacific Beach. From there, his concept took off, expanding to more than 200 franchises in four states. While Ralph Rubio is no longer the CEO, you can still taste the original fish taco at all locations.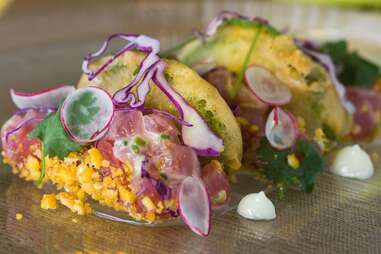 La Jolla
Just being in the exclusive La Jolla neighborhood places this restaurant in the fancy category. The menu features swanky modern California cuisine as well as an amazing fish taco that includes yellowfin tuna with California-grown avocado and corn nuts. The item is only found on the starter portion of the dinner menu.
La Jolla
Tortillas usually play second fiddle to the filling but trust us when we say the tortillas at Galaxy Tacos are in a category of their own. The secret is landrace corn, an ancient variety shipped from Oaxaca, Mexico. From there, Galaxy cooks and grinds it daily, creating a naturally indigo-hued tortilla free of lard or wheat. Featured in all of Galaxy's tacos, it shines in the Baja-fried fish taco which features chile lime crema, avocado mousse, cabbage, and pico de gallo.
Point Loma, Pacific Beach, Encinitas
With eight varieties of fish to choose from, including a seasonal catch plus the option to deep fry or grill (which also includes a choice of eight different marinades), Fish Shop has endless combinations of fish tacos. Go with your gut or ask for suggestions if you're indecisive on where to begin.
Coronado, Imperial Beach
Beer is kind of a big deal in San Diego with breweries seemingly in every neighborhood. If your love for beer extends to beer-battered fish tacos, look no further than Coronado Brewing Company. The brewery's restaurant incorporates its own Seacoast Pilsner into its batter, producing a crispy, light-as-air cocoon surrounding each cod filet. Every taco is dressed with tartar sauce, cotija cheese, pico and cabbage.
Imperial Beach
You'll have to travel south of Downtown San Diego to Tin Fish's Imperial Beach location for unobstructed views of the ocean. The casual eatery, located on the pier, has plenty of outdoor dining options ranging from benches to tables. As for fish tacos, choose from grilled or fried fish tacos with salmon, swordfish, mahi-mahi, or cod.
Bonita, Chula Vista
South Bay's oldie but goodie has slowly increased the prices over the years for its basic fish taco, but it still ranks high on best bang for buck based on size and taste. The price of $2.75 per taco crammed with chunky fried filets topped with tomato, mayo, and cabbage means you can order your fill without breaking the bank.
Mission Valley
Fish taco aficionados can find this mobile eatery parked along Mission Center Road next to a gas station. Their claim to fame are their San Felipe-style seafood specialities and for fish tacos that means loads of flavor packed into every savory bite.
Best Fish Tacos Available 24/7: Coxitan
Multiple locations
When the fish taco craving hits in the middle of the night, know that Coxitan is always open. Locations in Clairemont, Mira Mesa, Encinitas, and Poway mean you'll never be far from freshly fried fish tacos topped with shredded cabbage and white sauce no matter what time it is.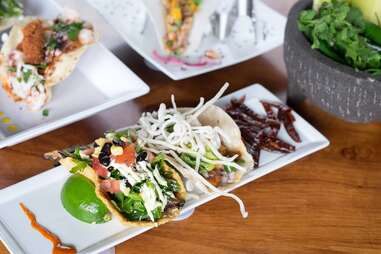 Multiple locations
If you're looking for your basic fish taco at City Tacos, their pescado taco hits all the notes— battered fish with cabbage, onion, tomato, and its house chipotle aioli. For something different, order the Veracruz mahi. Ingredients like green olives, capers, sautéed cherry tomatoes, and a white wine sauce topping a grilled filet promise you'll look at fish tacos differently.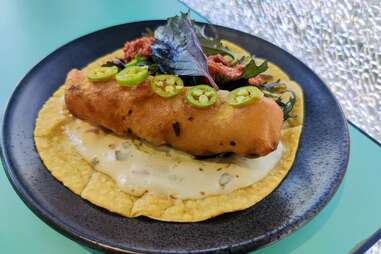 Fish Tacos with an Amazing Cocktail Menu: Lola 55
East Village
The usual beer and fish taco combo pales in comparison to the cocktail menu at Downtown San Diego's Lola 55. The Baja-style fish taco featuring local fish with a chorizo-tomato vinaigrette, frisee, pickled serranos, and purple basil is a taste sensation by itself. You can't go wrong pairing the taco with the requisite house margarita featuring Lola 55's grapefruit cordial and Espolòn tequila, or any of the cocktails that incorporates the restaurant's housemade agua frescas. A fine selection of beers and non-alcoholic beverages are also available.
Sign up here for our daily San Diego email and be the first to get all the food/drink/fun in town.
Darlene Horn grew up in South Bay San Diego eating paletas at Oasis Ice Cream. You can find her perusing frozen food confections when she isn't playing with her dog, Doctor. Find her on Twitter as @DarleneEats.