That rumbling you felt back in January wasn't an earthquake. It was chefs from all over the state simultaneously doing a happy dance when the ban on foie gras was officially lifted in California. Love it or hate it, the controversial French delicacy is back on menus causing a foie gras frenzy in restaurants across San Diego. While an appeal has been filed, restaurants are still serving it in the meantime, so here are eight places where you can get your fill while all the delicious drama unfolds.
Gaslamp
Grant Grill in the Gaslamp will be switching up its foie gras offerings pretty often, with Chef Sam Burman creating options like seared La Bella Farms foie gras, caramelized red cabbage, Applewood-smoked bacon, walnuts, and apple cider broth.
University Heights
S&M is all about anything and everything meat, so its no surprise that it added a foie gras plate to the menu. The dish is made with pan seared foie gras, wilted arugula sautéed in duck fat, fried shallots, Asian pear, and sherry reduction. Submit to this dish!
Coronado
Before the ban was lifted, Chef Tim Kolanko was using duck liver pate to create the classic French dish Tournedos Rossini. Now the duck liver is out and the foie gras is back in. Chef Kolanko is using seared Hudson Valley foie gras stacked on top of filet mignon and a brioche crouton that has been shallow-fried in clarified butter until crispy. Because that clearly isn't enough, the whole thing is then drizzled with a demi based Madeira black truffle sauce.
Rancho Santa Fe
Being a French restaurant, of course Mille Fleurs jumped at the chance to get this stuff back on the menu. Its serving pan-seared foie gras with apples and shallots -- as well as foie gras terrine with pear chutney, sautéed with shallots on brioche.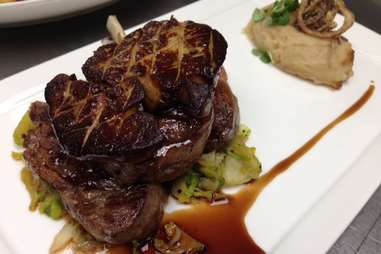 Coronado
Over in Coronado, Chef Meredith Manee is putting her signature California coastal spin on the French delicacy at 1500 OCEAN. She'll offer nightly foie gras specials like foie fried rice with duck confit, lemon grass infused jasmine rice, and Thai basil. You can also add foie gras as a topper to any of the special dishes, like the surf and turf, for an additional $15.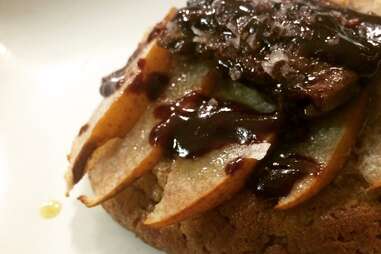 Point Loma
Derek Jaeger, the cookie chef over at The Cravory, is even getting in on the action with a specialty foie gras cookie. The sweet and savory desert is made with graham cracker cookie dough, asian pear, olive oil, seared foie gras, raspberry balsamic drizzle, and a sprinkle of Maldon sea salt. These will be available for special orders of a dozen at the shop in Point Loma.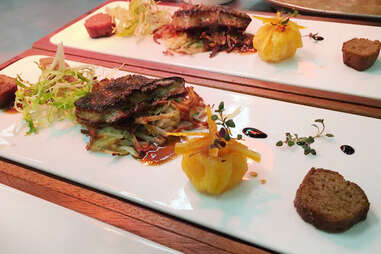 Banker's Hill
Right now, Bertrand at Mr. A's is serving a foie gras torchon with raisin-walnut toast, candied tangerines, and poached pears. They'll be changing it up regularly, but foie gras in one form or another is now on the menu daily.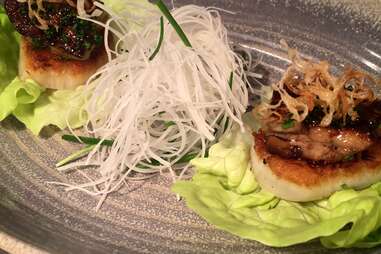 Little Italy
Chef Redzikowski is using foie gras from Hudson Valley Farms, which he has personally visited on numerous occasions, to make seared foie gras atop a seared scallop with roasted balsamic. He's also doing a cold preparation of foie gras mousse, hazelnuts, radicchio, fiselle, and acacia honey vinaigrette -- but ultimately, the specials will be changing steadily, like your waistline.
Sign up here for our daily San Diego email and be the first to get all the food/drink/fun in town.