It's official, San Diego: as of March 19th, California is under a "shelter in place" order. You can still go out for groceries, gas, and medication, as well as to medical appointments, and to essential jobs, but otherwise, you should be spending as much time at home as possible. 
Thankfully, restaurants are considered essential services, so you can still get your favorite meals via pickup, curbside service, or delivery. Everything from fast food to gourmet gelato is available -- even beer, wine and spirits can be had for the asking. Check your favorite hangout's website or phone them for options, and if you're not sure how things like "physical distancing" or "touchless delivery" works, just ask. As always, tip generously -- oh, and ask them to throw some cool merch in the bag too. It's an easy way to support them, and you probably need a new t-shirt anyway.
While the situation remains fluid and many restaurants are still deciding how to proceed, we've gathered some of our favorite businesses that have pickup and/or delivery service, along with delicious choices from their menus to help with the decision making process.
Recommended Video
The History of Delivery & Takeout
If you're near Little Italy or Encinitas, Richard Blais' beloved fried chicken can be on your plate today. The menu has been trimmed down to accommodate the circumstances, but they've kept the best, most popular items (schmaltz fries!) and have added "flock meals" -- 5-or-10 pieces of chicken, fries, mini biscuits, classic slaw, chicken nuggets and a couple of chocolate chip cookies. 
Cost: $17-31 for just chicken, $50-60 for flock meals. Have it delivered or order online, and when you're close to your location, call and they'll bring your meal curbside for you.
Bencotto is actually closed for now, but you can still get their fresh pasta, and most of their menu, from the catering/special events venue next door, Monello. Carbo-load with gnocchi in a spicy tomato/sausage sauce, or if your mood calls for some soothing soup, pasta e fagioli alla Toscana is a hearty meal in a bowl. Call to order, then pick it up at Monello's window. 
Cost: $20-28 for pasta dishes, pizzas are a few dollars less. Check the website to have it delivered, or call (619) 501-0030 for pickup.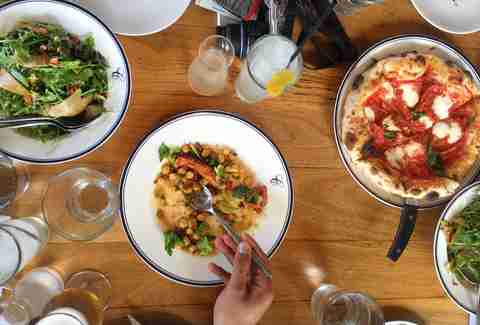 The La Jolla mainstay offers a special takeout menu with family-style and a la carte choices that include an array of pizzas, pastas, whole and half roasted chicken, salads, and more. Family-style meals feed four to five people and are customizable, and wine is available by the bottle.
Cost: Individual dishes run $5-15, family style dishes run $15-51, bottles of wine are $30. Order online for pickup or delivery.
Executive Chef Gan Suebsarakham's all butter crust and creamy, chunky chicken and veggie filling in his classic chicken pot pie is the comfort food you need while holed up at home. A vegetarian version is also available, and of course you'll want a slice or two of sweet apple crumble or tangy key lime pie for dessert. Can't decide which dessert pie to choose? Order a mix-and-match whole pie (six slices), and everyone's happy. You can also order frozen savory pies to keep on hand.
Cost: Individual savory pies are $8.50, dessert pie is $6.50 a slice or $35 for a whole pie. Order online for pickup or delivery.
Brand-new family-owned artisanal gelateria Zero Gelato hasn't even had a grand opening yet (it was scheduled for April 4th but is now on hold), but they're scooping up pints of their Italian-style gelatos and sorbettos for takeout and delivery from 3pm-7pm Monday through Thursday, and 2pm-7pm Friday through Sunday. The toasted marshmallow s'mores flavor has toasted marshmallow gelato, swirls of Ghirardelli chocolate, and crushed graham crackers in a chilly version of your campfire favorite, or try fruity strawberry basil sorbetto for a sweet, summer-y refresher.
Cost: $12. Order online for pickup or delivery.
Cesarina's easy-to-use ordering system incorporates both delivery and pickup options through the same interface, along with customizable dinner choices. The spicy, sausage-y rigatoni al cinghiale is stick-to-your-ribs hearty, as are their outstanding build-your-own pastas, including vegan options and sturdy ragouts made from lamb, wild boar or short rib. You can even include a bottle of wine (or two) with your order. Cesarina has also committed to providing 100% of the profits made during this transitional takeout/delivery period to their employees, for as long as they are able to remain open. 
Cost: $13.95-18.95 for BYO pasta, $19.95-28.95 for specialty dishes. Order online for pickup or delivery.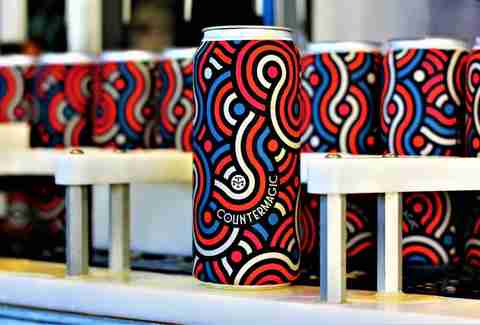 Grab a couple of crowlers at Modern Times
Modern Times Beer had originally planned to close down for the duration, but they've got their Encinitas and Point Loma locations up and running for beer and packaged coffee pickup. They're offering crowlers of rare, usually draft-only beers, a few treats they've pulled out of the archives, and have dropped the 1/6bbl keg deposits to $30. The ordering process is pretty strict, so be sure to read through their guidelines before you order. Inventory depends on location and changes with available supplies.
Cost: Varies by your order. Order online for pickup.
All of Tajima's locations are working hard to get a bowl of ramen in your hands, and really, what's more comforting than slurping up delicious noodles? The spicy sesame ramen mixes special sesame paste into long simmered tonkotsu chicken and pork broth, but vegan, green curry and creamy chicken options are also available, as well as chicken karaage, various buns, and rice bowls. 
Cost: $10.50-12 for ramen. Order online for pickup at any location.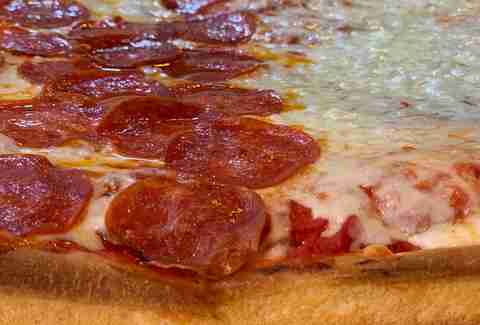 Piled high with meatballs, pepperoni, and sausage, the Sopranos will practically put you into a meat coma -- which doesn't sound too bad right about now, actually. Landini's two locations can also be counted on for generous portions of pasta, panini or baked eggplant parm and lasagna with meat or veggies. Both the Little Italy and Liberty Station venues offer pickup and delivery.
Cost: $17.99 +up for an 18" pizza, vegan options are available. Order online for pickup or delivery.
Don't give up on your daily fix of Fig Tree Cafe's bennies, toasts and omelets; both the Pacific Beach and Liberty Station locations have their full menu on hand for walk-in or call ahead pickup. You get major bang for the buck with the Cali breakfast burrito: a flour tortilla stuffed with rosemary potatoes, scrambled eggs, skirt steak, chopped bacon, pico, guac, and salsa that will power you through your work (or work-at-home) day. Add on an adaptogenic antioxidant shot in one of three flavors -- immune boost, cellular cleanse or tropical detox -- for just $3.50, or a flight for $9. It couldn't hurt!
Cost: $14.95 for an enormous burrito. Call ahead or walk-in to either location for pickup.
In a show of solidarity, all 14 eateries at One Paseo have committed to offering pickup service, and most also offer delivery. From modern Mexican at Tocaya Organica to melt-in-your-mouth macarons at Le Macaron French Pastries, every imaginable craving is covered.
Cost: Varies. Call the individual business for pickup, or order online at each location.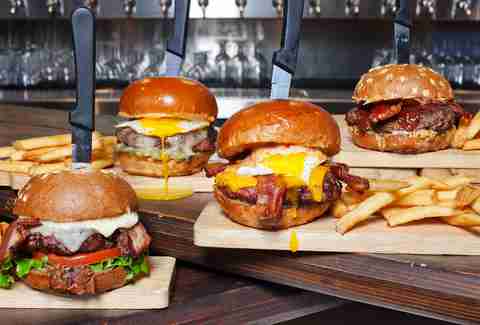 Sadly, you won't be able to take advantage of Slater's 50/50's 100 beer taps right now, but you can sink your teeth into the Backyard Classic's Black Canyon Angus beef in the comfort of your own home and dream of summertime barbecues. The Sriracha Burger is immensely popular with chileheads, and if you're feeling frisky, the PB and Jellousy works way better than you probably think it would. Until March 27th, get a free kid's meal with the purchase of an adult entree, or $15 off an order of $75 or more. For pickup, your meal will be brought to you curbside. 
Cost: $12.99 for the classic burger. Call (619) 398-2600 for pickup or order online for delivery.
Sign up here for our daily San Diego email and be the first to get all the food/drink/fun in town.