With the opening of several high-profile, poultry-centric restaurants in the last year or so, and rumors of Max's of Manila scouting locations in America's Finest City, it looks like fried chicken is poised to become the new pork belly. From buttermilk-fried to Korean-style, Nashville hot to East Texas spicy, many of San Diego's finest restaurants are finding room on their menus for this humble-yet-indulgent favorite. So, whether you like your bird brined and battered or floured and flaky, we've chosen our favorite places for you to get your crunch on.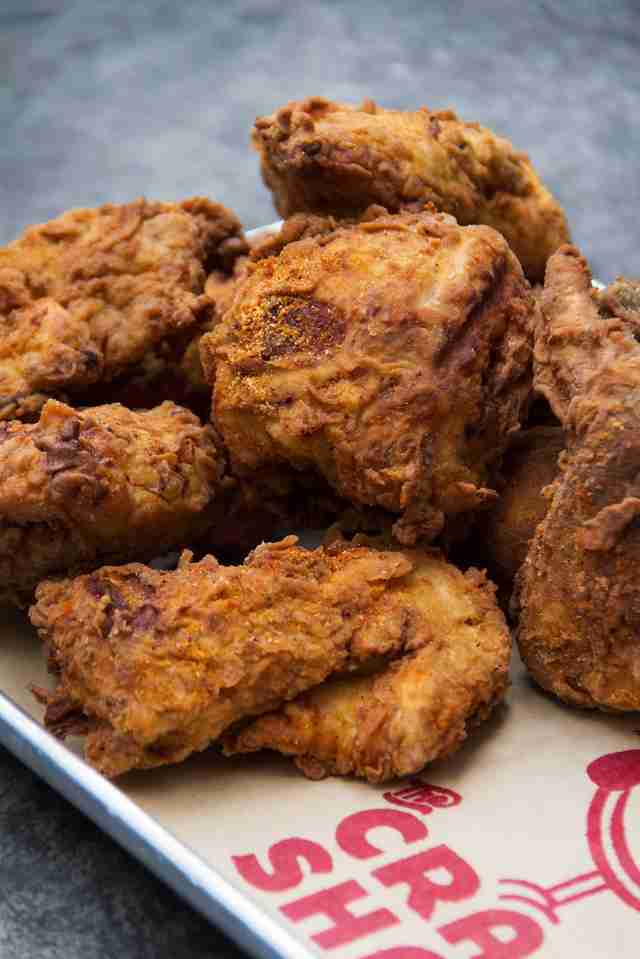 Little Italy
More upscale than most chicken joints in atmosphere, execution, and (correspondingly) price, Richard Blais' fine-casual, family- and dog-friendly venue uses humanely raised, free-range Jidori poultry and eggs, as well as top-quality produce sourced from small local farms. Savory to the bone and boasting an incredibly crunchy crust that stays on bite after bite, this chicken doesn't need to be embellished, but go ahead and dip it into one or more of the six sauces available, ranging from Argentine chimichurri and kimchee barbecue to the house specialty "cracksup." Sandwich lovers will crave the cool, creamy lime mayo, shredded napa cabbage, and pickled Fresno chilies on the Coop DeVille, and the sweet umami maple miso butter, bacon, Cheddar, and fried egg-topped Senor Croque. Fried chicken aficionados, meanwhile, go for the Chicken Oysters: delectable thumbnail-sized pieces of back meat, brined in pickle juice and lightly fried, ready for a drizzle of lemon juice and spicy mustard seed tartar sauce.
Linda Vista
Homestyle Hawaiian's boneless, skinless, hormone-free fried chicken thighs come in two forms: katsu-style (panko crusted and doused with tonkatsu or sweet/soy lava sauce), or Korean-style (marinated in a soy mixture, then battered and fried). Can't decide? Enjoy both with a combo plate that includes a couple scoops of rice along with the traditional macaroni salad or a green salad on the side. Sweet, salty, crunchy, and a little spicy, it's a great combination of taste and texture. Pair it with an airy Dole whip in your choice of pineapple, strawberry, or mango flavors for the ultimate ono grindz.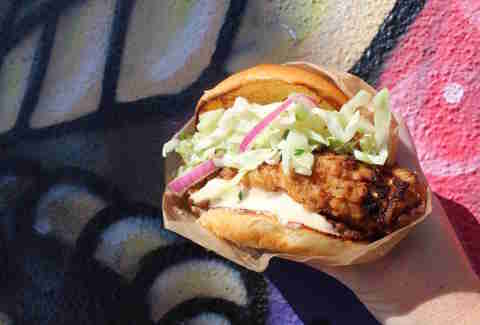 Various pop-up locations
You'll have to do a little research to find out where Chicken Rebel has set up its mobile food stand -- typically it's at a local brewery or one of San Diego's farmers markets. The chicken is cooked sous-vide style (in a temperature-controlled water bath) before hitting the fryer, ensuring perfectly cooked, juicy, and flavorful meat, encased in a shatteringly crisp beer batter crust. The short menu includes three sandwich varieties: the Classic, accompanied by tangy jalapeño slaw and house-made roasted garlic aioli; the Rancher, with bacon and avocado toppings and house-made ranch dressing; and the Buffalo, with blue cheese celery slaw and hot sauce. And yes, you'll want a side of the gourmet tots, too.
College Grove
There's no need for batter or coatings here, just well-seasoned, crackling-crisp skin and savory meat at reasonable prices -- a bucket of 15 mixed pieces will set you back less than $20. For just $6 more, add on two side dishes like mac & cheese, hush puppies, fried okra, sweet potato fries, or cornbread. Gizzards and livers get the royal hot oil treatment, too, and won't break the bank at less than $5 a dozen. Wings, strips, and popcorn chicken round out the poultry choices with a little something for everyone.
North Park/La Jolla
This multifaceted joint serves up several styles of bird, some of which -- like its signature dark, Southern-style cult favorite Nashville hot and salty/sweet honey pecan -- you'll find at both locations. Others, meanwhile, are store-specific, including North Park's twice-fried, super-crunchy Korean style (dipped in your choice of lively sauces), or the off-menu NashKILL hot, which is regular Nashville hot with the addition of ghost pepper and house-made Thai hot sauce -- it's so incendiary that you have to sign a waiver when you order it. La Jolla's "luxe" location has a gluten-free fried chicken alternative and a larger menu that includes lunch, brunch, and dinner. The extended offerings here evoke Southern comfort food, including shrimp & grits, fried catfish & chips, and chicken pot pie.

Whichever location you visit, go for the ultimate donut and fried chicken experience in The Southerner: a split cinnamon-sugar donut stuffed with fried chicken, bacon, a fried egg, cheese, and jalapeño, then maple glazed and served with a side of fresh hand-cut fries. You've been warned.
Sign up here for our daily San Diego email and be the first to get all the food/drink/fun in town.