There's a time and a place for Korean barbecue; the time is "always," and the place is "everywhere." Luckily, there's no shortage of Korean restaurants to choose from in San Diego, most notably along the Convoy Street corridor in Kearny Mesa, and although nothing beats LA when it comes to West Coast Korean barbecue, this strip of eateries nestled between the 805 and 163 freeways gives LA a run for the money.
Korean barbecue (gogi-gui) actually translates as "meat roast," but there's more to it than that -- side dishes (banchan and kimchi) and dipping sauces, like white vinegar and sesame oil, are traditionally served to help customize the experience, which is half the fun. Unbutton your pants and get ready for some meat sweats: Here are the best places for Korean barbecue in San Diego.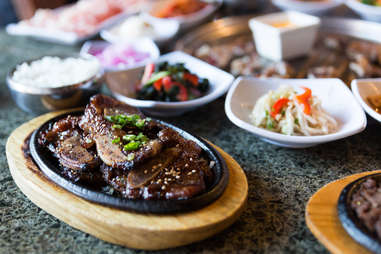 Kearny Mesa
Rowdy group dining perfect for parties
For all-you-can-eat Korean BBQ that's affordable without sacrificing quality, you can't beat Taegukgi. The dizzying array of neon-flashing arcade games, communal seating, blaring TVs, and outrageously-sized "beer towers" give the dining room a raucous feel, but the casual serving style and lofty ceilings make it fun, not frazzled. When you've had your fill of beef bulgogi and pork belly (or you reach the end of the strict two-hour time limit), head to the bowling alley next door to help offset the unavoidable feeling of complete gluttony.
Kearny Mesa
Upscale tableside service and high-quality meat
If you're willing to fork over a little more, DJK is the place to be. The restaurant is set up through both call button service and a la carte Korean BBQ (as opposed to the more popular all-you-can-eat option), but the meat quality and real charcoal grills (as opposed to gas) make it completely worthwhile. It's a bit more upscale than some other joints along the Convoy corridor, but it's also the best choice for big groups of adventurous eaters.
Kearny Mesa
All-you-can-eat spot with communal seating and a DIY vibe
Jeong Won holds a special place in my heart as the first Korean BBQ I ever experienced in San Diego, and it's not just the nostalgia that keeps me coming back. It's one of the smaller restaurants and can get crowded, but the real selling point is the self-serve stations stuffed to the gills with meat, poultry, seafood, vegetables, and all the required accoutrements. It's not the finest quality (it ain't bad either), but self-served all-you-can-eat Korean BBQ? That's pretty hard to beat. Just remember that AYCE means no leftovers, so only take as much as you plan to consume in one sitting.
San Marcos, Kearny Mesa, and Chula Vista
Classic Korean BBQ with multiple locations
Depending on who you ask, Manna is the Korean BBQ restaurant in San Diego. I'll admit it's one of the best, but I've had spotty service on a few occasions and there's nearly always a wait, so you'll have to make up your own mind. Manna offers the classic all-you-can-eat menu with "Gold" and "Black" price levels for standard and deluxe meat options, but keep in mind that they strictly enforce the "everyone at the table gets charged the highest price." This is to avoid one person getting the deluxe option and sharing, so decide ahead of time how important shrimp, sliced beef tongue, and marinated galbi are to you.
Clairemont
Upscale vibe with locally-sourced meat
If supporting a restaurant that goes out of its way to source high-quality meat from local farms is something you strive for, then Buga is the Korean BBQ joint for you. Buga's authentic menu reflects a complete dedication to their craft, which -- let's face it -- isn't always the case. Don't skip the kalbi (beef short ribs) or various kimchis. Reservations aren't required, but opt for a button-up and slacks instead of San Diego's standard T-shirt and board shorts.
Kearny Mesa
Korean favorites that go beyond BBQ
Friend's House has a smaller menu than other nearby Korean BBQ restaurants, but it's one of the few where you can order online or get it to-go. (I recommend their jaeyook bokkeum: spicy marinated pork with onions.) If dining in, add a hot pot to your order for the table. Their bulgogi jungol (Korean bulgogi soup) with beef is perfect to share. Feeling indecisive? Try one of the combination specials to get a taste of everything.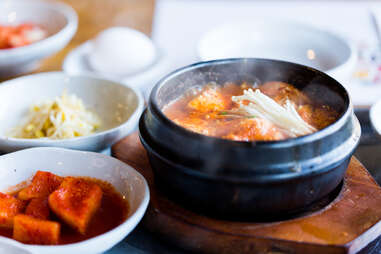 Kearny Mesa
Great for groups of adventurous eaters
Prime Grill is one of the larger Korean BBQ restaurants along Convoy, but comfort isn't lost in the vast dining space. Run by a Korean native, it's one of the more authentic representations of Korean-style BBQ found in San Diego. Try the jap chae to start, then move to daeji bulgogi (spicy pork) or one of the spicy soft tofu stews on the menu. The meats are ordered individually, which is a bit pricier, but their premium meats and authentic presentation make it worth a visit. Just like in New Jersey -- where you can't pump your own gas -- at Prime Grill you don't cook your own meat, so sit back and let the pros work their magic.
Mission Valley
Inexpensive sleeper spot inside the mall
To me, going shopping sounds as appealing as getting a root canal. However, I'm easily convinced when meat platters are involved. 356 Degrees is located behind Michael's in Mission Valley's outdoor mall, perfectly situated for some pretty great people watching. And the food's not bad, either. Give it a try during lunchtime to take advantage of their daily specials and snag a soju cocktail for some liquid courage before heading back out into the shopping masses.
Sign up here for our daily San Diego email and be the first to get all the food/drink/fun in town.